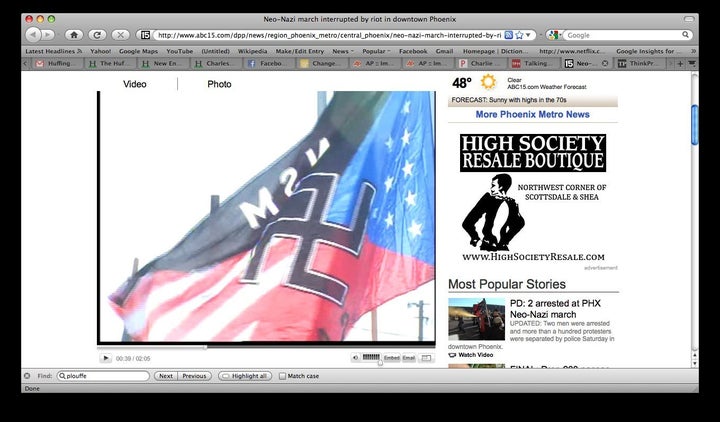 A Neo-Nazi march held in favor of Arizona's SB-1070 immigration law in Phoenix over the weekend was disrupted by equal rights activists in what quickly devolved into a mob scene.
Members of the National Socialist Movement were heavily outnumbered by protesters who confronted the Neo-Nazi parade on its way to the federal courthouse. Police arrived in riot gear to separate the two factions, a move that was followed by multiple injuries and the arrests of two protesters who threw rocks at officers.
In the video, the Neo-Nazi march organizer, J.T. Ready, can be seen explaining to a group of protesters that the assault of his members is not acceptable.
Though Pearce denied having knowledge of Ready's involvement with the National Socialist Movement during his alleged proximity to the group's organizer in 2007, when Ready was in the midst of being ousted from a low-level GOP post, a video released last year showed Pearce in attendance at a 2009 rally headlined by Ready.
As ThinkProgress points out, the alliance between white-supremacy groups and Arizona's anti-illegal immigration legislation appears to be more than a matter of personal associations.
According to an immigration report from change.org earlier this year, numerous groups linked to white nationalist causes have provided monetary support to Arizona's SB-1070, both in its early stages as well as to its legal defense fund.
Calling all HuffPost superfans!
Sign up for membership to become a founding member and help shape HuffPost's next chapter