NeoCon 2015 did not disappoint. While the residential influence has been slowly creeping into the contract furniture market, this year it hit a new decibel. The furniture industry is answering the call beyond seeking a work-life balance to manifesting a true work-life blur. Perhaps due to more women in the workplace, people seeking new levels of balance since "time is the new money", or technology invading the home [and thus vice-versa], the work life-blur has officially arrived.
Although we saw expected, yet exaggerated takes on the residential themes of years past such as comforting color palettes, home office settings, and residential-like sofas, two companies really stole the show. They illustrated how the work-life blur extends far beyond just product as they boldly blur the lines between the residential and contract segments of the furniture industry through innovations in distribution strategies and visualization technologies.

RESIDENTIAL BLURS TO CONTRACT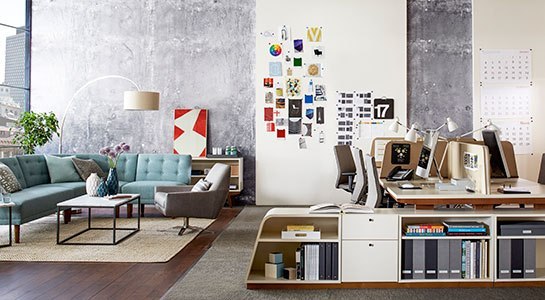 West Elm Workspace, a collaboration between the residential brand West Elm and contract furniture brand Inscape certainly was the most talked about launch of the show. Sparked at NeoCon last year when Jim Brett, president of West Elm, sent a few of his team to NeoCon in search of a contract furniture partner to fill a void he observed in the market. "We need to relocate our office and I was not about to buy someone else's furniture, so we identified four companies that we wanted to speak with. As soon as I met Jim Stelter, we knew right away Inscape was the right partner," said Brett.
At mind blowing speed, the two companies collaborated to create 75+ product lines including five desking lines of varying styles, 140+ fabric color options (in partnership with DesignTex), a lighting line, and even a proprietary software system that will facilitate ease of furniture selection. These products will be sold in their new West Elm Workspace dedicated showrooms, each of which will be crated in partnership with a local contract dealer. While an eight month development cycle is beyond mind-boggling for this quantity of product to the contract interiors industry, Brett says, "We design thousands of items per year. To us, this is nothing."
While some contract furniture veterans may scoff at the idea of bringing West Elm to the work space, it is important to note that all of the new product lines meet contract furniture quality standards. "We have had people put West Elm [residential] furniture into their corporate spaces, and they are not happy. It can be a negative experience for them and us." Says Brett. "These new platforms are built off a beautiful platform of West Elm aesthetics, but with contract quality. They have different foam, fire test criteria, and even fabric rub standards."
West Elm Workspace is focused on three core mantras; Choice, Community, and Consciousness.
1. Choice means let the client chose their style. The brand does not dictate what is beautiful, but rather provides aesthetic options so the client can select what makes sense for their space. The five desking collections, appropriately named after their aesthetic (Mid Century, Modern, Industrial, Scandi, Stria and Truss), give great visual flexibility to any space.

2. Community means that wherever they do business, they should be pillars of the community. Taking from the West Elm brand who partners with over 500 artisans in the US to feature local designers' collections in their retail stores, West Elm Workspace also has added elements from a local [to their Brooklyn Design Center] artist to enhance their collections.
3. Consciousness means awareness and empathy for those who make the product. While a majority of the product is produced in the US, the few items that are not are certified through Fair Trade USA, an organization typically associated with food items. Brett says, "Why can't we have the same level of consciousness and transparency around our furniture as well?"

CONTRACT BLURS TO RESIDENTIAL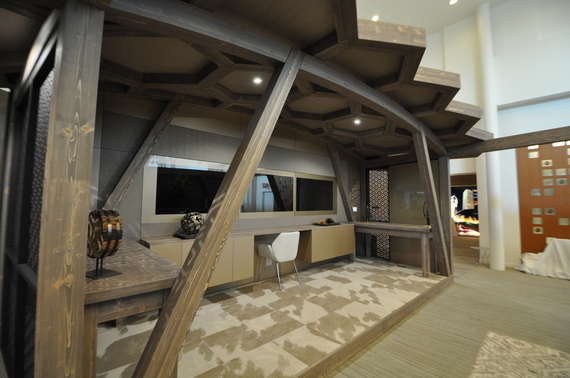 DIRTT continues to push the industry. They echoed the blur happening between contract and residential by launching products clearly targeted at residential construction. They also featured truly industry revolutionizing software. In a brief conversation, Mogens Smed, CEO of DIRTT said confidently, "DIRTT is clearly in the construction business. We are not just walls. We are and always have been much, much more than that. The move to residential is a next logical step because residential is just another type of space ... and our solutions are not industry-specific." With a new post and beam system, DIRTT creates lego-like building blocks for just about any space imaginable. The new Timber Framing concept features curved timber frame honeycomb ceilings that can create limitless combinations for modular home construction as well as creative interiors concepts. With this new launch, floors and ceilings become modular construction tools complete with acoustic options and limitless embedded functions. The alluring thing about the DIRTT space is they don't show you what is, but inspire you with what can be.
Perhaps the most astounding piece of the DIRTT space was the evolution of their ICE software. This software is well known for challenging "what can't be done" with real time change capability allowing designers and non-visual thinkers alike to view the same concepts for interior spaces. This year, DIRTT unveiled a virtual reality version that left some motion sick, but everyone smiling with amazement and delight as they were able to walk through a space through VR goggles. DIRTT has a space in their Calgary office that equips visitors with backpacks and goggles which allow them to actually walk through a space in virtual reality before it's built. This groundbreaking technology will even allow them to program the space outside building windows with landscapes or cityscapes complete with sunrises and sunsets. The future has officially arrived to the world of office furniture for your workplace and home.
REAL LIFE. REAL NEWS. REAL VOICES.
Help us tell more of the stories that matter from voices that too often remain unheard.