After signing to Warner Bros. Records in 2010, Neon Hitch thought she'd "made it." Like most young artists, the British pop star felt signing with a major label guaranteed success -- and, in many ways it did -- but she soon found there's a down side to being under contract.
"Everybody has this dream growing up, like, 'I'm going to be signed to a record deal. I'm going to be famous. I'm going to have my own perfume!'" Hitch shared during a recent telephone interview. "It's not like that."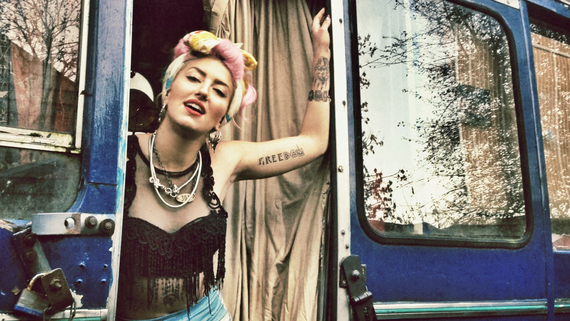 In 2012, Hitch topped charts around the world with "Ass Back Home," her massive collaboration with Gym Class Heroes. Peaking at #12 on the Billboard Hot 100, the song threw her career into high gear. Unfortunately, solo success was not as quick to materialize.
Hitch followed with "Fuck U Betta" and "Gold," both of which topped U.S. club charts and were supposed to be included on her much-anticipated full-length debut. But as fans anxiously waited, her label faltered -- ultimately deciding to scrap the entire project. That, she says, is when the downside of being with a label became clear.
"If you write your own music, then you sign to a major label -- it's a blessing, of course," admitted Hitch, who performs in Santa Clara, CA, Friday, May 23, at California's Great America Pride Night 2014, "Somebody's appreciating you -- which is a great thing -- but, at the same time, it's also really restrictive."
As Warner Bros. tried to figure out how to position Neon in the music market, the singer grew increasingly antsy. As someone who genuinely enjoys interacting with fans and releasing new material -- "I'm always creating new music, always working like a dog," she says -- the label's start-and-stop mentality grew frustrating.
"I put my heart and soul into something I believe in, but I have to give it to someone else for approval," she told me, "And you're telling me what I feel is wrong? How is what I feel wrong or right? It just is. That's where I really had an issue."
Warner Bros. finally unveiled her Happy Neon mixtape early last year and followed with 301 to Paradise in January, but for Hitch, it was too little, too late. Our interview was the first in which she formally discussed parting ways with the label after four years.
"I decided to take my freedom back," she said, "I'm going to share new music with my fans all over the world whenever I want."
And, for a woman itching to put out new material for far too long, the time is now. On May 13, she debuted new single "Warner Blvd." on VH1 Big Morning Buzz Live with Nick Lachey. A week later, her mixtapes hit digital retailers, and she promises the album Eleutheromaniac later this year. A national "Freedom" bus tour is in the works for summer.
As a woman who once believed a record deal was necessary to live her dream, Neon says this is much closer to what she really wants for her career.
"Although [leaving Warner Bros.] might seem like a scary thing, it's such a blessing," she confessed.
"I've had so much training, and I'm so grateful for everything I've learned along the way," she concluded, "But now I'm able to connect with the people one-on-one and actually put out the music with nobody telling me I can't - so, guess what? I am!"
Neon Hitch joins Karmin, Ross Mathews, DWV, Lady Bunny and more Friday, May 23, at California's Great America Pride Night 2014. For more information, visit: http://www.Facebook.com/NeonHitchMusic
Popular in the Community