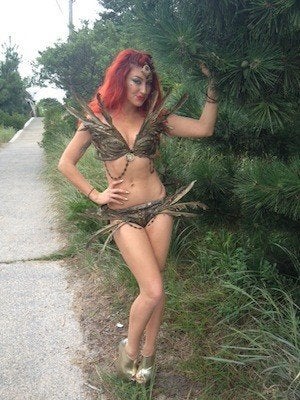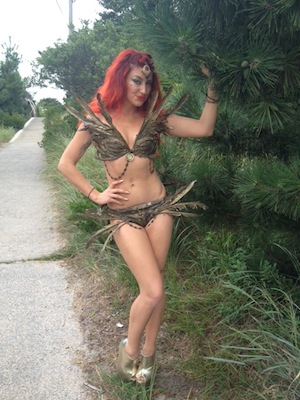 On Sunday, Aug. 19, in the Fire Island Pines, 26-year-old pop star Neon Hitch performed at Ascension, a circuit party held on the beach of the gay vacation oasis. During the party, which featured a thousand hunky men dancing shirtless, and hot go-go dancers in skimpy white underwear on pedestals, she was introduced by emcee Sean Patrick Ryan in the following fashion: "What the fuuuuuuuuuuck?! Here's a huge bitch we've brought to the beach, Neon Hitch!"
During the performance, Neon said, "I have never been around so many handsome fellows. Travi's hot, but you guys definitely take the cake." Travi is the singer for Gym Class Heroes; she did the song "Get Your Ass Back Home" with him. Her new single, "Gold," which was just released, features Tyga of "Rack City" fame.
In a chat with me after the show, parts of which which ran in the New York Daily News (I freelance for that paper), she disclosed that she is bisexual and has walked in on her mother with another lady. But during the show her lust for the male organ was in full effect, as she shouted at the crowd of Chelsea boys: "Look at all these sexy bitches. Whip your dicks out!"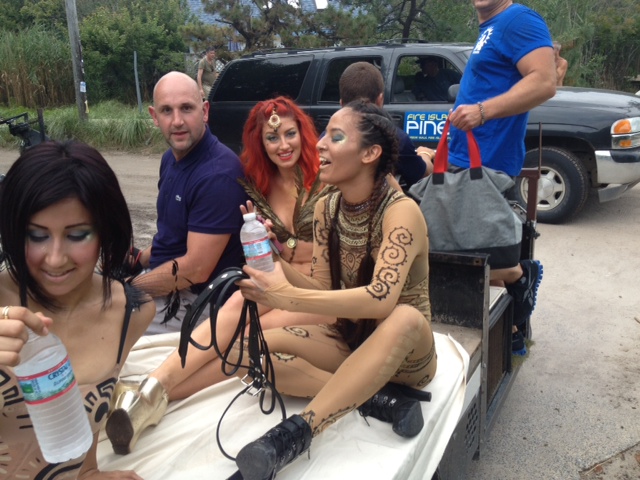 Neon will be shooting the video for "Gold" with Tyga at the "top of September," according to her manager Kellogg, and it sounds like it won't feature any lesbian action. Kellogg said they have to find time in Tyga's schedule to get him to New York City, where they plan on shooting it. He says he hopes she and Tyga will have "chemistry" on set, and he said it's a "beautiful, heartfelt song -- Neon brings out passion in people." Will there be sparks? Says Kellogg, "Neon brings out sparks in everyone... Tyga can't help but succumb."
Neon says it could be dangerous once she's in touching distance of Tyga: "You just wait... It will be a fight to keep my paws off him."
After the performance, Neon opened up to me about being "kind of a lesbian." She also hinted at being introduced to lesbian sex by a woman who's no longer alive; I speculate she may be talking about Amy Winehouse, her former roommate. As reported in the Daily News:
Although Hitch said she has "done more guys than girls," she did recall "a very specific wonderful memory" about a sexual experience with a woman. "I really don't want to say her name, but she's not with us anymore," the singer said, calling the mystery woman "the most beautiful human being I've ever met."

"She introduced me to ... being kind of a lesbian," Hitch continued. "She's not with us now, but she's looking down upon us."

Although the description suspiciously fits the profile of a certain former roommate, who invited Hitch to live with her when the younger singer was homeless, a source says the musicians never had a physical relationship.

Hitch currently sports a tattoo of the name "Amy" on her finger, in memory of her late friend.
Could she be talking about Amy Winehouse? Here's more from that interview:
Tell us what you love about gay people.
That they are not scared to enjoy themselves. Same as me! I am not afraid.
Lady Gaga and Madonna have a huge gay fan base, and you kind of remind me of them. Are you aiming for a big gay fan base like them?
I really don't have a plan. I just kind of do what feels comfortable. I've never really had a plan. I've just believed in magic and gone along with the path that's been given to me.
Do you think this very gay place where we are, the mystical Fire Island Pines, is magical?
I feel happy here, so it must be magical. [At this, she swills some of her Absolut drink, which always seems to be magically full all the time.]
Is magic synonymous with happiness for you?
Oh, yeah. I always have a great time when I'm performing for my gays.
Well, I was doing "Gold," and I thought it'd be really cool to have an urban rapper on it, just to kind of add another dynamic. Like how I do my covers, it's kind of cool to have the contract of two different flavors. So I was just going through the list of rappers I like, and Tyga's fresh, so I spoke to Benny... we just made it happen.
Were you in the studio together at all?
No, he recorded his part separately.
Did you write it for him?
No, he writes all his own raps. We're artists, we like to write our own raps. I'd put crazy words in his mouth. He-hah!
What should gay people think of Tyga? He's rack city, very sort of womanizing, stripper-girl-fan...
Well, he's hot as shit, so... surely the gays should appreciate that.
I think we like snapbacks and tattoos as much as the straights.
But you don't have any tattoos, do you?
I do! They're just secret. [She points to one on her right arm.] This is my sister's name. I keep them in secret places.
You're hiding them even though you have a fairly revealing costume on.
Even though I've got no clothes on! You have no idea.
Did you get to meet Tyga?
We've never actually met yet. That's the crazy thing about music these days.
And yet you're singing this love song to him!
What would you do if you got your hands on Tyga?
Well, oyyy... He's so sexy, but I think he's too young, isn't he? Isn't he 17? He looks young! He's very sexual.
Is "Gold" about a specific person?
Yes, it is. I wrote it about a wonderful man who came into my life, and I come from a very dark place. And when I met him, he really was the light at the end of the tunnel. And he brought me into a good space.
And is gold the color of redemption, then?
It really is. It's new beginnings for me. "Fck U Betta" was kind of my aggression and my emotions being released. Now I'm in a good place, and I've found a good person, and "Gold" kind of represents that.
Awesome. What do you think of the gay scene and this circuit party stuff?
Absolutely my family. I just feel like I'm at home. Whenever I'm performing for my gays, I'm happy. That's all I care about.
You even told the crowd to "whip their dicks out."
Yeah, I got a bit excited while I was on stage while I was singing "Fck U Betta." I said, "Get your dicks out!" It's a penis fest! [She laughs.]
Your dancers joked that they loved dancing for the crowd because it was so high-energy, but that because it's almost all gay men, they "don't want it!"
My dancers are very upset, because they're looking at lots of hot guys, but they don't want no cooch. But that's fine, I don't want to have sex. I just want to look at hot guys. So it's mutual!
I see your hair is red right now. Is this your natural hair color?
No, my natural hair color is black. I have gypsy blood. But I like this orange color.
Are there stereotypes about redheads you've been a subject to, post-dye-job?
I think redheads have more fun than blondes.
But gingers get a bad stereotype, especially in your native Great Britain, yes?
They do, but I'm out here to represent the gingers, the gypsies, and the outcasts. Because I am all of the above, and I'm all about having a great time.
On the sidelines of society?
But you're becoming so mainstream! You've got Tyga on "Gold," and Bruno Mars worked on it, too, yes?
That doesn't mean I'm not an outcast still!
You wrote "Gold with Bruno then?
Yeah, it's me, Bruno Mars. Benny Blanco produced it, and Claude Kelley, who's a wonderful songwriter.
Were you in the same room as Bruno to work on it?
No. Well! I've been in the same room as Bruno a few times. He's an old friend. But he started it, and then me, Claude Kelley, and Benny got in the studio, and we were like, "Yo, this song could really work for me." So we formed it into the Neon style.
Have you ever had a gay experience yourself?
Oh, I've had gay experiences.
I mean, I've done more guys than girls, but I don't put labels on things. Love is love!
What's your percentage of guys vs. girls, in terms of hookups? Do you keep a little black book?
I've had a few female encounters, and they've been wonderful.
I know it was such a big deal when Madonna, Britney Spears, and Christina Aguilera did the triple kiss on the VMAs.
[Deadpan.] That was pretty tame. Takes a lot to shock me! [She laughs.]
Are you ready to have a crazy lesbian experience on an awards show?
Honestly, with me, it's not planned. I'm a freestyler. If things just happen, and sometimes they're amazing and sometimes they're crazy, just go with it!
The Madonna-Britney-Christina triple kiss felt like it was calculated for shock value, though.
I don't know. I respect all of them as female powerful people, and I think they're just having fun. It's beautiful.
It's such an iconic pop moment, especially for the gays.
Yeah, it's definitely iconic. It was great.
I'm trying to think what other female artists have done big lesbian things.
I feel like not enough people have done lesbian stuff. I feel like there has to be more!
You get 'em, girl. There's so many gay men out here for this party. Where are all the lesbians?
I've done a few of those shows. They've been great.
Like, shows attended by mostly lesbians?
Yeah, straight lesbians. Lesbionic. Lez-be-honest.
I feel like they need to get more into the mainstream.
Yeah, and I'm gonna be a key part of that.
Let's go! I'm calling out all lesbians, come out of the jungle.
Popular in the Community