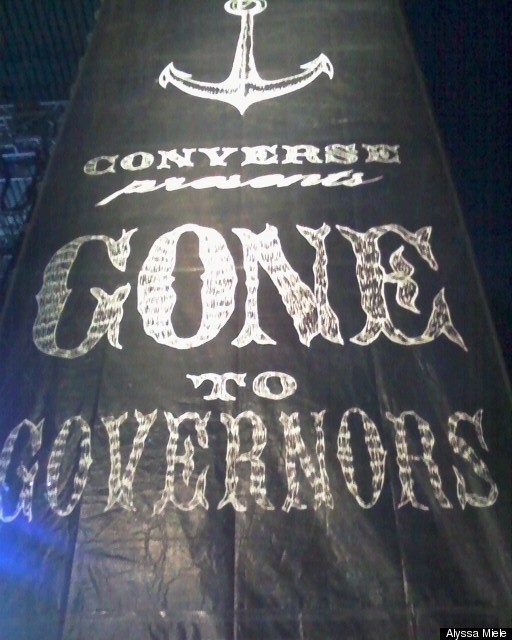 Tell me what's better than walking barefoot through sandy terrains to see a band so close you can feel them in your body, while being relentlessly teased by the highly flavored smells of nachos, burgers, hot dogs, quesadillas and beer, all the while being able to watch the sun set against the skyline of the best city in the world. I'll tell you: not a single thing.

The concert grounds at Converse Presents: Gone to Governor's this past Saturday night was just that - a plot of faux beach accented by food and beverage tents, all overlooking the New York Harbor. The beach concerts that have been taking place here all summer are the result of the partnership between The Highline Ballroom, The Bowery Presents & Mad Dog Presents, allowing for a seasoned amalgamation of music programming that represents a broad cross section of bands and performances. Saturday night's selection featured sets by the Miniature Tigers, Nite Jewel, the Dom, Prefuse 73 and, the band that hand-selected everyone on the bill, Neon Indian.

Miniature Tigers

A certain amount of eased mellow enveloped the crowd as everyone sat on the ground waiting patiently for the music heavens to open their gates and flood us all with its raw, live sound. Blankets were laid down, friends found and met up with other friends, and smiles and warm exchanges were seemingly shared by all.

But when the first band, Miniature Tigers, came on stage and snatched up their instruments, the crowd, almost obediently, rose to their feet and swarmed excitedly towards the stage. The band opened with "Last Night's Fake Blood," a soft and savory light number to slowly work up the crowd. I was particularly pleased with the audience's faithful accompaniment with the band during the long lullabiac "ooooOOOOooooOOOO" sequences that glittered the song.

Somewhere between the second and third song, Charlie Brand, frontman, stopped what he was doing and addressed the audience. "You guys better not be taking this view for granted," he said, motioning towards the massive metropolis of lights to the audience's left. "How amazing is this view?" It was charming, and definitely helped paint a picture for the kind of lead man Brand seemed to be; earnest, genuine and passionate. Listening to him sing, I couldn't help but think that if Shakespeare's Romeo had been in a band, Brand's vocals would have come out of his mouth. A total loverboy voice, Brand's range stayed quite melodious, with a very tolerable side of whine, and, at times, got rougher and a bit more aggressive as the lyrics became, perhaps, a more important and personal to him. The harmony and overall sound of their group definitely reminded me of some sort of boy band from the 60s dreamily singing to mod-clad girls about daisy-fielded love. 'Twas rich.

The Mini-Ts closed with their fairly-new "Lolita," a tune that seemingly had a pulse of its own - supplied by Rich Schaier's drum-induced throbbing beat that back-boned the song as Brand's acoustic guitar strums fleshed it out with pureness. And! And! The bassist, Alex Gerber, whipped out a RAIN STICK halfway through. Unexpected. Welcomed. Perfect. The end.

Nite Jewel

As the sun retired to its blanketed horizon, the Mini-Ts thanked the crowed and exited, as roadies began to rush the stage to switch and move equipment. Next up was Nite Jewel, a bizarre, yet hypnotic group from California. If the tuning of the bass was any indication of how good this set was going to sound, it was all I could do to not jump on stage and demand a private strum-serenade and dance session. That wouldn't be weird, right? Add, then, a few synthesizer sound tests that pressed out freaky trans-hop riffs, and I was anxious and buzzed with music love for this crew to start.

But, however, it wasn't that simple. The band hovered around their instruments, either testing or tuning, while the jazz music that was on for the band-switch intermission was still playing. It got to be a bit of a sound massacre as some Louis Armstrong-esque voice drifted out of the overhead speakers, while the band's choppy testing sounds fumbled their way out of stage's side speakers. Then the lead singer, Ramona Gonzalez, starts "hellooooo"ing her scales into the microphone, making it such a complete mess of noise that the crowd became visibly confused. Was she warming up? Shouldn't that have been done backstage, beforehand? Were they aware that the jazz was still playing? Did they not hear what we did? Finally, as an answer to our ears' prayers, Gonzalez spoke softly into the mic, saying, "So, uh, should we turn the jazz off, or should we just keep going?" The crowd laughed and settled as the intermission music was silenced and Nite Jewel began to show us what they were all about.

Opening with "Want You Back," that familiar bass strum that had lured me before became the focal sound of the song, with the drums as a close second. Because of the heaviness of this very present modulation, at times it overpowered Gonzalez's vocals. Sound technicians must have caught on because by the second song, her angelic voice was front and center, blushing us all with her regally soprano breaths of vocal voo doo, all the while still being able to traipse about in the rich and sultry lows of alto. It reminded me a lot of Erika Amato of Velvet Chain. Very strong, very alluring and very engaging.

The back-up singer and co-keyboardist, Emily Jane Kuntz, however, was rocking some sort of peculiar dance, that I have only been able to describe as a "heroin sway." Don't get me wrong, she's completely talented in her own right, but that dance... Apparently not everyone agreed with me, because in between songs some dude from mid-crowd yelled, "I don't care what they say! I love the way you dance!" The crowd roared with laughter. Classic.

By the time that they started singing "What Did He Say," I was able to pinpoint where I'd expect to hear their music. While the bass and the drums undeniably take control of your hips, it's more of a slow and purposeful rock that you'd utilize in an after-hours lounge-type scape, rather than a fast and furious jounce that would be appropriate in a dance club. In this particular song, I was taken aback by Gonzalez and her voice's minx-like ability to undress the stresses of your day, and pull you down into her den of seductive mellow relaxation. Case in point, a couple standing by me, aided by the trance of the beat, began to lock lips. Hand to God, at the same exact time as that happened, Gonzalez said into the microphone, "It's dark out. Who's making out?" The crowd cheered. "Well, that was the make out song, so if you're kissing...you win."

There were mixed emotions from the audience when Nite Jewel started to leave the stage. Towards the back, someone chanted, "One. More. Song! One. More. Song!" while the girls standing next to me cried, "God, no!" in response. For me, I quite enjoyed the soulful jams that they picked to share with us, but even still, my ears were hungry with anticipation for what was next.

The Dom

The eponymous singer of Dom was just so adorably charming in all of his Mets t-shirt, long, shaggy haired, backwards cap glory, that I assumed his music was going to be just as precious. Sounding absolutely nothing like their music that can be found around online, Dom exuded a very abrasive and garage-like band sound. It was great rock, but it just took me by surprise since I had never heard them live before.

When they performed "Crazy Girl," the electric guitars were very apparent, as they sliced through head-banging drum beats, while Dom's similarly sharp dagger-like voice cut a clear path straight through the music, wide enough for you to follow him through, and crisp enough for you to believe that this girl is... "JUST A CRAZY GIRL." Dude was serious about it.

In between songs, Dom spoke to the crowd, and though, unlike his Mike Patton-esque (of Faith No More) bratty, twangy singing voice (circa "Epic"), his speaking voice is quite surfer-dude in sound and content. "So, guys. This is awesome. You guys are an awesome crowd. This place is awesome. Check out the awesome view. Hope you're all having an awesome time." I'm not even kidding. It was funny, but only because everyone was left thinking, "Is this guy serious?" Awesome.

"Burning Bridges" surprised me with softness, sanding off the rough edges of the previous tune, "Wormtown," which exhibited a strong grinding of the two electric guitar sounds, as the bass voyeuristically stayed back and cradled the two in their tryst.

Perhaps they weren't my favorite band to play that night, but when they closed their set with "Hey Sandy," a Polaris cover, I was instantly charmed and endeared to death. That song, the theme song to one of my childhood favorite shows, Pete & Pete, holds a very dear place in my heart and anyone who wants to rep the 90s and successfully cover it at a concert is a friend of mine. From there on out, the Dom was my personal hero for the rest of the night.

Prefuse 73

That is, of course, until my fickle heart got a dose of Prefuse 73. Guillermo Scott Herren, the producer, performer and overall master-mind behind Prefuse 73, completely blew the audience away with his delicious potluck of sounds. You should have seen me taking notes as I listened, trying desperately to grasp one genre and throw them under it. But Prefuse 73, a stubborn megalomaniac of sound - as I discovered - would not have it. Cut away at the flesh and you'll find lush strands of almost everything running through the band's veins: hip hop, trip hop, punk, rock, electronica, transcendental...and the list goes on.

Watching Herren perform was another enjoyable experience all in its own. Thrashing his body this way and that, between hunching over a sound board and beat-boxing sounds into a microphone, it became clear that he was under the strong sinister force of some relentless music demon, hellbent on making Herren feel the sound in his blood. And I have no doubt that he did, as he continuously convulsed in a glorious rhythmic wrestle with the spirit. I'm not one to dabble in the dark arts, but I wouldn't have minded being under that kind of possession. Hell, I felt it second-hand from the front row - a mysterious and intoxicating mix of beats courtesy of the amazing strength and power from the bass and drums that bossed every song to the ground, but also spiked it with hypnotic transcendental sounds that were woven throughout.

Whatever "vocals" or noises that Herren provided via mic were intense. Haunting, high-pitched "ahhhhh"s sent chills throughout my eager limbs as I rode through this greatly-welcomed Himalaya of sound.

It was such a seemingly long and gratifying spell to be under - hearing the musical gifts that they shared with us - that when their set ended and the music stopped, my ears recoiled in disgust, offended by the lackluster bout of silence that followed. Renegades of sound, Prefuse 73 was highly addictive, extremely warming and, of course, memorable.

Neon Indian

For the record, the time between Prefuse 73's set and the start of Neon Indian's was just too. damn. long. Every other intermission was fifteen, twenty minutes tops, but for this particular interim, you could feel the crowd getting antsy. I had time to leave the VIP section, trudge through piles (literally) of camped out/passed out hipsters, order and eat a hot dog, drink a soda, sit down at a picnic table to organize my notes, get asked by a fourteen-year-old if I had a cigarette she could bum, hike through said camped out/passed out hipsters, re-enter the now ridiculously packed VIP section (the guard wasn't doing his job) and get verbally and physically harassed by a drunk conservative, accusing me of being a communist liberal because of who I was writing for. Like dude, you don't even have a press pass sticker, so why don't you pick up your daddy's wallet that you just dropped and go take a nap with the rest of the intoxicated fools.

So yes, when Neon Indian finally graced the stage, we were all more than happy to welcome them with open ears and worn patience.

But let's just talk about the lead man - curly, shaggy-haired Alan Palomo. When this guy sings, you can just tell that it's coming from this extremely personal and emotion-filled place. You could glimpse his depths as his body was feeling the music; tensing and flailing as he would grab on the microphone - either to steady himself or to pull it down into the sound oblivion where he had currently taken up residence upon coming onstage. It was very emotive - each head rock or leg kick illustrating the broken heart, regretted mistake, or infatuation sought.

The light effects for their show, too, must be noted. It accentuated and, literally, highlighted the performance so much that it seemed like an extra band member - floating around onstage, giving the audience the show they were craving. The neon green, pink, purple and blue lights made the machine-made smoke clouds look like pillowy puffs of cotton candy. Everything worked together to not only make this performance a feast of sound, but also an illuminative vision.

Not that I'm downplaying the sound at all. It was live music heaven listening to them. When they played "Sleep Paralysist," I could feel the drums in my chest, while the spaceship/radio frequency sonics buzzed around playfully in my ears. May not sound like an ideal cocktail, but add Palomo's gentle exhales of vocals and you'd be right there swaying with me. And once again, the dude could not sit still. He was a warrior for the words he was singing and a slave to the beat he was creating.

In between songs, Palomo threw out a visibly-shy "Hey, how are you guys doing tonight?" followed by a quiet laugh. He then apologized, saying, "I'm sorry. I get really awkward when I have to address the audience. I can't ever think of anything else to say other than the generic, "hey, how's it going out there?" The crowd shouted, raised their arms and reached in his direction, hoping to scoop up some of the magic so they could hold it in their hands instead of just hearing it in their ears.

The audience's excitement only grew once the opening beats to "Deadbeat Summer" came frolicking in. Some people maybe got a little too excited, as I noticed this chick behind me rip off her shirt and start dancing around in her bra. Alcohol may have been involved.

As Neon Indian's set wrapped up, Palomo said thank you to the audience and all the other bands on the bill and then exited with his other band members. Cue the encore rally. "ONE MORE SONG. ONE MORE SONG." the audience cried. Bra girl was pulling on her hair, yelling, "Please don't go!" It was a fandemonium. The band relented, naturally, and Palomo re-entered the stage area, taking the mic in hand. "So, maybe it was all the smoke from the smoke machine, but do you guys want another song?" Crowd: hysteria.

Neon Indian provided the perfect set to end the lush, summer evening. I dug their love-lorn laced lyrics and the beats were amazing. It's the kind of band you'd listen to on a cool night with the windows rolled down, breathing in that enchanted feeling that music has a habit of evoking in its missionaries.

And that's kind of what the entire night felt like - an endless, dizzying, enjoyable joy ride with sound, and how alive it can make you feel once it gets under your skin and inside your body.
Popular in the Community