As aid pours in to help Nepal cope with the aftermath of Saturday's devastating earthquake, humanitarian agencies face major challenges ensuring that the right help reaches the right people.
The scale of the destruction and suffering is enormous. Over 5,000 people are confirmed dead in the magnitude-7.8 earthquake, and officials warn the death toll may double when rescuers finally reach remote villages near the epicenter. More than 10,000 are injured and around half a million are displaced.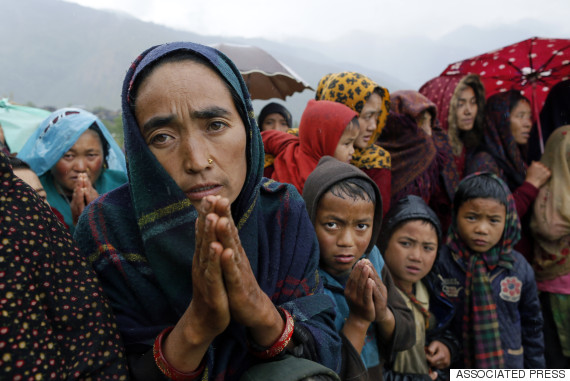 Ramaya pleads for food after an aid helicopter lands at the remote mountain village of Gumda, near the epicenter of Saturday's massive earthquake, April 29, 2015. (AP Photo/Wally Santana)
But while Nepal desperately needs assistance, relief organizations warned it's imperative that the aid meets actual needs and is used effectively. These are some of the challenges the effort is facing:
As the search rolled into the sixth day, the chance of rescuing people trapped by the quake rapidly receded. On Tuesday, Nepal asked for no more foreign search and rescue teams to travel to the country. "At this stage there will be little chance of finding survivors," Órla Fagan, information and advocacy officer for the United Nations' humanitarian agency, explained to The WorldPost.
Yet as the focus moves from rescue to recovery, Nepali authorities still need help reaching people stranded in remote areas near the epicenter, where injuries remain untreated and disease is spreading.
Even as his government called off foreign rescue assistance, Prime Minister Sushil Koirala said a "lack of equipment and rescue experts" was impeding rescue efforts across the Himalayan villages. Foreign search and rescue teams already on the ground also complained of poor coordination by Nepali authorities.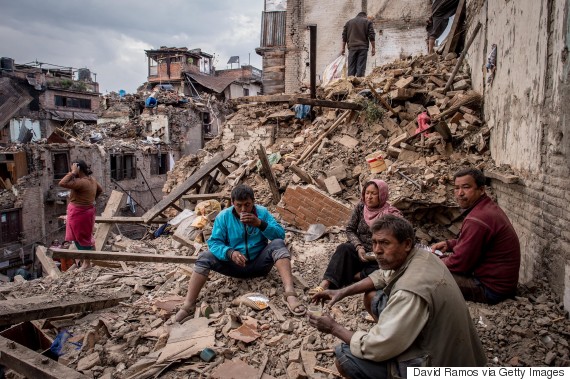 Nepalese earthquake victims take a break as they search for their belongings among debris of their home on April 29, 2015 in Bhaktapur, Nepal. (David Ramos/Getty Images)
The Nepali government also told relief groups it did not need more emergency medical teams to treat the severely injured, according to the UN and aid workers.
However, Nepal is still welcoming other forms of medical assistance, and will need experts to help with community health issues as thousands of displaced people cram makeshift shelters in poor sanitary conditions. Nepal's hospitals and clinics have been badly damaged, and the country will need supplies and expert assistance rebuilding its medical system in the coming months, aid workers said.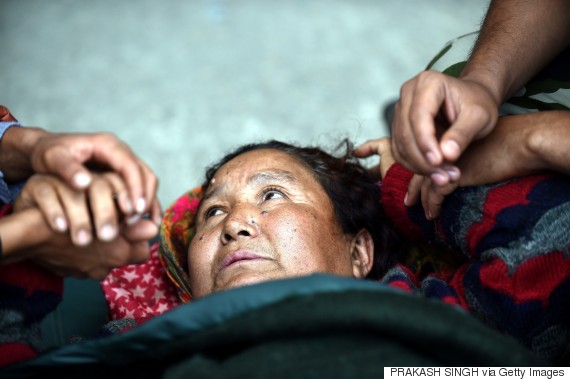 An injured Nepalese woman looks on at a field hospital at an airport in Kathmandu on April 29, 2015. (PRAKASH SINGH/AFP/Getty Images)
A rush of well-meaning volunteers without the expertise that Nepal needs could worsen the chaos in disaster-stricken Nepal.
"One of the biggest problems with relief work is that it is a free-for-all. Anyone who wants to, and who is privileged enough to afford a plane ticket, can pitch up," Claire Bennett, a development specialist living in Kathmandu, wrote earlier this week in an article for The Guardian titled "Don't rush to Nepal to help. Read this first."
"With Nepal's population of around 30 million, my perspective is that manpower is in abundance, but supplies and technical support needs to get through," Bennet told The WorldPost. In her Guardian article, she noted that financial donations are the best way for people outside of Nepal to help the country.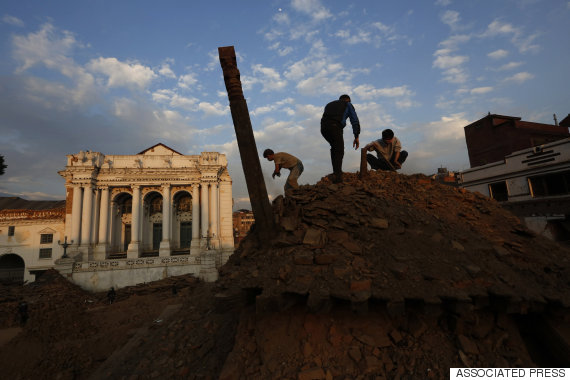 Nepalese students and volunteers clear the rubble at Kathmandu Durbar Square, a UNESCO World Heritage Site, in Kathmandu, April 29, 2015. (AP Photo/Manish Swarup)
"In a high-profile disaster like this, it's common to see nonprofessional aid organizations or individuals who lack disaster response experience not coordinating well with the government and the United Nations' cluster system," World Vision's senior director for humanitarian emergencies, Mark Smith, told The WorldPost. "That can make a difficult situation even worse for national leaders trying to maintain control and deliver aid quickly."
A flood of unnecessary assistance could end up getting in the way of more vital aid.
Nepal has just one international airport -- and that airport has just one runway, which was only functioning intermittently in the first days after the earthquake, as powerful aftershocks shook the country.
The airport was jammed with aid workers, supplies, families desperately seeking loved ones and tourists trying to evacuate. Some aid planes had difficulty landing or were turned away, while others waited in airports around the world for the go-ahead.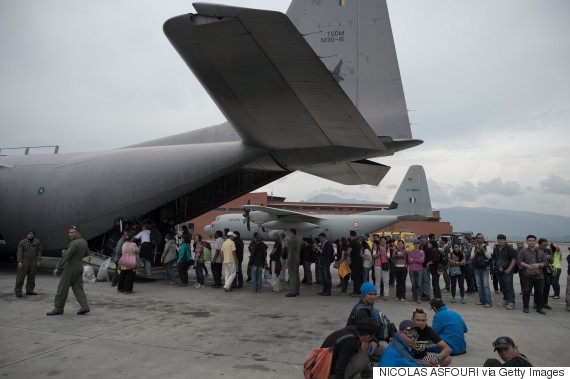 Tourists board a Malaysian Air Force C-130 cargo plane as they leave the country at Kathmandu airport on April 28, 2015. (NICOLAS ASFOURI/AFP/Getty Images)
"The airport is totally congested. Even the planes which have landed, goods haven't been offloaded," Asia Pacific Director of the International Federations of Red Cross and Red Crescent Societies Jagan Chapagain told CNN.
Fagan said airport authorities were working with to "streamline procedures" so that more flights could land.
In an effort to circumvent the airport, Oxfam press officer Vanessa Parra told The WorldPost the organization is examining how to transport humanitarian supplies by road from India, a route that could provide easier access to the most affected areas.
"Any country as mountainous as Nepal, land-locked, with no ports, is going to run into some challenges getting aid in as fast as we all want," Smith said.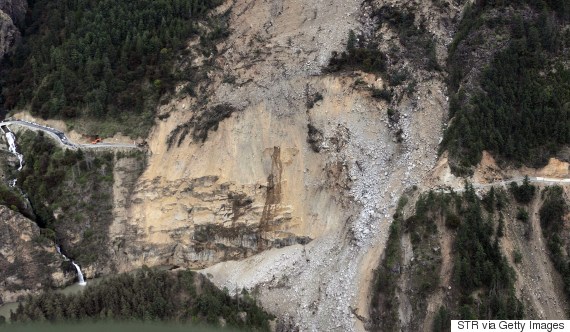 This aerial picture taken on April 27, 2015, shows an earthquake damaged road from Jilong township to Rasog township, southwest China's Tibet region.(STR/AFP/Getty Images)
The slow pace of aid delivery has sparked protests in the capital and surrounding villages this week. The New York Times reports that many Nepalis believe foreign aid is pouring in, but being hoarded by corrupt government officials.
Mixed messages from different parts of the government about aid needs have added to the confusion. On Wednesday, Nepal's foreign secretary, Shanker Das Bairagi, appeared to contradict the message to halt emergency medical and rescue teams. "Our top priority is for relief and rescue teams. We need neurologists, orthopedic surgeons and trauma surgeons," he said, according to Reuters.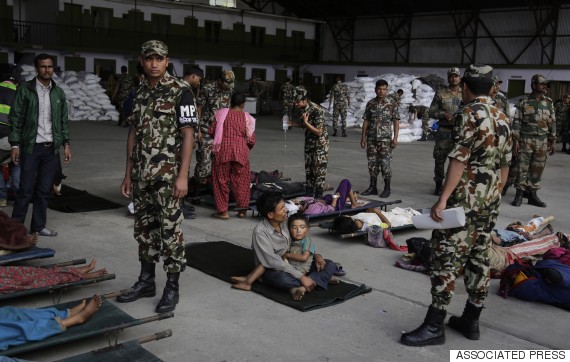 A man sits with a child on his lap as victims of the earthquake, wait for ambulances after being evacuated at the airport in Kathmandu, Nepal, April 27, 2015. (AP Photo/Altaf Qadri)
Nepal has lacked a cohesive central government since 2008, when it replaced the monarchy with a republic but was unable to agree a constitution. "This is a real hindrance for a coordinated relief effort," Bennett said.
Nepal's communication minister, Minendra Rijal, on Tuesday acknowledged "some weaknesses in managing the relief operation," and vowed they would be immediately addressed.
"A disaster of this size and scale would overwhelm almost any country's government," World Vision's Smith pointed out.
It's vital to get a handle on the chaos. With power, telecommunications and media distribution disrupted, rumors with potentially dangerous implications are thriving, according to Alison Campbell, senior director for global initiatives at media development organization Internews. Rumors of further aftershocks have spread panic across Nepal.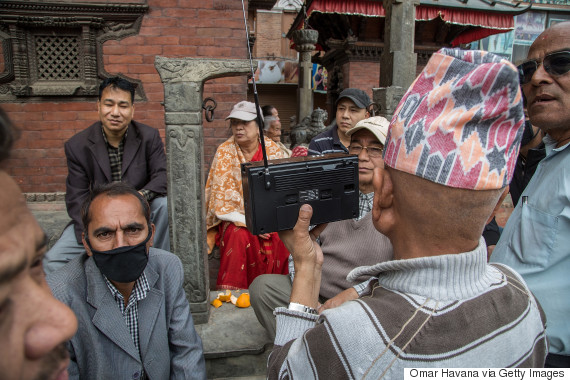 A group of people listen to news updates on a radio near Basantapur Durbar Square following an earthquake on April 25, 2015, in Kathmandu. (Omar Havana/Getty Images)
"Everything is about turning confusion into coordination at this point, and that's not an easy thing to do," Campbell said. "The need for information is critical."
Some Nepalis blame both aid groups and the government for not preparing for a disaster that had long been anticipated. Nepal sits on a major fault line, and dense urban areas and poor building construction have exacerbated the risks. Just a week before the earthquake, disaster experts met in Nepal to discuss the poverty-stricken nation's vulnerability to a major quake.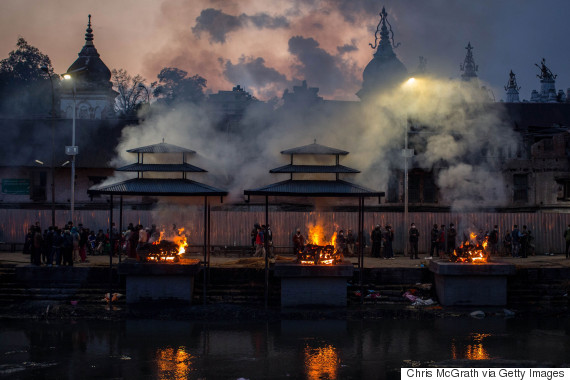 Victims of the earthquake are cremated at Pashupatinah Temple on April 29, 2015, in Kathmandu. (Chris McGrath/Getty Images)
"We knew this was coming. People had warned the [authorities]," Rashmita Shashtra, a health worker from Nepal's Swarathok village, told The Guardian. "The international community should have helped the government prepare, too."
"Nepal was woefully underprepared -- we all knew this, and yet preparations were not made," Bennett said. "You can blame the government, aid agencies, international community, whoever, but I see it as an enormous failure, and one that will enhance the suffering of the earthquake victims."
The button below indicates how much has been raised on Crowdrise's "Nepal Earthquake Relief" page. Click to visit the site and donate.
Calling all HuffPost superfans!
Sign up for membership to become a founding member and help shape HuffPost's next chapter
BEFORE YOU GO
PHOTO GALLERY
Deadly Earthquake Rocks Nepal