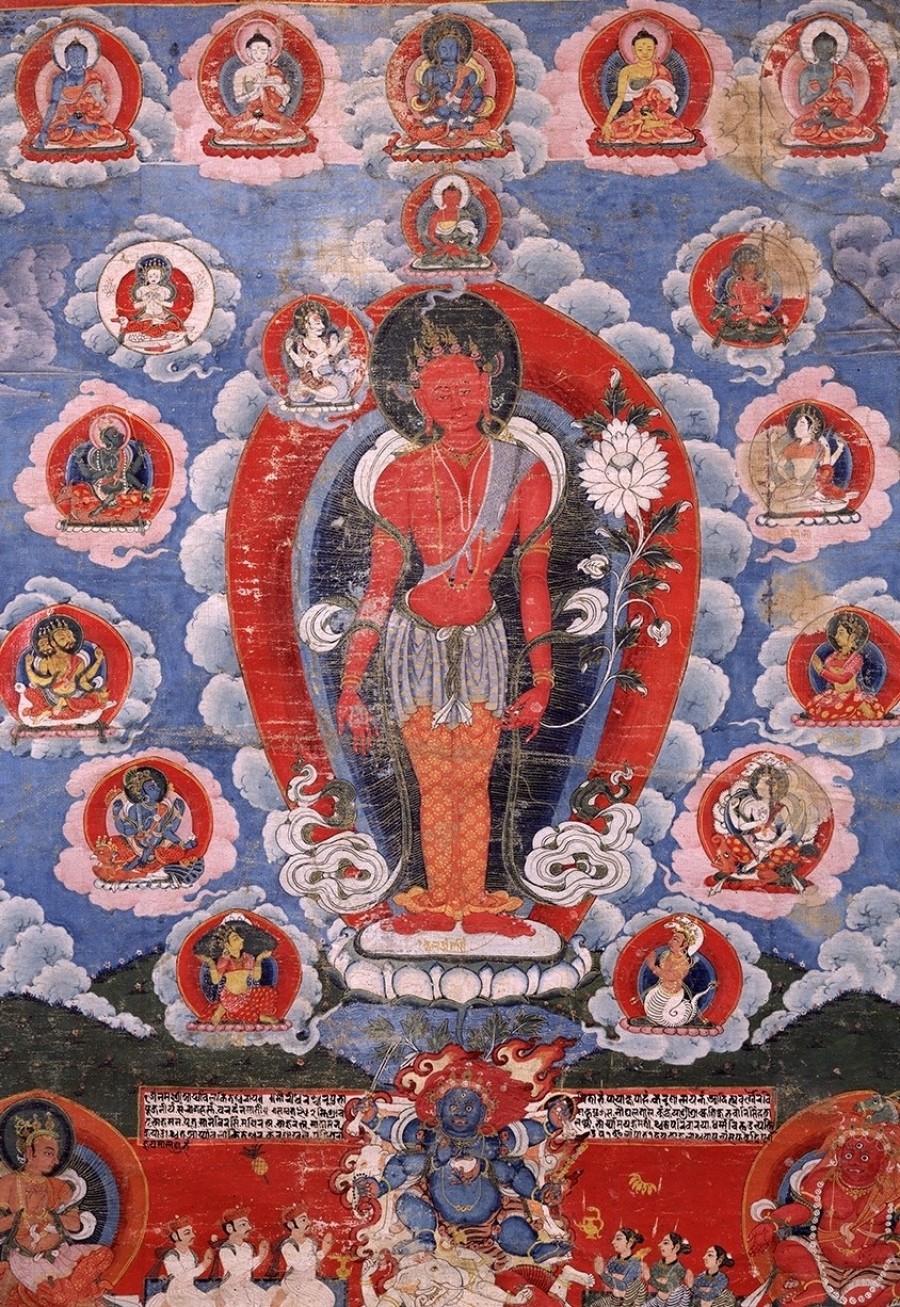 In Nepal, Buddhist deities and Hindu gods are both vital parts of ritual life and are worshiped side-by-side. Rakta Lokeshvara, a meditation form of the Bodhisattva of compassion, stands at the center of this painting and is surrounded by a number of Hindu gods emanating from his body. Rakta Lokeshvara/Macchendranath, Nepal; dated 1842, Pigments on cloth; 29 3/8 x 22 in. Rubin Museum of Art
On Saturday, April 25, a 7.9 magnitude earthquake hit Nepal, centered outside the capital of Kathmandu, rattling and destroying many of the city's oldest neighborhoods. The worst earthquake to hit the South Asian nation in over 80 years, the quake was strong enough to be felt all across parts of India, Bangladesh, China's region of Tibet and Pakistan. Aftershocks of up to 6.7 magnitude increased the already devastating damage.
As of now, over 4,800 people have been killed by the natural disaster, although the full scale of the damage has yet to be determined, as many mountainous areas and faraway villages remain unreachable. Prime Minister Sushil Koirala told Reuters the death toll could reach 10,000, a number exceeding the 8,500 deaths that occurred in the 1934 earthquake.
Aside from the thousands of lives lost, Nepal's culture was irreparably wounded, as well. As Donatella Lorch wrote in The New York Times: "The Durbar Squares in Katmandu and Patan where tourists thronged -- ancient plazas graced with temples and fountains opposite the old royal palaces -- had been reduced to rubble, with only a few structures left standing. One of my favorite shrines, famous for its white domes and four giant, fearsome brass dragons with talons raised, is now a pile of cracked red bricks and dust."
We reached out to Jan Van Alphen, Director of Exhibitions, Collections and Research at the Rubin Museum of Art -- New York's mecca for art from the Himalayas, India, and neighboring regions. "We're the only museum that deals with this niche of Himalayan Buddhism and Hinduism, art from Nepal and India and Western China," Alphen explained. "Our collection also includes folk religions, shamanism, everything that's happening in the Himalayas, and in extension Mongolia."
Van Alphen spoke about the damage and what people can do to help.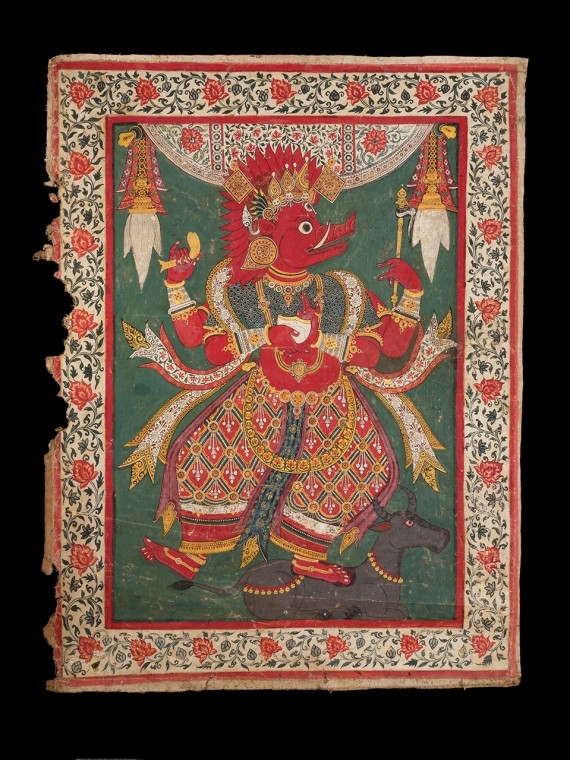 Hindu Festival Banner, Nepal, Pigments on cloth, 23 3/4 x 17 1/2 in. Rubin Museum of Art
What has been your experience with Nepalese artworks?
I studied Nepalese art and gave courses on it when teaching in Antwerp. It's really a mixture in its religions, in its styles. We have in the Rubin about 600 objects that are Nepalese -- it's a big part of our collection.
What would you say are the dominant traditions of Nepalese artwork?
The Nepalese paintings, which we call thangkas, many of them have an inscription on their front side which says something about the time the paintings were dedicated to a temple. Basically, it gives a date, which is so important to attach times to certain styles.
The Nepalese bronze casts from the Kathmandu Valley are so important to the history of bronze making. They made perhaps the finest bronzes ever in that part of the world. [The artists] were so good that some of them, like the famous Aniko, were introduced to the imperial workshops in the Chinese capital during the Yuan Dynasty. Their influence worked further into the art of the Ming Dynasty. The Nepalese were also known for their mercury building, where gold was mixed with mercury, and then when they'd fire it, the gold stretched all over the structure and made a second skin. The only thing is that from inhaling what came out, many of those bronze casters died early. It's forbidden now to do that.
Would you say the role of Nepalese art was primarily religious?
Yes, one could say so. But also, non-religious art and buildings have a very important role. I think in those countries it's all mixed and influenced with each other. For example, you have the brackets on one of the famous Nepalese temples, which have now collapsed. They have all sorts of scenes sculpted in the wood that at the same time support the structure and also have a narrative to tell. People would stand under these rooms and look at the sculptures. The fountains, the step wells, it's all mixed -- religious and non-religious. It comprises a bit of every part of daily life.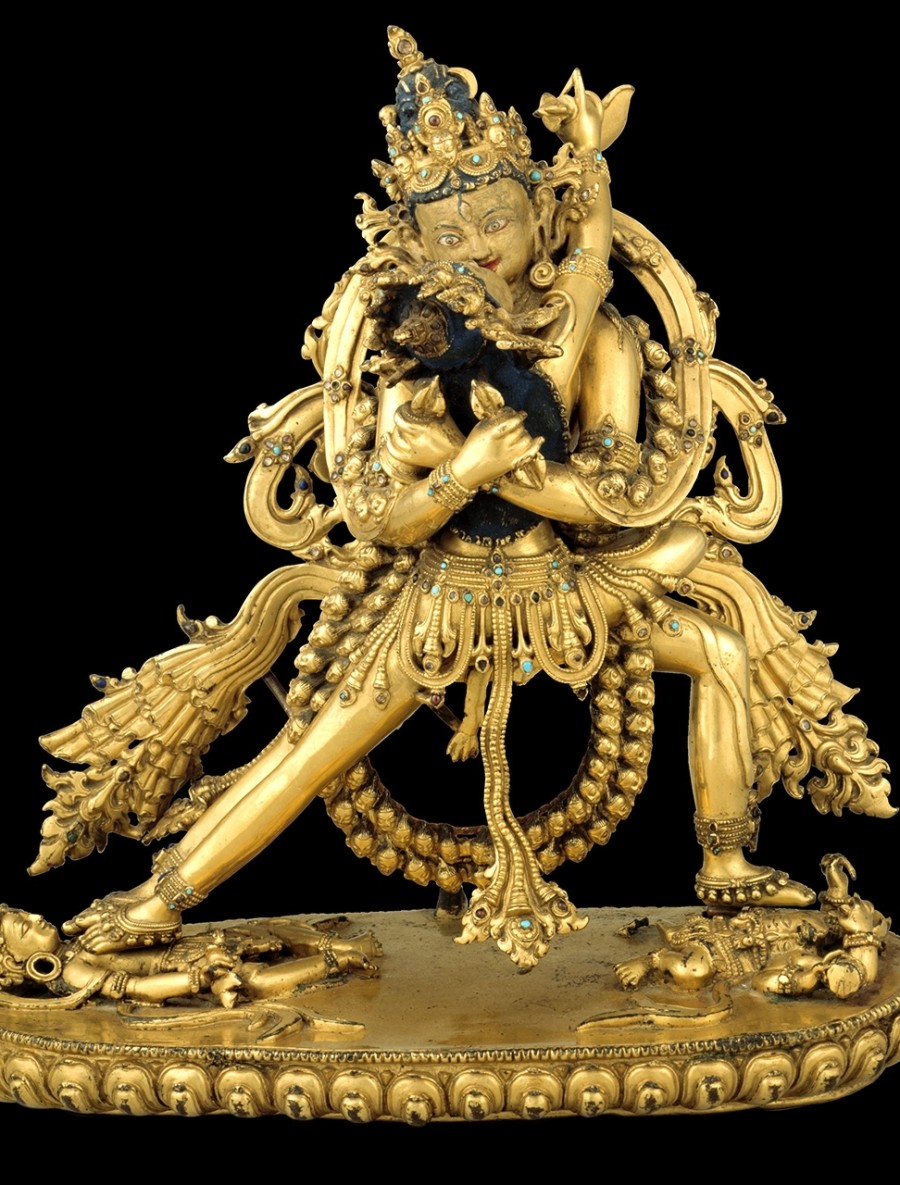 Chakrasamvara, Central Tibet, Gilt copper alloy with pigments and turquoise inlay, 12 5/8 x W 12 1/4 x D 6 in., Rubin Museum of Art
What was your reaction when you heard of the earthquake?
It's horrible. In many ways. My daughter studied last year in Kathmandu. She was there with her school working with orphans and children. Her first thought was: what happened to the children? We couldn't get in contact with them because the telephone lines were broken. We heard several of our friends' houses collapsed. They had to live with our friends who had gardens because they couldn't go into buildings because of aftershocks. A friend of mine who has a big collection, his house hasn't completely collapsed, but he can't go inside for any of his belongings. And of course, it's worse for the thousands of people that died in this horrible thing.
The daughter of a friend of mine, who is coincidentally in London at the moment, said "I can't imagine going back to my country. It's changed completely in one day." She was involved in the restoration of many buildings that were just finished. Now, they'll have to start over completely, if it's even possible to start over. Some won't even be possible to restore again. All that is over, it's finished, it's for nothing. My first thoughts were, of course, for the people that died and after that for the tremendous loss of culture and heritage. We just hope that there is a lot of care and solidarity after something like this.
To your knowledge, what is extent of the damage thus far?
The three main adjacent cities in the Kathmandu Valley -- Kathmandu, Bhaktapur and Patan -- if you go to the main sites, all the court squares, with beautiful 17th century buildings and Hindu temples in the middle -- most of it has collapsed. The Buddhist stupa sites from Swayambhunath and from Boudhanath and many buildings around them are finished. Also, the Hindu complex of Pashupatinath, where corpses are cremated. And then there's the Dharahara Tower, also called the Bhimsen Tower, an early 19th century watchtower where tourists often visit, collapsed with several hundreds of tourists inside. I think most of the important sites are somehow part of this catastrophe. It will take a lot of work to get it back, if at all possible.
The Rubin has listed humanitarian organizations currently providing aid on the ground and accepting donations. We're also putting our Nepal objects that are mixed in the six galleries together so people can see how important Nepalese art is. We will definitely help in making people aware of how important the heritage and art is in Nepal. We have planned a big Nepal show for next year and plan to do something in light of this disaster. We just want to make people aware of what this means. There are many occasions to help, small and big.
You can also visit The Rubin's website to learn more about their upcoming events, lectures, exhibitions and programming centered around Nepalese culture.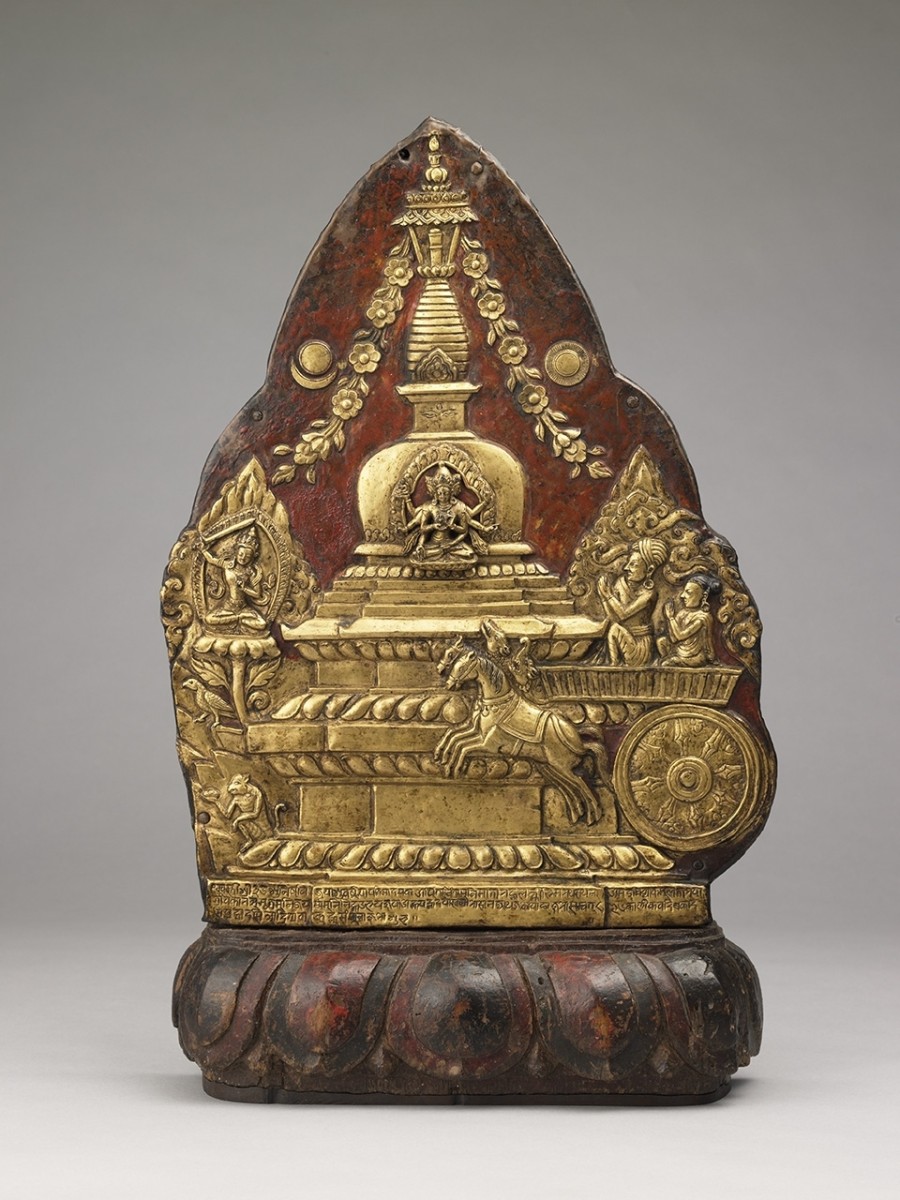 This exquisitely crafted gilded répoussé plaque depicts a special birthday celebration common to the Kathmandu Valley known as the Chariot Ritual. It is practiced by both Hindus and Buddhists when an elder reaches the age of seventy-seven. (Swayambhu Stupa, Bhimarata Chariot Ritual, Nepal; 1776, Gilt copper; répoussé; H 17 1/2 x W 11 1/2 x D 3 3/4 in. Rubin Museum of Art
Correction: We mistakenly wrote that 8,500 were lost in the 1834 earthquake. The correct year is 1934. We regret the error.
Popular in the Community