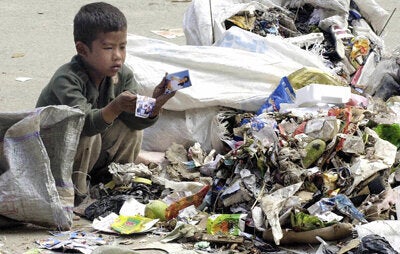 Originally published on GroundReport.com, the citizen journalism platform that covers world news from the ground.
KATHMANDU-- For three weeks, Kathmandu has been suffocating in mountains of trash. After Unified Marxist-Leninist (UML) and Nepali Congress (NC) workers and supporters blocked garbage trucks on the way to local dumping sites, garbage has piled up throughout the city.
For about 50 years, Nepal's government has not been able to systematically manage their garbage removal. Usually, it's a revolving door: the Kathmandu Metropolis assigned with removing the garbage seeks a temporary dumping site, and uses it until trucks are blocked by protesters, then finds a new one. This has become customary practice with no new policies and changes.
Villagers nearby the disposal site always complain that the government uses such areas without implementing compensation commitments. However, city authorities say political activists always violate the previous agreements for the sake of opposition politics.
As the government has not had any long-term strategy to manage garbage, inter-prohibiting political parties, who prefer to impose their own party rule in the name of democracy, use garbage as a tool of petty politics.
Sources from Okharpauwa village close to the dumping site, say local activists of political parties are indulged in garbage politics through which they compete to profit economically. According to the sources, garbage piles up in Kathmandu while they are involved in garbage politics. It is believed that their parties, too, are politically motivated to defame one another under this garbage politics.
The Nepalis, divided terribly by self-centered political parties, are always tired of the garbage-like politics of the country. They find political leaders extremely shaky in a political sense.
After the Maoists formally entered the mainstream peace process in November 206 by signing the Comprehensive Peace Agreement (CPA), people had hoped that Nepal would see vast changes in every sector after a new inclusive constitution would be drafted. But the major political parties themselves have now little heeded the constitution-writing assignment given by the Nepalis, who elected the Constituent Assembly on 10 April 2008 for the purpose.