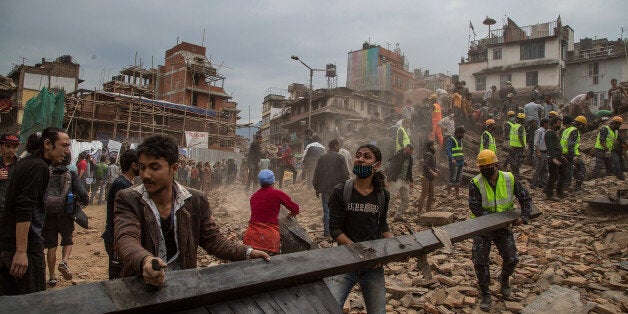 Aid agencies are stepping up to provide relief to those in need following Saturday's devastating earthquake in Nepal, which has claimed over a thousand lives.
The groups face an immense challenge, as nearly the entire country was affected by the 7.8-magnitude quake. Homes and buildings have been reduced to rubble, and communications systems are reportedly down in areas across the nation.
"We are in the process of mobilizing resources and figuring out how to get them in," Jana Sweeny, a spokesperson for the American Red Cross, told The WorldPost.
Sweeny says the American Red Cross is working with the International Federation of the Red Cross and the Nepal Red Cross Society to determine what needs to be done and how they can best direct their efforts. "We are looking at what resources we can provide them in terms of specialists or supplies and financial support," she said.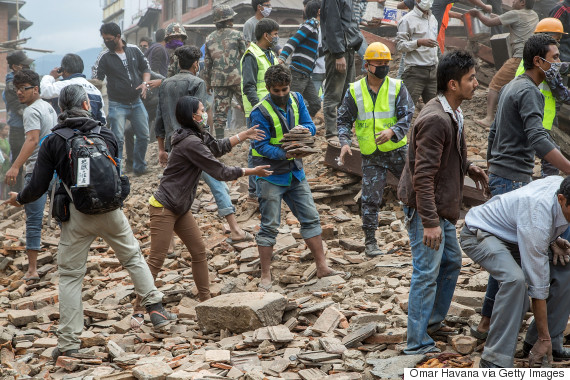 People stand around damage caused by an earthquake at Durbar Square in Kathmandu, Nepal, Saturday, April 25, 2015. (Omar Havana/Getty Images)
One of the groups garnering significant support on Crowdrise is Shikshya Foundation Nepal. The effort is being led by prominent New York fashion designer Prabal Gurung, who serves on the foundation's board. Gurung was raised in Kathmandu, Nepal, and has sent out calls for donations to his over 184,000 followers on Twitter.
Amid the current humanitarian crisis, one especially vulnerable group is children. Agencies are making plans to ensure that children's needs are specifically addressed. One such relief mission is being undertaken by Save The Children, which already had hundreds of employees in Nepal before the earthquake hit and is now making a concerted effort to give international support to its local workers.
"We are trying to get our global team into Nepal to assist with the work there," said Save the Children spokesperson Devendra Singh. He noted that while early efforts have been hampered by logistical problems with getting flights into the country to provide more assistance, the group is working hard to get people in to give relief.
"Our first step is to respond with relief materials and immediate needs," Singh said, which include clean drinking water, food, medicine and first aid supplies, as well as "shelter for people who are out of their homes."
UNICEF is also providing aid to children who have been harmed by the earthquake. The group said in a statement Saturday that it is conducting a rapid assessment of needs and will work in conjunction with the government to assist survivors.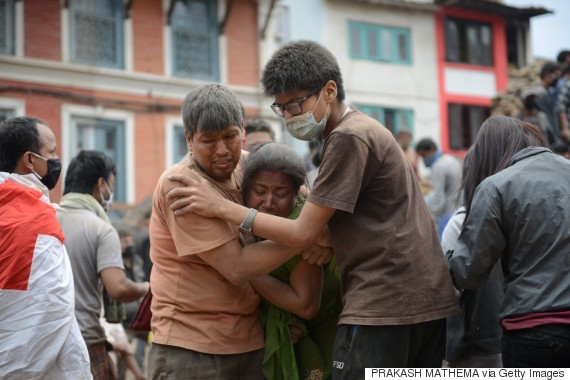 Earthquake victims are helped by a rescuer in Kathmandu's Durbar Square, a UNESCO World Heritage Site that was severely damaged by the earthquake on April 25, 2015. (PRAKASH MATHEMA/AFP/Getty Images)
Other agencies have also indicated plans to get more aid workers into Nepal. AmeriCares India said in a statement to TheWorldPost that it is sending an emergency response team from Mumbai to Nepal to deliver medical assistance and relief to survivors.
Organizations working on the relief effort are seeking to reach donors in a number of ways. For instance, Global Giving is asking donors to text "GIVE NEPAL" to the number 80088 to give $10 to its Nepal Earthquake Relief Fund.
The button below indicates how much has been raised on Crowdrise's "Nepal Earthquake Relief" page. Click to visit the site and donate.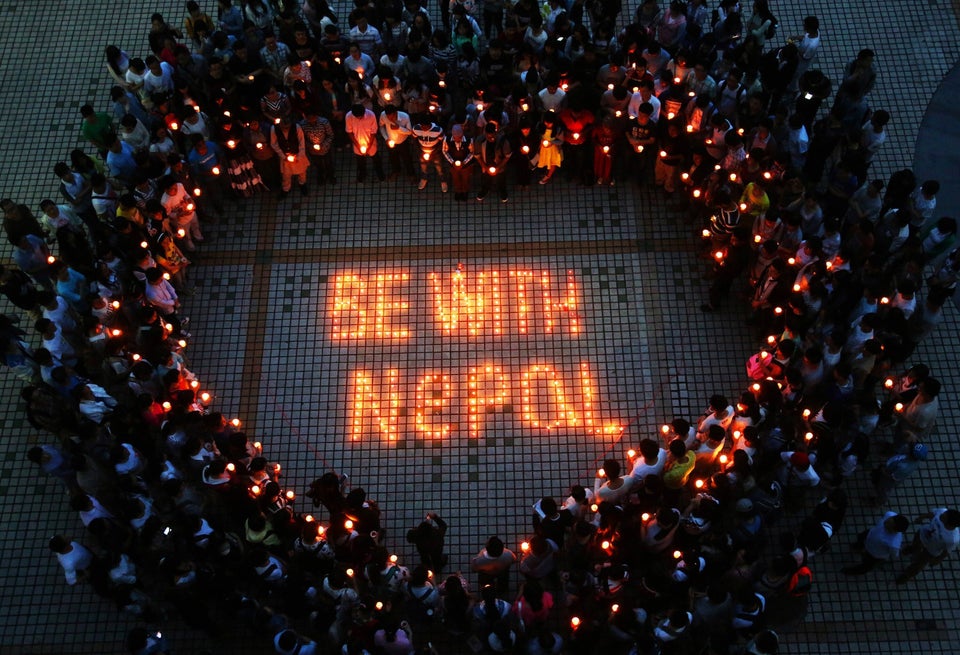 Nepal Earthquake
Popular in the Community