A devastating 7.8 magnitude earthquake that struck Nepal on Saturday killed more than 2,000 people, left a wake of destruction across the broader region, and triggered a deadly avalanche on Mount Everest.
As rescue crews raced to find survivors, the death toll steadily rose. On Sunday afternoon, Nepal police said that more than 2,200 people were killed.
The avalanche buried part of the mountain's base camp, which was full of mountaineers who had come for the start of the main climbing season. Alex Gavan, a climber who said he was at base camp, wrote on Twitter: "Running for life from my tent. Unhurt. Many many people up the mountain."
An army spokesman told Reuters that at least 18 bodies had been found on Mount Everest. Google executive Dan Fredinburg was among those killed in the avalanche, CNN reports.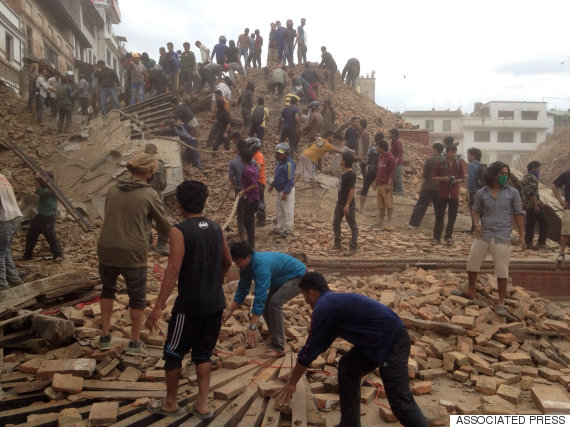 Volunteers help with rescue work at the site of a building that collapsed after an earthquake in Kathmandu, April 25, 2015. (AP Photo/ Niranjan Shrestha)
Powerful tremors also rocked neighboring countries, killing 34 in northern India, six in Tibet and two in Bangladesh, as well as two Chinese citizens on the Nepal-China border.
The earthquake's epicenter was 50 miles east of Nepal's second-largest city, Pokhara. Geoscientists noted that the shallowness of the quake amplified the power of its tremors at the surface, adding to the destruction.
Strong aftershocks continued throughout the afternoon, as rescue teams scoured the rubble for survivors.
Nepalese authorities struggled to assess the full scale of the damage across the remote Himalayan nation, with communications systems down in many areas. "We are totally cut off from most parts of our country," Nepal Disaster Management Authority official Ram Narayan Pandey told Reuters.
Many feared the worst. "Almost the entire country has been hit," Krishna Prasad Dhakal, the deputy chief of mission at Nepal's Embassy in New Delhi, warned. Nepalese police said the death toll in the country included at least 634 in the Kathmandu Valley and at least 300 more in the capital city of Kathmandu.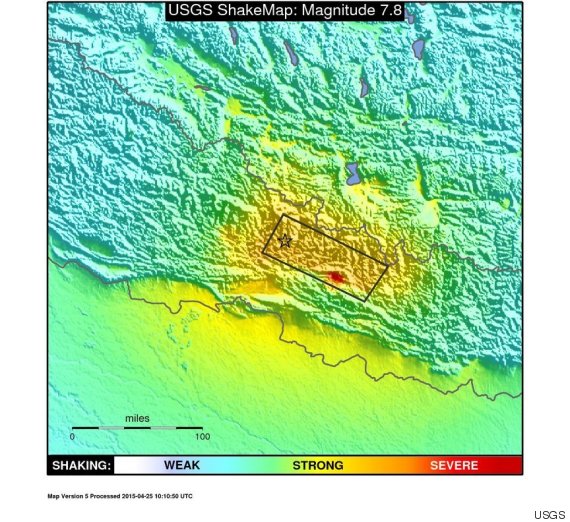 Thousands of people rushed into the streets of the capital in an effort to remain safe, The Guardian reported, with many too afraid to return as the city was rocked by aftershocks.
Among the historical sites that were destroyed in Kathmandu was the Dharahara Tower, a UNESCO-recognized landmark built in 1832 and a popular lookout point. Around 200 people were trapped when the tower collapsed, police said.
Hospitals in the capital were flooded with the wounded, with one converting its parking lot into a makeshift clinic, according to The Associated Press.
This is a developing story and will be updated.
Calling all HuffPost superfans!
Sign up for membership to become a founding member and help shape HuffPost's next chapter
BEFORE YOU GO
PHOTO GALLERY
Deadly Earthquake Rocks Nepal