KATHMANDU -- Surrounded by curious onlookers at the historic and now partially destroyed Patan Durbar Square complex, Rahat Kulshreshtha prepares what he has affectionately named his "bird" for flight.
Initially slow to take off, the drone hovers near the ground before soaring above the remains of the centuries-old temples, extensively capturing the damage from the April 25 earthquake that killed over 7,500 people, flattened entire villages and reduced a cluster of UNESCO World Heritage Sites to rubble.
Kulshreshtha, the founder and chief executive of the Indian aerial visual company Quidich, says he initially came to Nepal for drone journalism, but quickly found himself aiding relief efforts in the quake-shattered country. He traveled to the remote district of Sindhupalchowk, the hardest-hit area, with a team to distribute tents, medicine and food.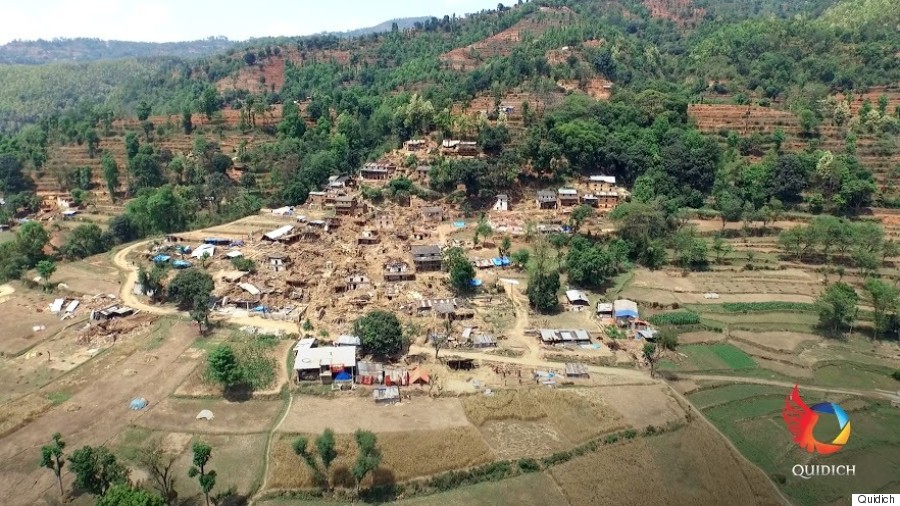 Sindhupalchowk (Photo by Quidich)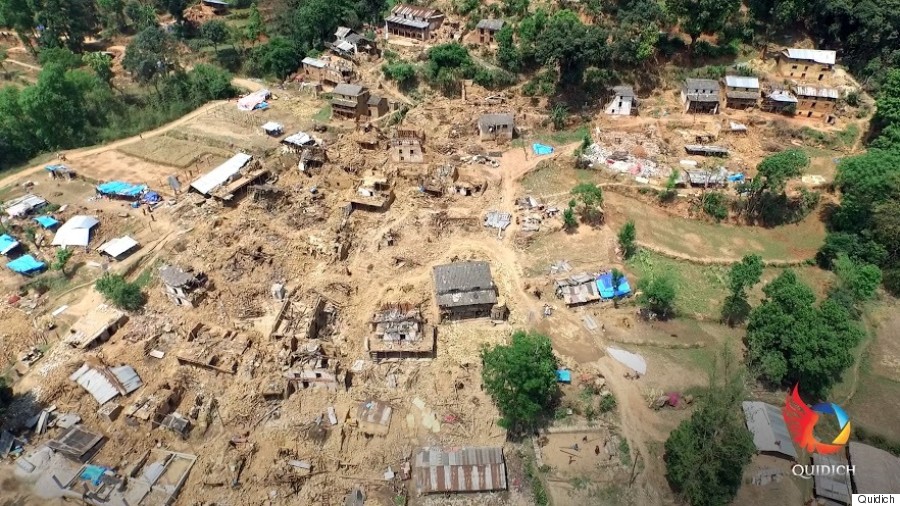 Sindhupalchowk (Photo by Quidich)
"Some locals came to us with an interesting request. They pointed high up at the mountain and said it had been five days since the earthquake, and asked 'Could you send your bird up there to check?'" says Kulshreshtha. He obliged, and was blown away by the footage.
"We were shocked with what we saw. Almost 80 percent of the houses were razed to the ground. In less than five minutes we had been able to reach a village that would have taken over three hours if attempted by road," says Kulshreshtha.
The use of drones, or unmanned aerial vehicles (UAVs), has become a feature of the news coverage in the aftermath of the earthquake, the largest to hit Nepal in over 80 years. NBC and CNN used extensive drone footage in their reports on the disaster.
Kulshreshtha has edited a slew of feature films, and he started Quidich in 2013 after realizing aerial helicopters were too expensive for film production. Quidich is now part of a handful of organizations using the technology for aid relief in Nepal, sending drones to remote areas where they can map and assess destruction in order to speed up search-and-rescue operations.
Drones can also bring medicine to inaccessible places. Last year, drones were used in test runs to deliver saliva samples for tuberculosis testing in Papua New Guinea and to send antibiotics to remote villages in Bhutan. There are plans to officially roll out these programs later this year. A lengthy study conducted by the American Red Cross and aerial firm Measure -- released in April, just before the Nepal earthquake -- outlined the benefits of using drones for disaster recovery.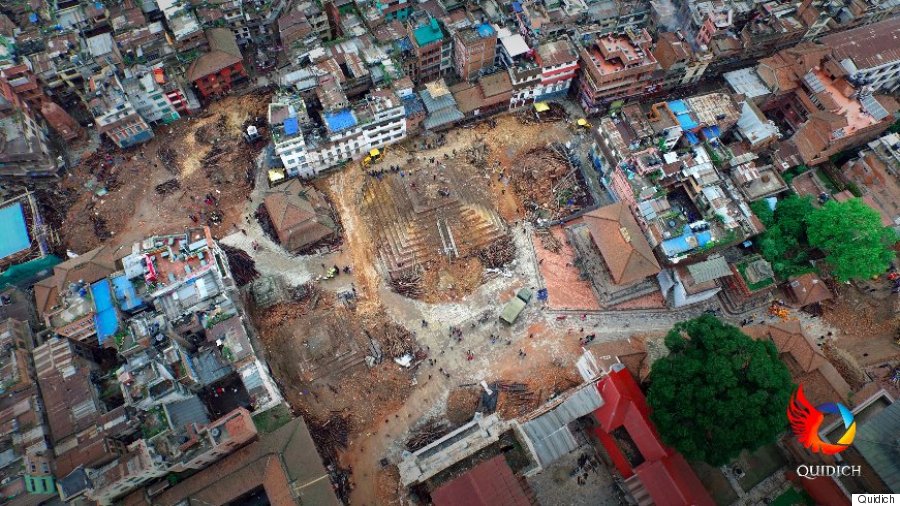 (Photo by Quidich)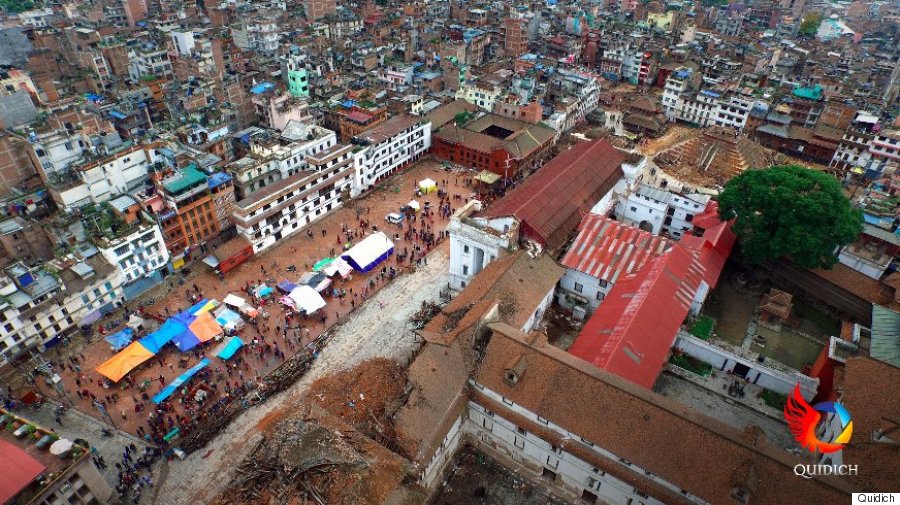 (Photo by Quidich)
While drones' foray into aid is relatively new -- they were used sparingly in the aftermath of Haiti's 2010 earthquake and the 2013 typhoon in the Philippines -- the Nepal earthquake has seen more UAV activity than any other disaster, says Canadian humanitarian relief organization Global Medic.
"This is a combination of two factors," says Meetu Vijay, Global Medic's drone operator on the ground in Kathmandu and a member of Global Medic's water and sanitation teams. "Firstly, [there is an] acceptance of drones as a crucial tool in a humanitarian response." For the second factor, Vijay noted that the physical nature of the 7.8-magnitude earthquake -- the fault line happened to be heavily populated -- meant "people are now recognizing that we need some pretty good eyes in the air. That's pretty key."
Global Medic, whose personnel work on a volunteer basis, currently has a fleet of four UAVs in Nepal: two Aeryon-made SkyRangers and two of the less-sophisticated Aeryon-made Scouts. Vijay, who needed two days of technical training and several weeks of field training before being eligible to fly, says the drones can reach 13,000 feet.
Drones "represent a pivotal and important new technology," Vijay says, due to their ability to "provide information in real time to responders."
When walking through destroyed areas of Kathmandu and the ancient temple town of Bhaktapur, about eight miles east of the capital, it is not uncommon to spot a person using a drone. Perhaps in response, Nepal's Civil Aviation Authority this week banned the use of drones without permission. According to news reports, the authority feared sensitive information and pictures could be leaked, including of its historic sites. Vijay, whose organization previously sought permission from authorities to fly drones in the Philippines, says it is natural for a country to regulate drone use, as the restrictions can facilitate coordination.
Casey Allred, an American who founded the education nonprofit Effect in neighboring India, says his discovery of drones was accidental. When Allred heard that Nepali girls were most likely being trafficked in the aftermath of the quake, Allred and his team "jumped on the first plane out. We knew we had to help," he says, sitting in a bustling, makeshift warehouse in Kathmandu.
All around Allred, volunteers are busy hauling white sacks of rice and lentils into trucks for distribution to rural areas. Sporting a mass of shoulder-length blonde hair under a backwards baseball cap, Allred brandishes his drone, carefully retrieving it from a cardboard box. He and his team are currently making a documentary called "Nepal Rises" on the damage caused by the earthquake, using funds raised by Google and California-based cloud technology company Salesforce. They have acquired footage of when the quake struck, and are using their drone to capture the damage across the country.
"When we watched our drone footage from Bhaktapur, we all had our hands over our mouths. The destruction is just so, so terrible," he says.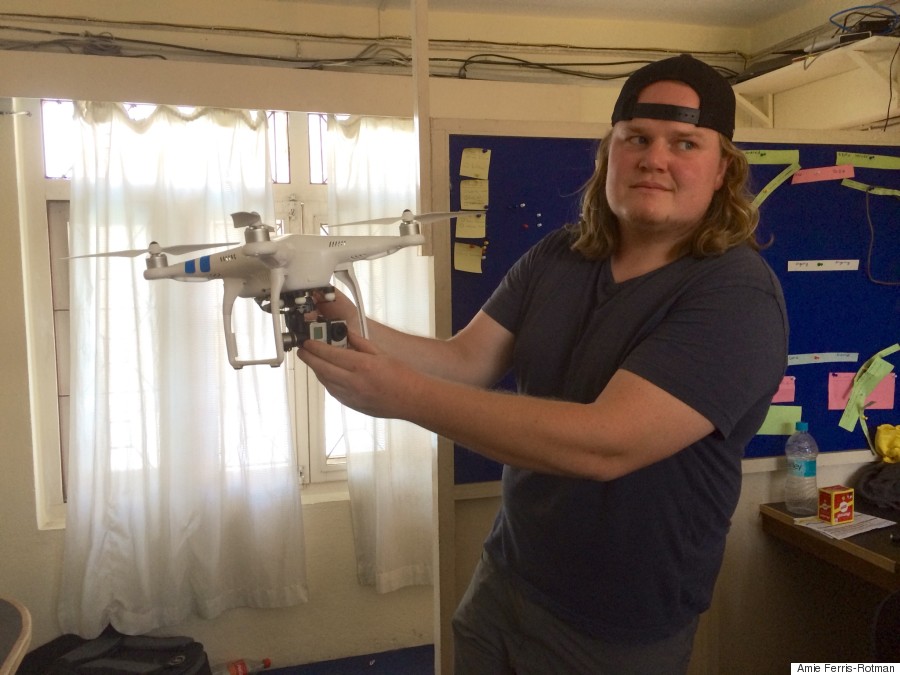 Casey Allred, founder and CEO of Effect, shows off his drone in Kathmandu.
The button below indicates how much has been raised on Crowdrise's "Nepal Earthquake Relief" page. Click to visit the site and donate.
This article was supported by the International Reporting Project.
Related
Before You Go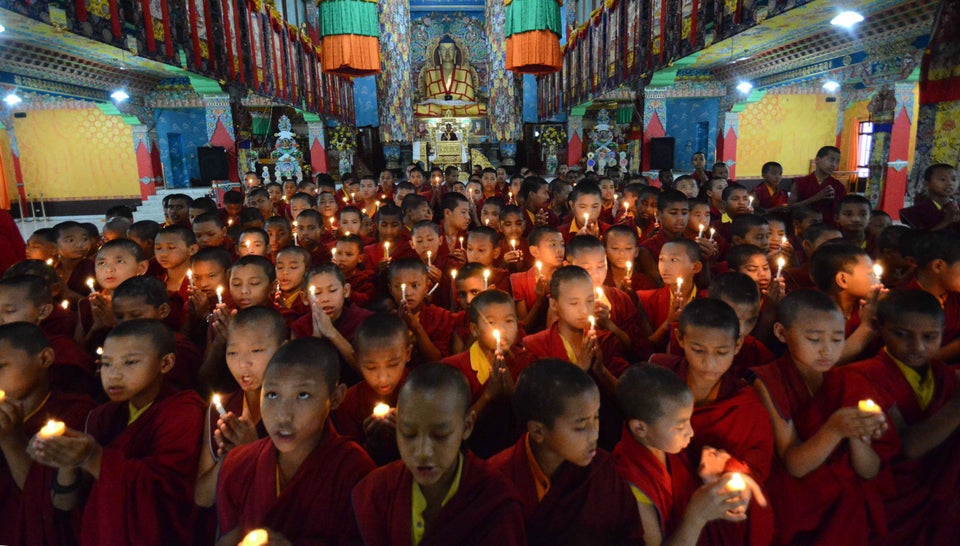 Deadly Earthquake Rocks Nepal
Popular in the Community