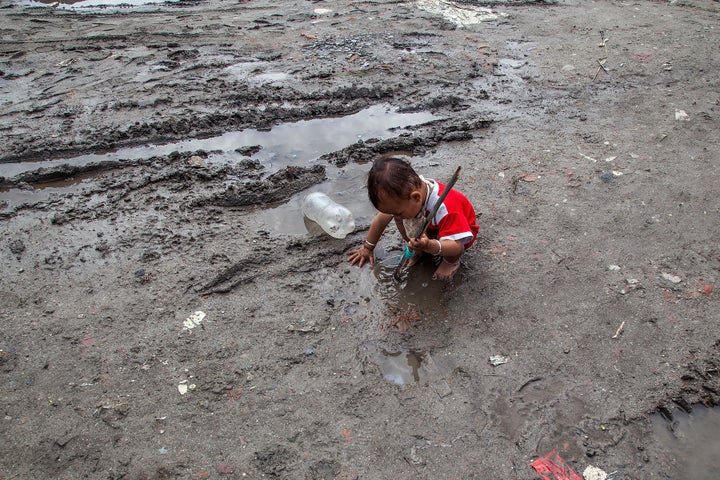 It's been four months since Nepal's deadliest earthquake hit. Yet, the country still has yet to dole out a cent of the $4.1 billion in donations it received, Reuters reported.
According to the news outlet, the government won't start spending the relief funds until October. The delay is due to reluctance to start building work during monsoon season and the fact that plans still require approval.
While the U.N. has no qualms with the delays, locals who are struggling to survive and international donors haven't been so quick to forgive the slow-moving government.
Three weeks after the earthquake, for example, remote villages in the Himalayas still hadn't received any aid and thousands were living without proper shelter, according to the Australian Broadcasting Commission.
While some areas simply weren't accessible by road or helicopter, survivors said bureaucracy was also hugely to blame for the delays in getting aid to people in need.
"All the process and procedures, it's not easy," Gurung told ABC, "and time is crucial."
At the time, the government announced that all relief aid for victims had to be donated to the prime minister's Disaster Relief Fund, the Telegraph reported. Skeptics saw the move as a way for the government to co-opt the money for political schemes, not humanitarian aid.
"Less money will come to Nepal or it will come through illegal channels," a Nepal NGO official told the Telegraph. "I'm not sure how many of us will be comfortable to give the money to the PM's fund."
Compounding the issue is the fact that the government has delegated officials to distribute aid, but there are no regional lawmakers in place to hold them accountable, according to Reuters.
But amid such concerns, Nepali Prime Minister Sushil Koirala announced in June that he wouldn't tolerate any corruption with regard to relief aid. The government also announced a new state body and coordination centers responsible for overseeing fund transfers in villages.
Some officials remain hopeful that the U.N.'s newly created National Reconstruction Authority (UNDP) will serve as an effective body to help oversee Nepal's reconstruction.
The group has been tasked with setting policies and coordinating the rebuilding.
Over the course of three months, the UNDP has employed 2,600 people through its cash-for-work program and nearly 2,000 structures were safely demolished in some of the hardest-hit areas, among other developments.
While Govind Raj Pokharel, CEO of UNDP, told Reuters he understood there were some delays, he added that the government should've made distributing aid a priority in the immediate aftermath instead of working to pass a controversial constitution.
"We would have liked it if they concentrated on the reconstruction first," Pokharel told Reuters. "That would have been better."
Popular in the Community