Since Courtney Mitchell came to Nepal as a Peace Corps volunteer in 1998, the Himalayan nation has witnessed some significant changes.
From the end of a bloody armed conflict, to major political reform that turned the country into one of the world's youngest republics, to a massive social movement that formally recognized lesbian, gay, bisexual, transgender and intersex (LGBTI) rights, the country of 26 million has moved ahead of many of its South Asian and Western counterparts.
And in June, for Mitchell, now 41, what would have seemed impossible a decade ago turned into a reality: she was a part of one of Nepal's most publicized public lesbian wedding.
The nuptial in one of Nepal's holiest temples in the outskirts of capital Kathmandu mirrored nothing less than a movie set -- while the country's only openly-gay lawmaker, Sunil Babu Pant, played a father's role in the wedding, a young Brahmin priest administered the ceremony as local worshippers gazed amid a flurry of camera shutters clicking.
"I feel a major difference between the Nepal I experienced in the '90s and the Nepal I experienced this summer," says Mitchell, a psychology professor at University of Denver. "I feel like what really has changed is that people are talking about gay rights issues and people have a vocabulary for it."
While Mitchell's wedding reflects a changing Nepal, where even in recent years no one would dare to discuss same-sex relationships, the public ceremony has now encouraged people to explore the subject in other public fora.
And in recent times, Nepal's movie industry is opening up to LGBTI issues, giving a glimpse of realism to a larger audience.
If Hollywood has Brokeback Mountain and Bollywood created a buzz with Fire -- a controversial lesbian love story -- in Nepal, Snow Flowers is poised to become the first Nepali commercial movie to portray a same-sex love story.
Only months after the Mitchell's headline-grabbing wedding, as the monsoon rains faded from Kathmandu skies, production began on Snow Flowers.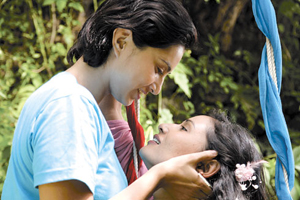 Set to release next spring, the film stars two of Nepal's leading actresses, Dia Maskey and Nisha Adhikari, and is directed by Subarna Thapa, who also wrote the screenplay beginning two years ago.
"This concept is not new, but what's new is that Nepali-ness is reflected in this movie, the obstacles and challenges," says the France-based director, whose first short film Maalami (Funeral) has been acclaimed in France and Italy.
"The subject is also untouched in Nepali cinema," he explains, "which seduced me. I had always thought it would be a story of two women, and it hasn't changed."
In the background of this production, the LGBTI rights movement in Nepal continues to thrive. Emboldened by a 2007 Supreme Court decision that declared full, fundamental equality for LGBTI people, activists in the country are now fighting for proper implementation of those laws.
"The LGBTI theme fits in nicely as a marginal component of the unsettled and rapidly changing society and life in Nepal now," says Chaitanya Mishra, professor of Sociology at Tribhuvan University, Nepal's state-run university in Kathmandu. "The old structures and norms are losing legitimacy to a greater or lesser degree, and they can now be quizzed, made fun of, criticized and confronted."
Snow Flowers shows exactly this shift.
While Nepali films have included gay characters for some time, most of the characters were used for comic relief and not taken seriously. Even in most commercial Bollywood movies, which heavily influences Nepali cinemas, the gay male characters portrayed are often stereotyped with feminine traits and no emotional or real-life characterization.
However, as Indian cinema has moved forward with a progressive agenda, LGBTI-themed movies like Fire, My Brother Nikhil and I Am have successfully been able to portray the human side of lesbian and gay characters.
And in Nepal, too, movies like Snow Flowers, along with two other recent productions, Sarir and Highway, are beginning to portray the human element of LGBTI characters.
"In most of the Nepali films, homosexuality is portrayed as a comedic thing, and that disgusts me," says Abinash Bikram Shah, director and screenwriter of Sarir and also screenwriter of Highway.
With five different plots woven into a feature-length movie, one of the story lines in Highway deals with a homosexual relationship. On the other hand, Sarir delves into the life of a female character who suffers intense repression and mental block for fear of rejection were she to be open about her sexuality.
"When you tell a story about these [LGBTI] issues, it's important to give them respect like any other human beings, and most of the Nepali films lack that," Shah says.
Dr. Pradeep Bhattarai, President of Film Critic Society of Nepal, agrees. While he believes the movies will help portray the reality of society, he doesn't defer in saying that "a major chunk of Nepali society will not accept it easily."
He categorizes the LGBTI-themed movies as an "alternative genre" and says the movies have to be treated well for a mainstream acceptance.
The protagonists of Snow Flowers, along with its director, affirm that Snow Flowers is a well-executed commercial movie that will help change people's perspective about the LGBTI population.
The actors and director, sitting next to each other on the film set, unanimously say that the film reflects the human side of the characters in the movie.
As they were preparing for a shoot in the hills of Budhanilkhantha, in the outskirts of Kathmandu, over cups of tea, the women reflected on the movie and their roles.
While Maskey wasn't much aware of gays and lesbians, for Adhikari it seemed normal. Growing up in Germany she was surrounded by lesbian friends.
"Maybe I have lesbian friends, but I don't know," Maskey in her husky voice explains how she has gotten to know some [lesbian] women while researching for her role. "It has always been existing in the society," she comments.
And according to Adhikari, the series of LGBTI-themed movies will give people an outlook on the love, life and relationships of homosexual people -- a glimpse into that reality, though presented through a fictional medium.
"We have never seen a story which actually explores how they feel and not what they are -- the internal and external conflicts," she says. "This movie shows the human feelings and emotions attached to them."
With closeness to reality and human-interest angles injecting emotional values to the characters, these movies will "give a face to LGBTI issues," says Mishra who is also a member of the same-sex marriage committee charged with developing inclusive laws for the country's new constitution.
"It may well expand information on and deepen acknowledgement of the issue," he adds.
And newlywed Mitchell says that Nepalis are certainly acknowledging the issue more than they did a decade ago. She says that through these movies people might be able to realize that same-sex couples share the same kind of love and relationships as heterosexual couples do.
Kathryn March, professor of Anthropology and Gender and Sexuality Studies at Cornell University, who has worked in Nepal for over 30 years, believes that the films both indicate change and can cause change.
According to her, "it certainly represents a big shift."
"A film like this -- to see it produced -- shows how the LGBTI rights movement in Nepal has had impact," she says. "But a film like this can also expand that impact. Viewers in Kathmandu will take it differently from viewers outside in rural areas."
Film critic Bhattarai shares the same notion.
"It is not easy to provide social recognition and community sanction to LGBTI-themed movies in Nepali society with strong belief in Oriental culture and tradition," he says. "But there is a good sign of proper approach to introduce LGBTI-themes into Nepali society through films."
As the Nepali movie industry is delving into newer -- and once controversial -- issues, Mitchell says the movies will help people to have an idea about same-sex relationships even if they are skeptical about the topic, or go to watch the movie out of sheer curiosity.
While her own wedding in Kathmandu became a media frenzy and took place in a movie-like setting, it was a true story, a real love story. And the upcoming movies, though works of fiction, Mitchell says, would be a representation of real life.
"These stories, because they are about people, not issues, might resonate across Nepal," Mitchell says.
Related
Popular in the Community