KATHMANDU -- A pair of sisters sat next to each other in Kathmandu's largest Hindu crematorium on Monday, wailing at the sight of their dead children, their small bodies wrapped in orange and gold cloth on the ground before them.
Worshipper Badri Kc shook his head as he watched them cry, his face marked by sorrow. Earlier, he had tried to comfort the sisters, and given them marigold garlands to drape on their children. The adolescents are two of more than 4,000 killed in Saturday's 7.8-magnitude earthquake, the largest to hit the region in 80 years. Along with its steadily increasing death toll, the disaster flattened several of Kathmandu's UNESCO World Heritage sites and claimed lives as far away as New Delhi.
"I came here to pay my respects and to help. What else could I do?" said Kc, whose forehead was decorated with a golden tilaka.
Kc is one of a handful volunteers helping the Pashupatinath Temple's crematorium to cope with the overwhelming influx of bodies of earthquake victims. Since the quake rocked the Nepali capital just before noon three days ago, the crematorium has been struggling to keep up with demand. Temple officials said 500 bodies have arrived since the earthquake, compared to their usual average of around 30 per day.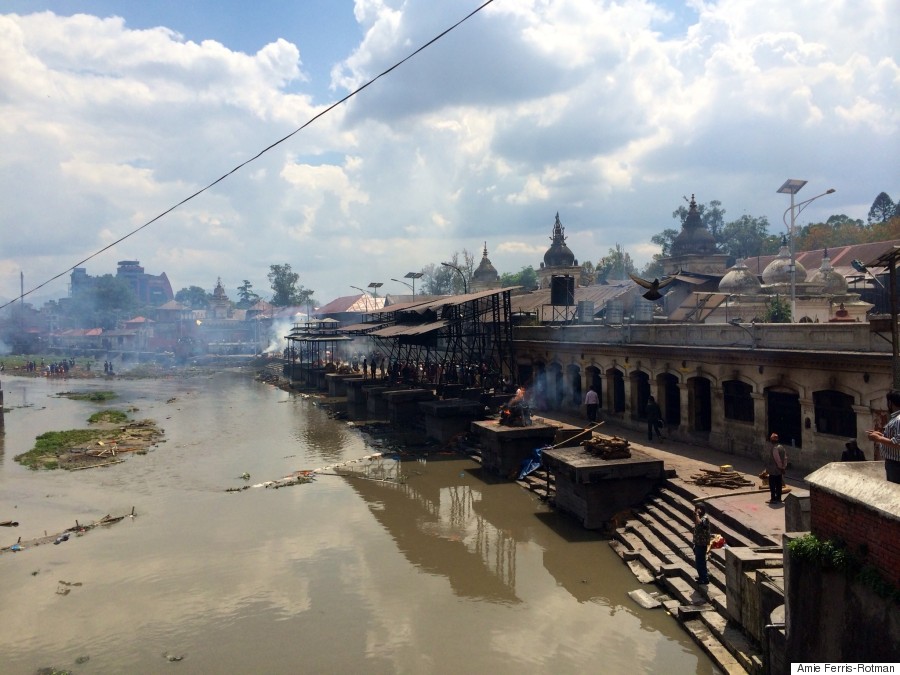 Smoke rises from the Pashupatinath Temple's crematorium in Kathmandu, Nepal.
"All day and all night, we're cremating, there are just so many people," said Kashav Badal, 55, a Mount Everest guide who also came to pitch in. Acrid smoke from open-air cremations, performed on wooden pyres beside a river, billowed across the temple's ornate stone complex. Monkeys, goats and stray dogs freely roamed its paths, in sharp contrast to the swell of human misery.
In Hinduism, Nepal's predominant religion, custom dictates that cremation takes place within a day of death. While the Pashupatinath Temple's crematorium workers survived Saturday's quake largely unscathed due to the wide, open spaces needed for funerals, the temple's staff and priests have been struggling to cope with the needs of the victims' families. Volunteers have come in to help decorate the bodies, comfort the mourners and pray for the souls of the dead.
"There are not enough priests to go around, so we are helping," Badal said on his perch by the front gate of Pashupatinath, one of the most sacred Hindu temples worldwide. Below, several bare-chested priests were overseeing the burning of a row of bodies and conducting the funeral ceremonies. The carefully wrapped body of tax officer Kamala Timilsina, who was 32 and pregnant when she died under a collapsed building, was carried by her male relatives and placed before a blazing fire.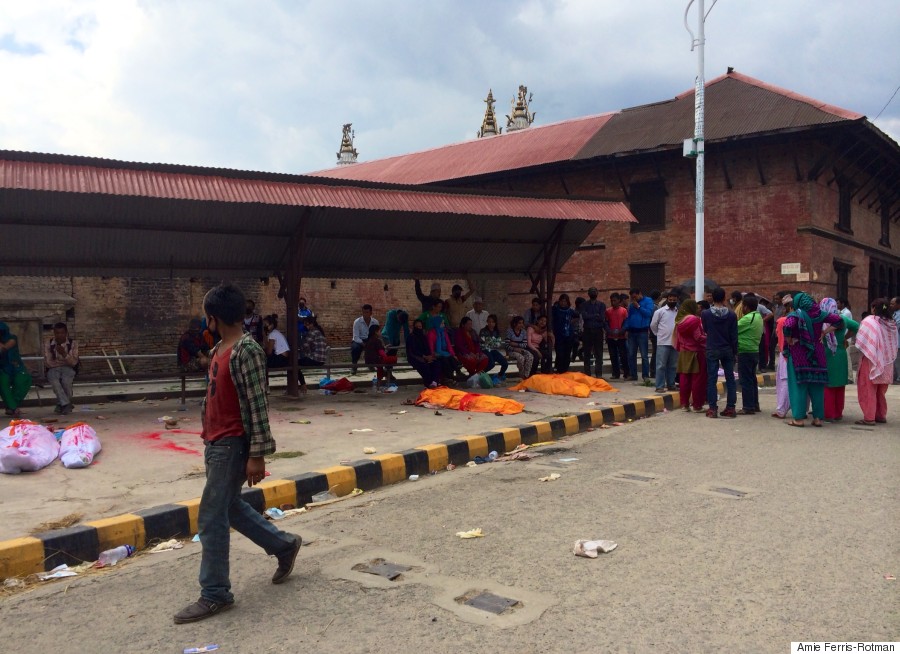 Bodies wrapped in cloth at the Pashupatinath Temple's crematorium in Kathmandu, Nepal.
Nepal's government has declared a state of emergency, and a massive international humanitarian effort is underway, with millions of dollars of financial and medical aid coming mostly from India, Canada and the United States, as well as organizations such as the Red Cross and Doctors Without Borders. While almost all bodies have been pulled from the rubble across areas of Kathmandu, the fate of those living in the rural valley near the quake's epicenter, some 50 miles northwest of the capital, is yet to be determined.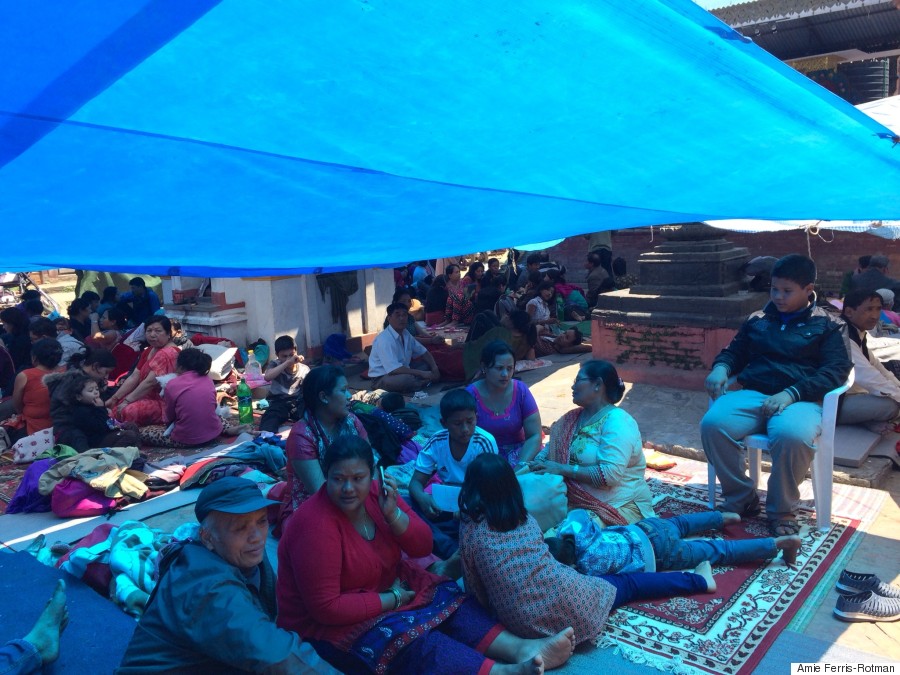 Surja Laxmi at a makeshift camp in the Nepali capital.
Sprawling tent settlements have sprung up across Kathmandu, where thousands of residents are camping out, fearful of more damage after Sunday's 6.7 aftershock. Tremors overnight on Sunday and Monday added to the city's collective anxiety. "Every time we feel the earth shake, we're even more scared to go back home," said housewife Surja Laxmi, 40, who took shelter with her extended family in the courtyard of a Newari temple in historic Kathmandu. Her 5-year-old son swatted away flies.
Scores of families sit crowded together under blue tarpaulin tied with string, where they cook with rudimentary stoves and sleep exposed to the elements. It is a scene repeated across the Nepali capital: in practically every open space, from large green parks to cramped roundabouts to the road from the airport, residents are too afraid to go back inside.
In a makeshift camp behind Patan district's famed Durbar Square temple complex, people vied with the debris of their heritage for space. Living under a hot sun with no toilets and limited fresh water could spell more disaster. As the smell of sewage wafted through the tents, it hinted at the pending sanitation crisis Nepal, with is damaged infrastructure, faces if people do not return to their homes or are given proper shelter. Nepal cannot afford to bury any more of its dead.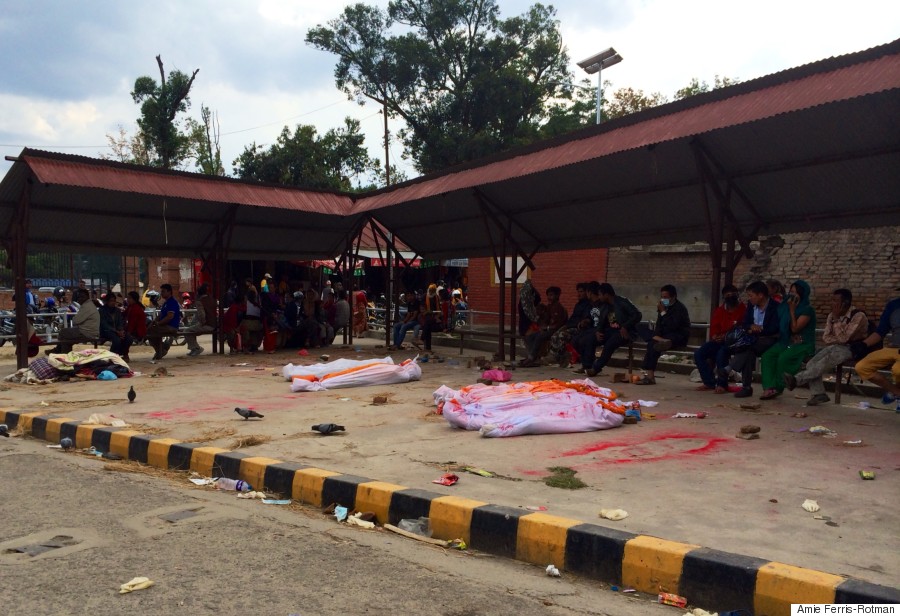 Bodies wrapped in cloth at the Pashupatinath Temple's crematorium in Kathmandu, Nepal.
The button below indicates how much has been raised on Crowdrise's "Nepal Earthquake Relief" page. Click to visit the site and donate.
Calling all HuffPost superfans!
Sign up for membership to become a founding member and help shape HuffPost's next chapter
BEFORE YOU GO
PHOTO GALLERY
Deadly Earthquake Rocks Nepal