KATHMANDU, Nepal -- Bells that once chimed for Nepali royals and centuries-old wooden figurines are among the mounds of treasure dotted around a city slowly trying to recover from the largest earthquake to hit Nepal in 80 years.
With fears of looting and further destruction rife, scores of Nepali volunteers have come forward in recent days, emotionally motivated to guard what is left of their collective heritage.
"We played here as children, and it is our duty to protect them for the sake of humanity," 35-year-old tour guide Buddish Manandhar said by a semi-collapsed temple in the Durbar Square complex, a Kathmandu landmark first built in the 17th century. Looking up at the delicately carved Hindu deities and the white royal palace next door, where a whole wing lay crumpled, Manandhar added that "these were the most beautiful things in the whole world."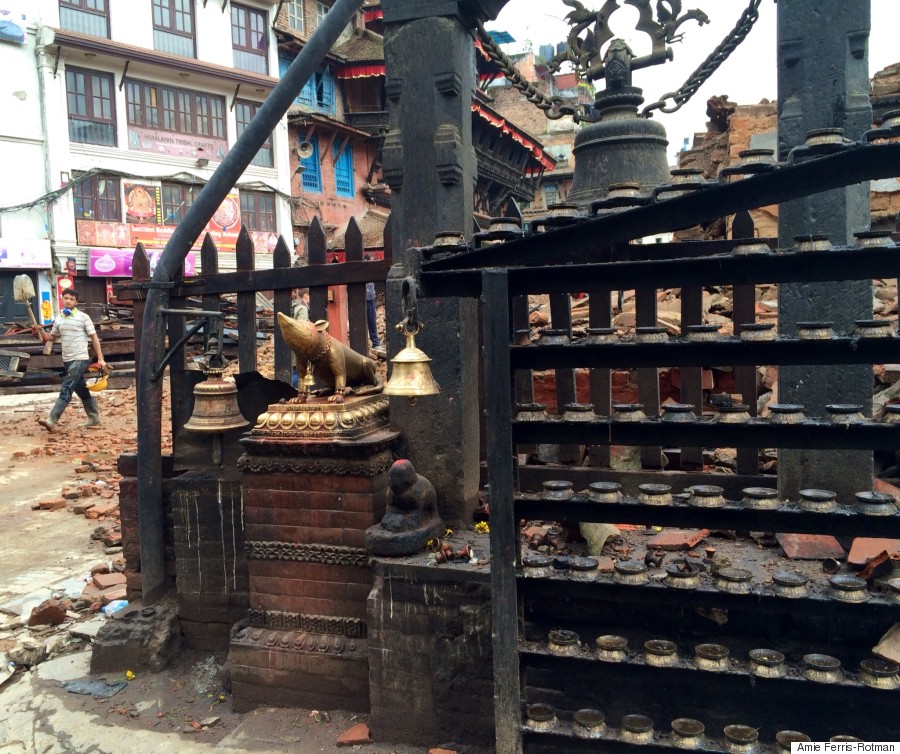 Remains of a temple in the Durbar Square complex, where the public can enter relatively freely, on Tuesday.
The April 25 earthquake, which measured 7.8 on the Richter scale, has killed over 5,000 people and destroyed four of the Kathmandu Valley's seven UNESCO World Heritage sites. Located in the foothills of the Himalayas, the monuments span from the 12th to the 18th centuries and embody the city's unique historical ability to blend religions, according to UNESCO.
The havoc has devastated Nepalis from all walks of life. As Kathmandu residents passed Durbar Square, some slowed down on their scooters, mouths agape. Many took pictures on their smartphones, while others simply gawked at the destruction of their cultural past, considered unique for peacefully intertwining Hinduism and Buddhism.
Over 100 volunteers, almost all men, are currently guarding partially destroyed historic sites across the Kathmandu Valley, said Nebin Shrestha, 47, their de facto organizer. When not dispatching units to protect the relics of centuries-old civilization, he works as a sprint training coach.
"Parts of the temples are still falling and the buildings will most likely collapse. We need to make sure our citizens are safe," he said. A day after the quake, Shrestha and his team cordoned off the immediate area with thick cord. On Tuesday, part of a temple's roof crashed down, causing hundreds of people to gather nearby, where they ruminated for hours over whether the building would join its siblings in the dust.
Basantapur Durbar Square before and after the quake. (AP/Getty Images)
While there has been only a sprinkling of artifact looting so far -- officials said one bell; the guards described the theft of a few carved figurines -- the volunteers fear it is just a matter of time. The phenomenon is prevalent in areas of conflict and chaos, from Afghanistan to Syria, and it is easy to understand the volunteers' concerns. The enormous Durbar Square complex is largely open to the public, and teems with both Nepali and foreign search and rescue teams combing the scree for survivors. Gorgeous pieces of past splendor are omnipresent: a discarded arm of a Hindu god here, a wooden Ganesh there. They could no doubt fetch large sums on the well-documented antiquities black market.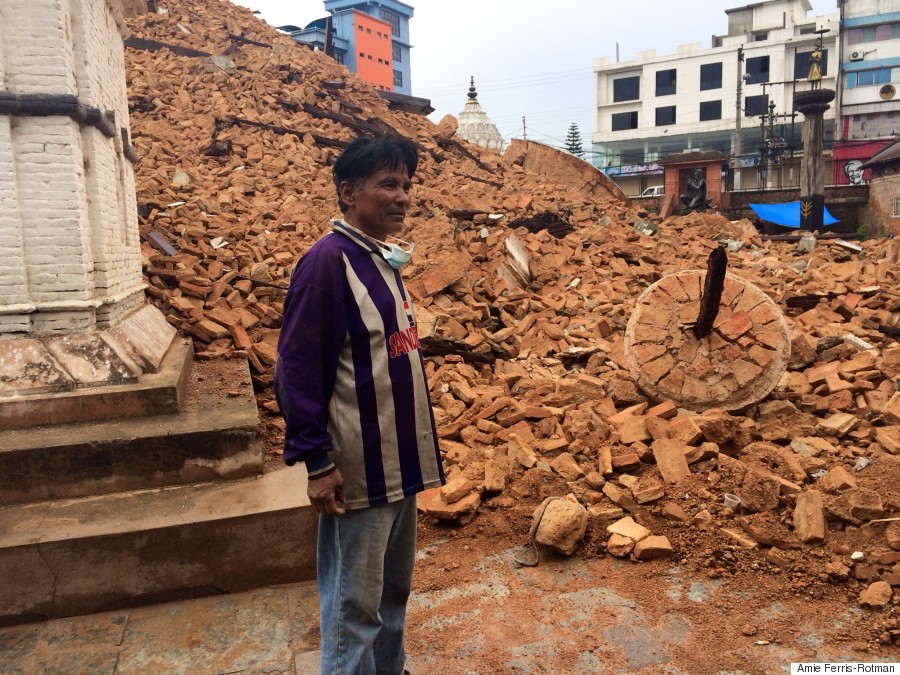 Volunteer guard Nil Bahadur Gurung stands by a collapsed Narayan temple in Central Kathmandu.
The volunteers work entirely for free, and those who are younger, such as 25-year-old IT student Saurab Baniya, often keep watch through the night.
According to the director general of the government-run archaeology department, Bhesh Narayan Dahal, the risk of looting is minimal. Instead, his team is focused on cataloging efforts so they can begin rebuilding. "Some parts are gone forever, but in five, six years' time, most will be restored."
Volunteers balked at this estimate, saying it would take at least a decade, if it happens at all, and would be dependent on funding. UNESCO has said it is sending a team to assess the damage, but described some of it as "irreversible."
At the site of what was a Narayan temple in central Kathmandu, impertinent monkeys chase each other among the 15-foot pile of clay and brick debris. Fifty-year-old volunteer Nil Bahadur Gurung watches over the discarded brass statue of garuda, the magnificent human-like bird ridden by some deities.
"I live nearby and am attached to the temple," said Gurung, who usually works as a painter. "Guarding it is a matter of responsibility, and should be for all Nepalis."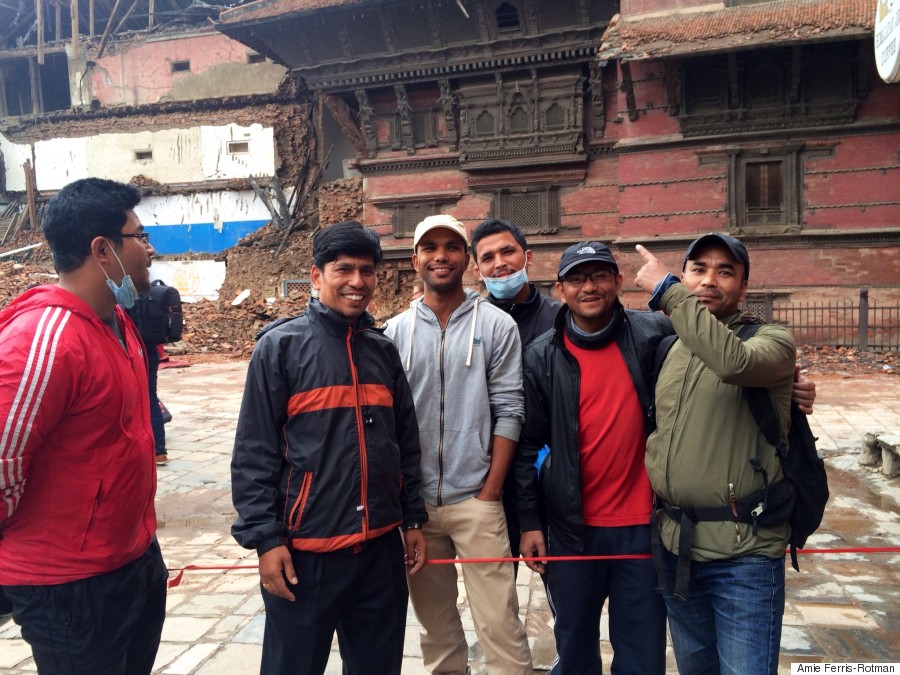 Volunteers Nebin Shrestha (second from left) and Buddish Manandhar (third from left) stand with other guards by a collapsing temple in the historic Durbar Square complex.
The button below indicates how much has been raised on Crowdrise's "Nepal Earthquake Relief" page. Click to visit the site and donate.
This article was supported by the International Reporting Project.
REAL LIFE. REAL NEWS. REAL VOICES.
Help us tell more of the stories that matter from voices that too often remain unheard.
BEFORE YOU GO
PHOTO GALLERY
Deadly Earthquake Rocks Nepal