I think that more diversity is a good thing, and fresh points of view articulated by people who are committed to excellence in journalism is a beneficial change in the American media landscape.
- Al Gore
Journalism plays a very important role in uniting the world. Whether it be development of the nation or developing policy for the future of the country, journalism plays a vital role. At a farewell occasion of embassy of Nepal's Counselor Mr. Narayan Prasad Mainali, an announcement was made about the introduction of a new Nepalese American monthly magazine representing the Nepalese community for the first time. At the event, the managing director of Nepalese American Magazine Mr. Amit Shah mentioned that the magazine would play a vital role in disseminating Nepalese voice across the world. In this monthly paper, all the important news will be covered.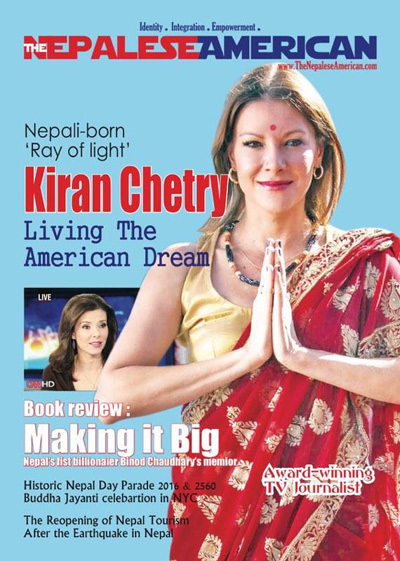 This magazine will try its best to cover all the aspects of business, fashion, sports, entertainment, art and literature. In America where thousands of Nepalese reside, We have felt a lack of Nepalese magazines in English language for a long time. An English magazine is the only way we can attempt to convey our message to the American Government. Today, the whole world has become a single country.
Despite the fact that, Nepalese do not have a long history in America, there's a lot of Nepalese residing in America currently. Nepalese population is increasing whether it is in California or New York. Most of Nepalesepopulation resides in New York. With the increase in population, our needs have also increased. Editor in chief for the magazine is none other than Kiran Chetry of CNN.
She had been involved with FOX and CNN for a long time. In the arena of American journalism too, she has a long history. She expressed her heartfelt desire of being involved with a Nepalese community through this magazine.
Associate Editor for the magazine is Mr. Rajan Thapaliya. Mr. Thapaliya is a writer for the Huff post as well as president and editor in chief of The New York City Post. Board of director of this magazine is Narayan Prasad Mainali and online update is being done by Pradip Pariyar. Rest of the names of the team member is yet to be released.

I myself having been involved with the Nepalese community have long felt the need of a magazine in English language. That void will be filled by Nepalese American. Because of quality work, this magazine will create tremendous influence in American community too, thus establishing a better relationship between Nepalese and American communities.
Calling all HuffPost superfans!
Sign up for membership to become a founding member and help shape HuffPost's next chapter