Nepal's biggest stone Buddha is ready to view now, which has been installed in Mustang, a district of Nepal behind the mountains. The 32 ft. tall statue, near the Muktinath temple, is carved from the special stone of Pharping, Nepal. Muktinath is a sacred place both for Hindus and Buddhists located in Muktinath Valley at an altitude of 12,600 ft. at the foot of the Thorong La mountain pass in Mustang, Nepal.
Shakya brothers (Dharmaraj Shakya and Uttam Shakya) have crafted this statue of Shakyamuni Buddha in Patan, Nepal. Shakyamuni Buddha was born in Lumbini, Nepal. The total weight of this Statue is roughly 60,000 kilograms, which is biggest 'Stone Statue of Buddha' in Nepal.
However, the Amitaba Buddha statue is the biggest 'Cement Statue of Buddha' in Nepal which is at Amitaba Buddha Park located at the west side of the Swoyambunath Stupa base in Kathmandu, Nepal. The Amitaba Buddha statue in the center measures a total height of 67 feet from the ground.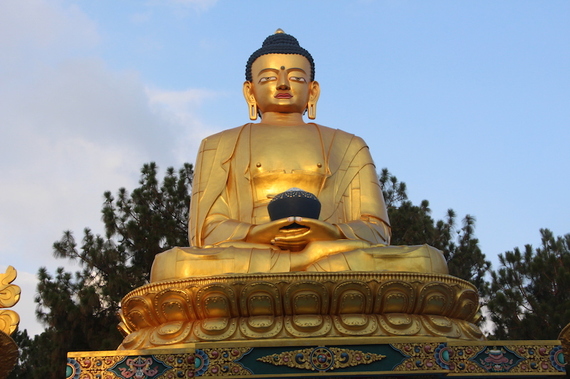 Amitaba Buddha statue at Amitaba Buddha Park, Swoyambunath Stupa, Kathmandu, Nepal. Photo: Kishor Panthi
And, Leshan Giant Buddha is the largest stone Buddha in the world. The Leshan Giant Buddha is a 71-metre tall stone statue, carved out of a cliff face in the southern part of Sichuan province in China. It is the largest stone Buddha in the world and it is by far the tallest pre-modern statue in the world.
Now, Shakyamuni Buddha in Mustang is largest stone Buddha in Nepal. After spending over three years and over 15 million Nepalese rupees since the work began in 2013, the statue has formally come to its final completion stage in Mustang. Nepalese American entrepreneur and social worker Sonam Lama provided the fund for this ambitious project.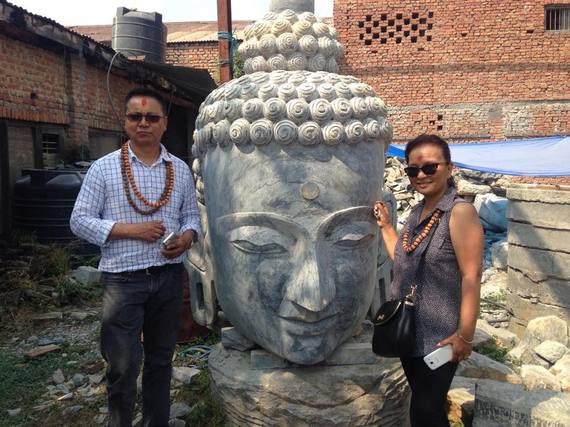 Sonam Lama and his wife Nima Lama are standing in front of the head of Buddha statue. Photo: Kishor Panthi
Sonam Lama is a famous NonResidence Nepalese leader who owns restaurant and grocery businesses in New York. He has established this tallest stone Buddha in this area where he was born. The Government of Nepal has provided the land for this Buddha statue after clearing many legal obstacles.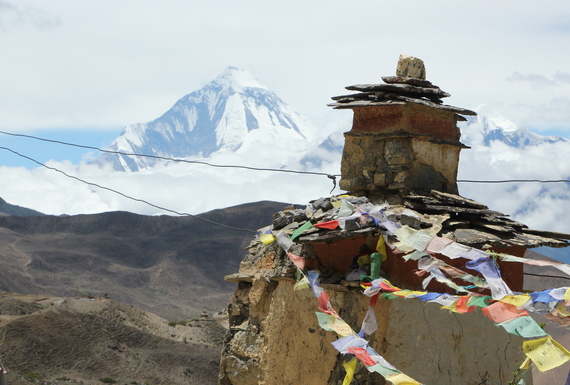 View of Dhawalagiri from the place, where the Buddha statue has been installed. Photo: Kishor Panthi
Popular in the Community