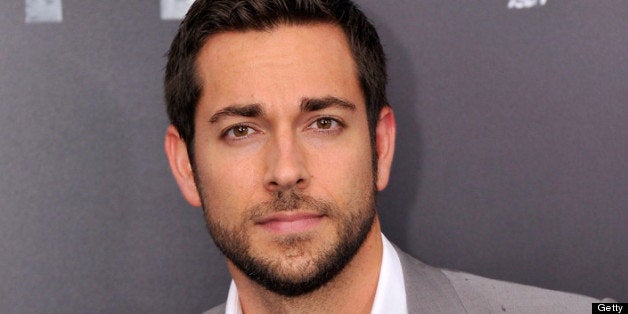 For the past three years, Zachary Levi has masterminded Nerd HQ, an epic gathering for fans and celebrities to play games, buy merchandise, recharge their literal and metaphorical batteries and engage in "Conversations for a Cause" during Comic-Con weekend.
This year, Levi has expanded the event from a warehouse to Petco Park, the home baseball stadium of San Diego's Padres, and the bigger venue comes with more opportunities for geek goodness over the course of the weekend. Below, Levi discusses the new additions to Nerd HQ and plans for future locations, as well as his dreams for a "Chuck" movie. Nerd HQ takes place from July 18-21 and you can buy Conversation for a Cause tickets benefiting Operation Smile here.
The bigger venue at Petco Park:
"Basically, I was trying to figure how I could lose my sanity as fast as possible and I thought I would [choose] a baseball stadium. [Laughs.] The most important thing about Nerd HQ for me has always been our Conversations for a Cause, just how special they are and offering that kind of intimacy and interaction between fans and celebrities and how that comes together and culminates for a greater good in the charitable aspect and making money for Operation Smile. And so, as you triage and prioritize your venues for what you need: We need space for the panels. The venue we had last year was great for that and then they turned the warehouse space that we were using into another club, so then we were out of venue and the only place left in San Diego that had space that we would need was Petco. So we procured it. We were like, 'You know what? I think this could work,' and we are basically transforming a section of the baseball stadium seating ... we're boxing it in and we're building this artificial hall, this artificial room for [the Conversations].
And then the whole concourse is vacant, so we're just building all the same stuff that we've done in the last couple of years with video games, technology, and fun installations and activations and parties every single night. The HQ has always been a clubhouse. It's a place for celebrities and fans alike to go out and unwind and have a drink and recharge their phones or other doodads and other technologies. Take a little bit of a breather from the amazing chaotic mess that can be downtown San Diego during that time. It's just nonstop amazingness. It's our first year there, but I feel really confident about it."
The Conversation for a Cause panelists:
"Joss Whedon is coming back and Nathan Fillion is coming back. We got a really good TV lineup with "Orphan Black" and "Doctor Who" and "Sherlock," and "Psych" is coming back. I tried to get some other shows that have evaded us in the past, but it's tough -- everyone's so slammed when they're down there, especially when you're trying to get a whole cast ... Hopefully as the years go on ... and we felt it more this year than any year, studios and networks are taking notice to the point where they're starting to reach out to us and are interested in activating with us.
And we're having Alan Tudyk and Nathan Fillion both help me host this season because the last couple of years, I've lost my voice. Because I've got to go straight back to New York and go back into previews for my Broadway show ["First Date"], so I can't afford to lose my voice this year –- that would be very bad. So I went to Nathan and Alan and said, 'Hey, I can't afford to lose my voice -- how would you like to be my voice for a couple of days?' and they were so awesome and on board and they just have fun. "
A new addition to the roster:
"Another fun new thing we're doing this year is -- because we have this advantage of a baseball stadium, I really wanted to do a concert, but we just couldn't get all the pieces together in time. But in lieu of that, we're doing a screening and we're going to do a movie in the park and let people come and picnic and watch "Serenity" on Saturday night in the middle of Petco Park. So that'll be a lot of fun and yeah, a lot of it is the same old awesomeness that has been there each year and I think the people have responded to, and we're really excited to keep bringing it."
Plans to take Nerd HQ to other cities:
"We are definitely talking about very seriously doing a Nerd HQ at New York Comic Con. That would be the next stop on Nerd HQ tour. Conversations for a Cause are the real big thing for us and the big draw. It's very important for me that wherever we do Nerd HQ, we're able to have celebrities that fans are really excited about seeing, and are feeling like they're getting a really special gift, and the celebrities feel like they're able to give a special gift and you're able to sell out those panels and the people who couldn't make it can live stream and watch it at home like always.
We've been very blessed in that San Diego Comic Con, all the stars are there. I mean stars literally aligned, and so we do benefit greatly from the gathering that happens in San Diego. Other conventions don't necessarily get that same roster and so, in order to get the caliber of talent that people would really be pining after, you have to fly them in and put them up and work their schedules out and that's a lot of money. That's a lot of money that we would then not get to put towards the charity, and if we could get it sponsored, if that could all be worked out in sponsorship dollars, then I'm all for it. But until we can figure out exactly how to do that, San Diego seems to be the easiest and most logical place to do what we do. New York right after that. New York is great because there are a lot of celebrities that just live there. So they're not necessarily going to New York Comic Con, but we could reach out to them and say, 'Hey, we'll send a car. We want you to come and do a conversation for us.' It's not necessarily a San Diego Comic Con panel as much as it's an opportunity for people to really get a more intimate experience with a cast. It's a really intimate, off the cuff discussion where good stuff is talked about that you maybe would not get from a typically moderated panel."
Plans to produce more original web content and a potential "Chuck" movie:
"We've been partnering with different companies and trying to suss out exactly what content we would do to with the Nerd Machine, but even separate from the Nerd Machine, I have much bigger world domination plans. One of those would involve a "Chuck" movie but, as I explained to some fans recently, that's not going to be for a couple of years. I mean one of the biggest issues is that the show is actually still airing internationally, in other countries. It might be in Season 4 in Japan, for example. So if we were to go make a movie, we just basically spoil the rest of the series for these countries, so I wouldn't want to do that.
But I definitely would like to do that at some point ... I don't know about Kickstarter but ... I have some ideas of new entertainment portals that I would like to create, whereby people will pre-buy things .... but you're just pre-selling the actual content. You're not pre-selling a lot of extra add-ons. Maybe it's because I'm a Libra and I'm all about justice and fairness; I just really believe in making something that's affordable and fair for everybody and if you can make a movie that's 20 bucks, and for 20 bucks, you get the movie, plus you get a limited edition collector's thing ... Basically kind of like what video games do now. As a gamer, if I go pre-buy the new "Call of Duty," I'll pay a little bit of a premium. I'll pay like 10 bucks more or 15 to 20 bucks more, but I get this cool exclusive thing that only those that pre-buy get. And if I don't, then they're not not going to make the video game. The video game is still going to come out. It's not depending on pre-sales for its creation -- you just incentivize those who might go on that journey of faith with you in the beginning.
So that's the world that I would like to create and that's the kind of content and that's how I would like to activate buyers and viewers and fans and make them a part of the process. Because at the end of the day, I really believe them to be the real producers. We have creative producers that are part of telling stories and creating stories, but the ones that put it into existence are the ones who buy the ticket. And the more people recognize that and appreciate that -- and I try to do that as an actor, I really believe that you have a responsibility to your fan base and you're only as good as the people who care about what you do. I think it's important to recognize that and to give back to them when you can and continue to foster communication and respect. As a kid, I loved being an entertainer for that reason. It's a very special relationship that you have with someone.
They're paying you for a service that is actually not really a necessity. When we hit the apocalypse, it's the roving bards and comedians that are going to be starving to death. Nobody's going to be bartering for a little entertainment. They're going be like, "We need food and water. What do you have?" So I think it's a very special thing to be able to be an artist and an entertainer and to appreciate your sponsors in that regard, and I think that because of technology, we're in a place now where you really can cut out a lot of the middlemen and you can produce, you can distribute and you can market directly to them, without the need of a giant machine that you used to need ... I think we're really heading into a brave new world and I want to be at the forefront of the conversation and making it happen."

Buy Conversation for a Cause tickets here.
What are you most looking forward to at Nerd HQ?
PHOTO GALLERY
Comic-Con 2013: 20 TV Must-Sees
Calling all HuffPost superfans!
Sign up for membership to become a founding member and help shape HuffPost's next chapter