A new line of toys for girls has consumers questioning whether it reinforces gender stereotypes.
The "Heartbreaker" seems to be marketed towards fans of The Hunger Games series, with its strong teenage protagonist Katniss Everdeen and Brave, which features tougher-than-usual Disney Princess Merida, both of whom are aces with the crossbow.
The question being asked of Nerf is, why make this bow so "girly"?
Others criticized the name of the toy line, saying that using "Rebelle," suggesting it's not normal for girls to want toy weapons:
"The very name Rebelle (not to mention the heartbreaker bow and diva dart) is an annoying and unnecessary attempt to keep toys gendered, girly, and unintimidating. What? Was "rebel" not feminine enough?" wrote blogger boundandgaggedbybooks, who also pointed out that a commercial for the toy makes sure to call it "fashion forward."
But, the blogger notes, "As insulting as they seem to me, my younger cousins probably would flip for these toys."
Look: One of the toy's in Nerf's new "Rebelle" line for girls: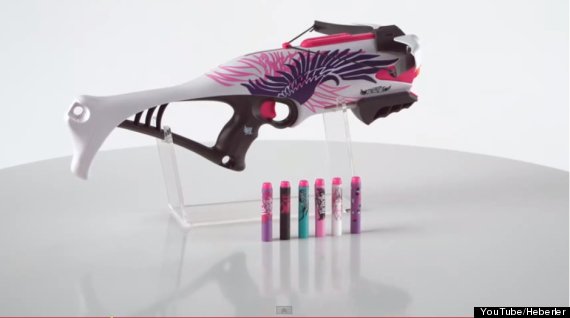 Others, however, applauded Hasbro for making a toy weapon for girls, in spite of the pink and purple color scheme. Freelance writer Toni Matthews El noted that past movie roles featuring strong female characters often didn't lead to any spin-off toy weapons.
"Nobody was giving toy weapons of any kind to little girls since the idea was that these things didn't or shouldn't appeal to little girls," El wrote. "But somebody out there made a connection. And if this toy does well, who's to say that changes won't be made in the future?"
In an interview with Entertainment Weekly earlier this year, Hasbro Global Chief Marketing Officer John Frascotti said the design of the "Heartbreaker" is what girls want. "I think if anything, we went into this without any stereotypes and instead talked to young girls, found out what they wanted, and then designed a line of products that addressed that opportunity," he said.