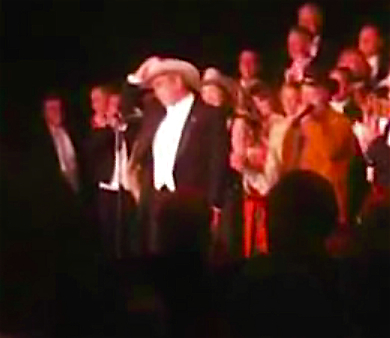 I can't imagine Valerie Plame Wilson's reaction to the president singing at the Gridiron Club Dinner:
"Down the lane I look and here comes Scooter. Finally free of the prosecutor."
It must have been a jaw dropper when she realized Novak and his date, Ann Coulter, were in the audience listening to Bush croon about pardoning the White House official who told Novak Wilson's undercover status was "fair game" because her husband debunked a report used as a case for war.
Bush ended the encore with jokes about an oil rich Saudi Arabian and the Vice President withholding documents. The Washington Post has a bizarre blog describing undercover YouTube coverage with the caviat: ("Wiseley?") That seems to be their concern - the public finding out rather than the fact that their reporter did not walk out on the proceedings.
But my jaw is still on the floor over the first stanza about the "big fuss" over FEMA Director Michael Brown. It was all sung to the same press corps who reported from our flooded city. My friend died in the Katrina aftermath. There will never be anything funny about that. Imagine the outcry if a sitting president worked in a comedy routine about lives lost in the Twin Towers.
With a harmonizing chorus, correspondents laughing after every line, lighters waving from the audience and a standing ovation.
New Orleans musician Johnny Sansone wrote the popular Katrina anthem "Poor Man's Paradise". With the line 'My Daddy used to be in a grave" describing the fact that, yes, graves floated in the flood, Johnny worked his ass off rebuilding his home and can sing about Brownie. Bush can't.
Brown, who claims he found out about thousands of stranded Americans by watching cable television coverage instead of from Homeland Security sources, says he was thrown under the bus by the White House. But as far as I'm concerned, he can't sing about it either.
One of the presidential candidates, Barack Obama, Hillary Clinton or John McCain, has four Gridiron Dinners coming up and will hopefully not inject humor into any action that led to loss of life. McCain's "Bomb, Bomb Iran" routine does not bode well. But back to Bush's final knee slapper.
A good rule of thumb is, if you're the guy who appointed an Arabian horse expert to run the country's emergency management system, you are the last one who gets to pen Katrina lyrics without asking:
Nero called. He wants his sense of appropriate timing back.