According to a recent study done by Grand View Research, the earphone and headphone industry will be worth more than $17.55 billion by 2022. Tapping into this lucrative market is Nervana, makers of "feel-good headphones" that give you a high-like sensation while delivering music. The company just wrapped up an Indiegogo campaign after raising nearly $600K, which exceeded their initial fundraising goal by 773%, making them one of the top 15 Indiegogo campaigns for this quarter.
Nervana works by sending an electrical wave through the left ear canal to stimulate the body's vagus nerve, while simultaneously syncing with the music. This produces a calm and relaxed feeling in users. It also stimulates the brain's pleasure center, which releases neurotransmitters like dopamine, serotonin oxytocin and endorphins. These chemicals trigger feelings of accomplishment and serenity, and allow for greater focusing ability.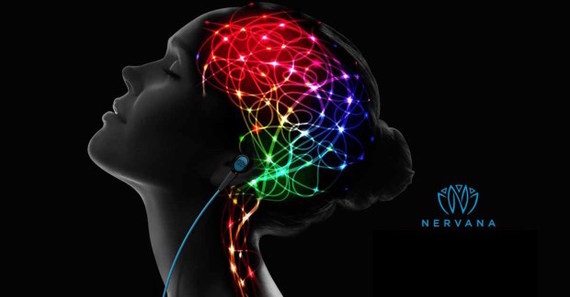 "Because our product is so personalized, we are really targeting it to specific audiences, and that's the wellness community, anyone interested in wellness, the music community and anyone interested in experiencing music in a different way," said CEO Ami Brannon in an interview.
Nervana uses a generator to send the electrical signal. The generator consists of three stimulation modes: "music," "ambient" and "formula." The "music" mode merely plays the music selected while stimulating the vagus nerve. The "ambient" mode replaces music with sounds from the environment. The "formula" mode blocks all noise and only stimulates the nerve.
The Florida-based startup consists of a four-member team, two of whom are physicians: Dr. Richard Cartledge, a serial entrepreneur with close to 100 patents, is a cardiac surgeon and Dr. Daniel Cartledge is an interventional pain doctor. According to Brannon, they both run full practices in addition to assisting with the company. Gregory L. Mayback, the third partner, is a registered patent attorney. The fourth co-founder, CEO Ami Brannon, has nearly 20 years of leadership experience in hospital administration and healthcare-sector marketing.
"We do not sleep a lot... patients will always come first. It's not easy, but they are a very hard-working group of guys," said Brannon.
It took the team approximately 8 months to build its initial crude prototype and another year to create its current model. An Engadget reviewer said he "did feel a mild sense of elation that lasted until [he] shut down the device," while a reporter for The Verge described his experience with the product as "strange" and similar to "a sort of subtle zap hitting your ear like an electrified Q-Tip."
Brannon notes: "With our first prototype, you had to make good contact with the skin in order for the electrical signal to transmit. So, if someone had an ear canal that's really large, and our earbud was not big enough, they didn't actually get that contact. However, we spent a lot of time creating new earbud sizes to address the small and large ear canal issues, so everyone will be able to get the appropriate signal."
Although Nervana did very well on Indiegogo, the team hadn't planned to crowdfund on their site. "We were all initially committed to make Nervana a self-funded company. We wanted to own the stock, and wanted to run the company efficiently, so we made very careful decisions. It's really easy to make careful decisions when you are using your own money," said Brannon.
They presented their product at the Customer Consumer Show in January, where they entered the pitch competition for tech stars. "When we won the pitch competition for lifestyle and digital health product, one of the executives at Indiegogo was part of the panel," said Brannon. "He recommended that we look into the platform for crowdfunding. We hadn't considered it, and didn't know much about it. So when we started looking into crowdfunding, Indiegogo seemed like a good fit for us. They were very supportive, they had a great team, so that worked out well."
With a hefty price tag of $299, the feel-good headphones are definitely at the higher end of the market. However, their pleasurable effects on the brain may make them well worth the price.
Calling all HuffPost superfans!
Sign up for membership to become a founding member and help shape HuffPost's next chapter