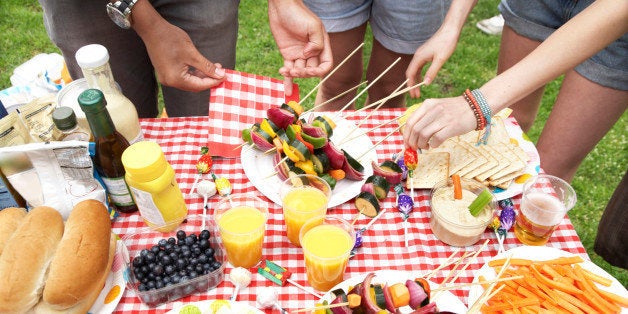 Whether due to Irritable Bowel Syndrome (IBS), diabetes, food allergies, food sensitivities, celiac disease, Crohn's disease or other medical conditions, health-restricted diets are difficult to manage. This is especially true when it comes time for summer cookouts, parties and any celebration that involves food (which, let's face it, is every celebration).
I fall into the food-allergy category, and have to strictly avoid hot peppers (and their derivatives) at the risk of going to the Emergency Room due to anaphylactic reaction. I've found that certain situations can really raise anxiety when you have food restrictions. Explaining at a barbecue why you won't be taking a hot dog from the grill or a fudge brownie from the platter can be anxiety-provoking. So can eating at that same barbecue, if you're unsure of the safety of the food for your particular diet. So how can we better manage anxiety in these situations?
1. Educate yourself
Knowledge really IS power. Educate yourself about your condition and the foods you can (and can't!) eat, and educate the people around you. Know what the risks are, where the closest medical center is, and what to do in case of an emergency. Tell people around you what to do if you are unable to manage a situation.
2. Have materials handy
Keep the materials you need handy. If you need an EpiPen on hand for a potential anaphylactic allergic reaction, make sure you have an EpiPen on hand. If you have a different medical condition, make sure you have what you need should an emergency arise. Just knowing that you are prepared may reduce anxiety!
3. Get support
Having other people on your team is important. Not everyone needs to know every detail, but make sure you have a couple of go-to people in any situation. Take time to communicate well with these individuals so that they can help advocate for you in social situations. This can decrease risk in case of an emergency, and it can also decrease social pressure.
4. Make a plan
Decide ahead of time what you plan to eat. If you are prepared, it will be easier to follow through on the plan that makes you the most comfortable. You can make a plan for how to handle the social situation, and also for how to handle an emergency situation. Both may help to reduce overall anxiety.
5. Be mindful.
Mindfulness is the nonjudgmental awareness of the current moment. Try to be aware of how you are feeling, both physically and mentally. This can help you to manage physical symptoms and also to manage anxiety.
6. Find control
Consider what you DO have control over in a social situation. You can control your thoughts, how you act socially, what you choose to eat. Take control where you can.
7. Manage the lack of control
Some things you can't control. Perhaps you can't eat sweets (for example, due to diabetes or gluten intolerance) and your inability to eat the fudgy brownies brings tears to your eyes. Validate your feelings -- it really is unfair that you can't eat the fudgy brownies - and then focus on something positive, like the food or the company that you are able to enjoy.
8. Challenge your thoughts
Ok, so it's good to know what the risks of a situation may be (see "Education"). That being said, it's also important to know when you might be taking your thoughts too far. If you find yourself considering every catastrophic consequence on repeat, it might be time to take a step back and ask yourself, "is it realistic that that would happen? What can I do to make sure it doesn't?"
9. Ground yourself
If you find your anxiety increasing, take a moment to ground yourself. Take a deep breath, or stretch, talk with a friend, or do something that helps to safely root yourself in the current moment and place.
Of course, there are other things you can do to decrease anxiety around the issue of health-restricted diets. These tips represent a starting point. They may help you make a plan for how to get through a summer cookout when you can't eat something there, from both a social and a medical perspective. If you find your anxiety spiraling out of control, the professional help of a therapist or doctor may be a useful resource as well.
Personally, I have done each of these tips at one time or another. It's not always easy to participate in the big barbecue when you can't eat a staple food, but it is possible to still be a part of the event and have fun.
*Note: This is not intended to replace medical or mental health advice. Please contact your physician or therapist for further help.