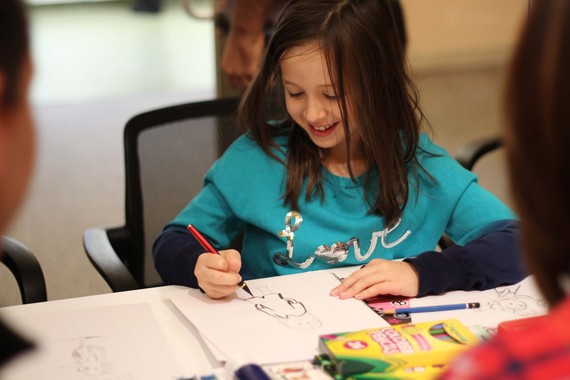 Neshama Ryman is a smart and tenacious 10-year-old girl who has toughed out treatment for stage 4 cancer and several reconstructive surgeries over the last few years. One thing that has kept her focused on her treatment and getting better has been a determination to complete her very unique wish. 
"I love drawing and I love movies," Neshama explains. "For my wish, I wanted to combine them by making an animated film."
Neshama's wish to create and direct her own animated short film was inspired by the Pixar films she loved to watch during her extended stays in the hospital. The Make-A-Wish® Metro New York chapter brought the young artist together with a team from FableVision Studios, a global media production studio based in Boston. 
"I had no idea what it would be like to make an animated film but in the process I'm learning a lot," Neshama said with a smile. 
"Thanks to Make-A-Wish, we now feel like we've got new family members in the whole team at FableVision," added her father, Rob.
Neshama's film is about the Klumz, who she says are "tiny little creatures that go to people's houses and make messes; constantly spilling milk, knocking over plants, and leaving food crumbs around - not to be mean, but because the Klumz see messes as beautiful."  
"Neshama is absolutely amazing," said Tone Thyne, Vice President of Creative at FableVision. "Together with Make-A-Wish, she is helping to grant a wish of ours--to help move the world to a better place through great storytelling."
FableVision is a multi-media studio that specializes in interactive and engaging media aimed at young audiences. This animated "message film" is just one of hundreds of pieces in their portfolio dedicated to creating "stories that matter, stories that move." The creative team at FableVision is led by Thyne and Peter H. Reynolds, FableVision founder and New York Times best-selling author/illustrator, who speaks nationally on the importance of creativity in the classroom.
Reynolds believes that Neshama and her film will help FableVision inspire youth around the world.
"Our mission is to inspire kids to express themselves, but more importantly, to be brave. If ever there was a spokesperson for being brave, it's Neshama." 
Neshama's mother, Lamelle, believes that the film reflects the struggle of families with children who have cancer.
 
"Seeing her idea become reality, the image of a bottle of beet sauce splattering all over the table, made me think that, in some ways, it's representative of the experience of a family dealing with a child's cancer diagnosis," said Lamelle. "A giant glass of beet sauce has spilled on your white tablecloth and you need to figure out how to make this the most positive, uplifting journey as possible."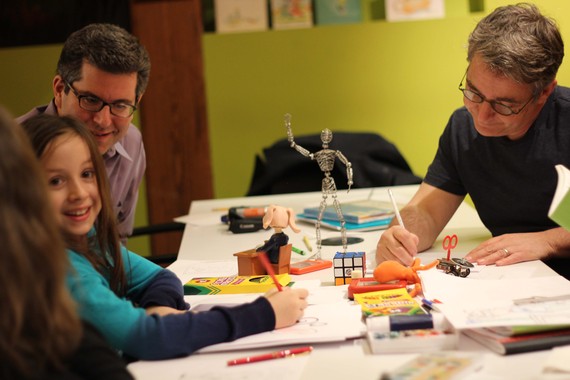 "The amazing people at FableVision have gone above and beyond to make this wish come true." 
 
"I remember the very first phone conversation we had with FableVision," Lamelle continued. "My heart just skipped a beat and there was the feeling of just being so hopeful and feeling such happiness." Rob added, "Hopefully people who see this film will see light and color and art in places that sometimes might not be so apparent." 
 
Peter and Tone shared with Neshama their enthusiasm and confidence that festivals around the globe will jump at the chance to screen her extraordinary film.
"The universal message in The Klumz film will strike a chord with audiences around the world," Thyne said.
 
"At Make-A-Wish we truly believe that a wish can be a game changer," said Gina Florescu, the organization's Sr. Director of Communications & Marketing. "Wishes remind kids of why they need to stay strong and keep fighting.  And, it gives them and their family something to look forward to - a respite from hospital visits, pain and fear.
"It allows a family to be whole again. Kids to remember what it was like when life was 'normal'."  
Neshama started with a concept built around an ongoing family conversation about an imaginary family called the Klumz. She made some drawings of the Klumz and other characters that she had in mind for her short movie. As part of her creative process, she pored over books about the creation of artwork for Tangled (Disney) and Epic (Blue Sky). Inspired by Neshama's drawings and story idea, Reynolds, Thyne, and the creative team at FableVision helped to create the extraordinary characters that leap to life on screen. 
According to Make-A-Wish publications, approximately 70% of wish kids overcome their medical conditions today. Improved medical technology, research, and incredible care are crucial to their survival. But getting better is no easy task for any kid--the treatment can be as debilitating as the illness. 
An overwhelming majority of doctors and caregivers have agreed that the Make-A-Wish wish process can make a big difference to a child who needs to stay focused on getting better. Anyone interested in aiding Make-A-Wish's efforts to grant the wishes of children this holiday season can visit their website here.
See below for an exclusive "making of" video that captures the beautiful Neshama and FableVision Studios collaboration so far. Stay tuned for a wish come true.
Calling all HuffPost superfans!
Sign up for membership to become a founding member and help shape HuffPost's next chapter