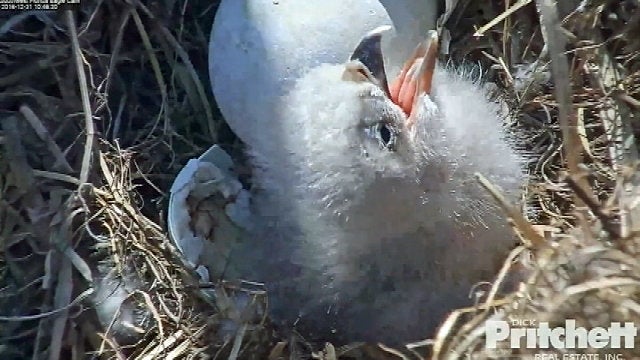 A Florida eaglet made its big debut before an audience of thousands of transfixed humans when it finally pecked its way out of its egg on a live "Eagle Cam" streamed online.
The Fort Myers Southwest Florida Eagle Cam video has racked up 61 million views since late November as bald eagle Harriet and her mate, M-15, have taken turns sitting on their two eggs. Three cameras offer different angles to bird lovers without disturbing the nest.
The first hatchling, dubbed E9, finally emerged Saturday morning after exhausting hours breaking through its eggshell. No movement yet on the second egg. Eagle eggs typically hatch at different times. They were laid Nov. 22 and Nov. 25.
Hours of relative inaction have suddenly been spiced up with the appearance of the first fuzzy, chirping eaglet, and 62,000 watchers were glued to the site midday Saturday.
The camera was first set up in 2012 and tracked eagles Ozzie and Harriet as Harriet laid two eggs and they raised both hatchlings to fledge — fly for the first time — in 2013. The following year one of two hatchlings died of unknown causes; the same thing happened in 2015. Ozzie was found injured in the wild before the surviving hatchling fledged in May. He was rehabilitated and released back into the wild but died later of further injuries.
After checking out other suitable mates, Harriet in October chose M-15, short for Male 2015, and both of their eggs hatched and fledged by spring 2016, though one, E8, had to be nursed back to health by humans after becoming entangled in fishing line. The same eaglet was discovered nearby with a broken leg after the nest was attacked by an owl. Again, E8 was nursed back to health and released into the wild.
Bald eagles are usually ready to fledge by 9 to 10 weeks of age, when they're close to being full grown. They strike out fully on their own by about 6 months.
The mortality rate for an eaglet's first year is greater than 50 percent, according to the U.S. Fish and Wildlife Service. They can be killed in the nest by other eagles fighting for territory, and owls prey on chicks. They can also be felled by environmental toxins, including lead they may ingest eating meat contaminated by bullets. Cars and electrical lines are other hazards, according to the National Eagle Center.
"Eagles are wild birds and anything can happen in the wild," warns the online camera site, run by a local real estate company. "The Southwest Florida Eagle Camera does not interfere or intervene and allows nature to take its course. You will see life and you might see death, but this is nature at her finest."
Popular in the Community