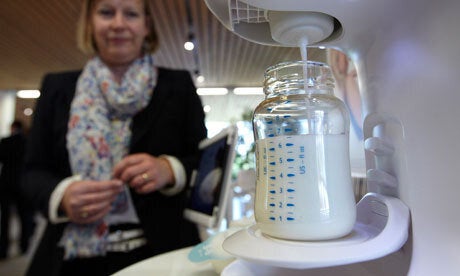 VERS-CHEZ-LES-BLANC, Switzerland, May 25 (Reuters) - Nestle (NESN.VX), on Wednesday launched its BabyNes baby milk dispenser using a system similar to its highly profitable Nespresso coffee maker.
The world's biggest food group said the machine and its infant formula capsules are on sale in the Swiss market and would be rolled globally depending on their popularity.
"It's potentially a game changer in the infant formula category," said Martin Grieder, head of advanced nutrition systems at Nestle. "It's very simple, very intuitive, hygienic and of optimum safety."
Nespresso, Nestle's top-selling premium portioned coffee brand, has been one of the company's fastest-growing brands with sales in 2011 expected to be more than 3.5 billion Swiss francs ($4 billion). [ID:nLDE72A0IZ]
Cut-price copycat versions of Nespresso capsules have sprung up, prompting Nestle to take legal action against makers such as Sara Lee (SLE.N), Swiss supermarket chain Denner and Ethical Coffee Co run by ex-Nespresso head Jean-Paul Gaillard.
Product innovation is one of Nestle's strategies for managing volatile costs of raw materials such as cocoa beans, coffee and milk.
Executives launching the BabyNes at Nestle's research centre would not disclose expected profit margins on the new product.
BabyNes machines sell for 249 Swiss francs ($284) with capsules costing between 49 and 55 Swiss francs for a pack of 26, roughly double the cost of regular powdered baby milk in Switzerland.
As the leading maker of baby milk, Nestle has in the past incurred stinging criticism from breast-feeding campaigners, which have accused it of violating the International Code of Marketing of Breastmilk Substitutes. [ID:nLDE74B2A0]
In a statement on Wednesday, the International Baby Food Action Network (IBFAN) repeated those charges and said BabyNes was "a product for the rich".
Nestle says formula provides a healthy alternative for those who cannot breast-feed or wish to supplement breast-feeding. (Additional reporting by Emma Thomasson in Zurich) ($1=.8760 Swiss Franc)
Related