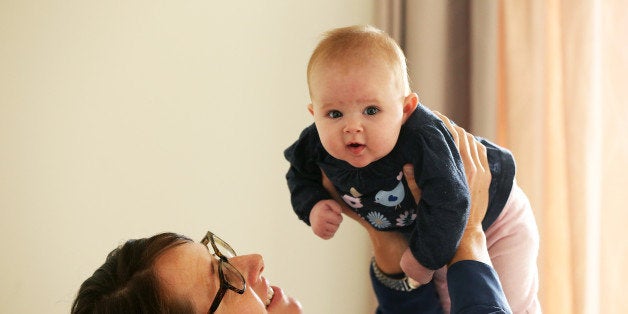 Nestlé just announced it will expand maternity leave benefits for workers globally, the latest signal that -- finally -- the corporate world is coming around to the idea of generous paid parental leave.
On Friday, the multinational corporation announced it would offer 14 weeks of paid leave for primary caretakers, longer than most of its competitors and up from just six weeks. Parents can also take 12 more weeks of unpaid leave. The company, which employs 339,000 people in 197 countries, will offer one paid week of paternity leave to new fathers who are not primary caretakers as well. The policy will go into effect starting next year.
The change will radically benefit Nestle's 51,000 U.S. employees. "This is a huge difference in our current policy," Judy Cascapera, the chief people officer at Nestlé USA, told The Huffington Post. Nestlé also announced flexible working arrangements to allow a new parent to phase back into work.
The multibillion-dollar company, which makes everything from skincare products to dog food to chocolate, joins a handful of other large companies that have extended benefits this year, including Vodafone, Johnson & Johnson and Blackstone. Even the U.S. Navy in May proposed doubling the amount of maternity leave it offers to 12 weeks.
For the momentum at the corporate level, you can thank the falling unemployment rate and the growing advancement of women in the workplace. Extending leave generally leads to better retention rates for women -- up to a certain point. Before Google expanded its maternity leave benefit to five paid months, women quit at twice the rate of men at the company. Now, the rate is the same.
Cascapera said the change happened because the company wanted to improve the lives of its workers, who often struggle to manage work and family. In an interview with Fortune, Nestlé Chief Executive Paul Bulcke highlighted breastfeeding as a key reason to offer mothers more leave.
"We support breastfeeding as the best way," he said. "We should allow mothers that are employees to live up to that."
The emphasis on breastfeeding is of note, since Nestle has long been criticized for promoting its formula to new mothers, particularly in the developing world -- at times with dire consequences.
"There's lots of options for getting your baby the right nutrition, breastfeeding is best but not everybody can do that," said Cascapera.
The U.S. is the only advanced economy that doesn't offer some kind of paid leave -- instead guaranteeing 12 weeks unpaid leave to those who work for companies with 50 or more employees. Companies and policymakers have long resisted offering paid benefits.
There are signs of change, as Claire Cain Miller recently reported in The New York Times. At the local level, advocates for paid leave now say they're seeing some momentum.
This year, a handful of cities started offering parental leave. Only three states currently offer some -- California, New Jersey and Rhode Island. And only 13 percent of workers in the U.S. get paid parental leave.
Support HuffPost
The Stakes Have Never Been Higher
Related
Popular in the Community