By Alison van Diggelen, host of Fresh Dialogues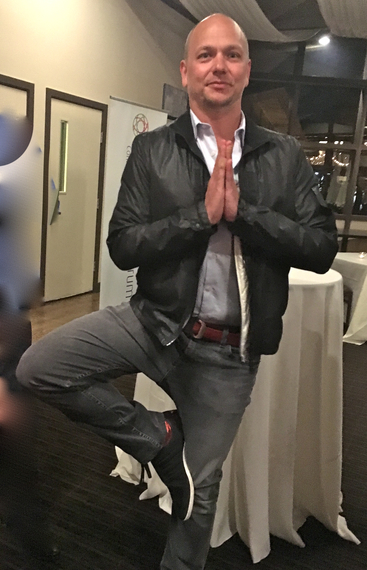 This week, I met the "legendary" Tony Fadell at SVForum's Visionary Salon in Palo Alto. Fadell has been called "the father of the iPod," Google's $3.2 Billion guru, among other colorful things, so I was intrigued. Here's what I gleaned from our conversation:
On working with Steve Jobs
Fadell learned to say "no" more than "yes" while working at Apple and he found creative ways to "disappear" when Jobs was in "one of his moods."
But in 10 years of working with Steve Jobs, the Apple co-founder often revealed his softer side. For example, when Fadell became a father for the first time, Jobs took him for a walk and advised him not to over-schedule his child.
"Make sure they're bored sometimes," said Jobs.
Fadell explains: Kids need the time to find themselves... be creative, and solve problems.
Glass is definitely a side project for Fadell... he checks in with his Glass design team sporadically. He's still CEO of Nest and that remains his primary focus, since, as he underlines, "it's actually shipping product." He's laser focused on making sure it's being done right (see leadership below).
Fadell reckons people today are obsessed with tech security and that in reality "nothing is secure... people in the security business are stirring up the shit."
Fadell starts his work day at 5:30 a.m. and does what he calls a "moving meditation," be that running, or yoga (one hour, three times a week). That gives him time to problem solve and prepare for his "roller coaster" day of "back-to-back" meetings.
I challenged him to demonstrate one of his favorite poses: the Vriksasana, or tree pose and as you can see... he likes a good challenge.
For non-yogis, it's a great pose for increasing balance, focus, and memory. It also strengthens your feet, ankles and knees.
The main event at the salon was an excellent fireside chat between Fadell and Kevin Surace, SVForum board member and serial entrepreneur. I'll post a link to the video at Fresh Dialogues, when it's available.
Here are some of the highlights of that conversation and my observations:
Make sure your projects don't take over 18 months to ship, otherwise "it's impossible to keep your team together," says Fadell.
Although Fadell has lost several key members of Nest recently, he insists that his young team "need mentoring to grow into the next leaders in Silicon Valley." He says that those who walk out the door are examples of "the Tinder generation."
Like Steve Jobs, Fadell has a reputation for being an intense leader, a micromanager or even a bully.
As Ben Austen so eloquently describes in Wired, "Steve Jobs has become a Rorschach test, a screen onto which entrepreneurs and executives can project a justification of their own lives: choices they would have made anyway, difficult traits they already possess."
Perhaps Fadell needs to do a little more yoga and a little less yelling?

Read more and see photos at Fresh Dialogues:
Tony Fadell talks about 10 years of failure, Larry Page vs. Steve jobs, and why car manufacturers should be very afraid of tech companies building cars.
Popular in the Community