WASHINGTON -- With two weeks to go until the Federal Communications Commission votes on the future of the Internet, net neutrality opponents are ramping up their fight against FCC Chairman Tom Wheeler's open Internet proposal.
On Capitol Hill, Republicans have launched probes into the rulemaking process, drumming up support for legislation they plan to push after the vote. At the federal agency, industry groups for the phone carriers are meeting with commissioners' staffers to advocate against parts of Wheeler's plan.
Wheeler's proposal would reclassify consumer broadband Internet as a utility under Title II of the Communications Act, banning Internet Service Providers from charging content providers for more reliable Internet access. The proposed rules, which would extend to mobile services, are supported by net neutrality advocates.
But on Wednesday, Sen. John Thune (R-S.D.), chairman of the Senate Committee on Commerce, Science and Transportation Committee, slammed the Obama administration, saying it's engaging in federal overreach on the issue.
"The White House and the FCC [both] appear determined to avoid meaningful bipartisan policy-making any way that they can," he said at the Reboot Congress conference in Washington, D.C., hosted by the conservative group Lincoln Labs. He also accused Wheeler of using "legal contortions and clever lawyer tricks" to justify his proposal.
Thune said he plans to revive his GOP-backed legislation after the vote, holding off-record meetings with stakeholders during the first week of March. He said that Democrats have "made it clear" they won't engage until after the FCC decides.
His comments arrive after Senate and House Republicans launched probes into whether President Barack Obama unfairly influenced the FCC's rulemaking process. Earlier this week, Sen. Rand Paul (R-Ky.) sent a letter to his supporters warning that "President Obama and the Federal Communications Commission are going to take over the Internet."
At the Reboot Congress conference on Thursday, Paul elaborated that regulating ISPs as utilities "completely will stifle any innovation," and advocated for opening up competition in monopolies instead.
Net neutrality opponents are also running advertisements to sway public opinion. A new group called "Protect Internet Freedom" released a porn parody last week that implies strong net neutrality rules will lead to more government surveillance. Another ad released last month by Cellular Telephone Industries Association (CTIA) claims that mobile users will have to pay more taxes under Wheeler's plan.
Meanwhile, industry groups are engaged in advocacy at the federal agency. Since Wheeler unveiled his plan, industry groups have also held a flurry of discussions with FCC staffers. The agency has a 3-to-2 Democratic majority, and it's unlikely that commissioners Jessica Rosenworcel and Mignon Clyburn will break from Wheeler. But Evan Engstrom, policy director at Engine, which advocates for startups, said, "I think the strategy right now is trying to poke as many holes in the rules as they can, make sure there are loopholes."
Within two days of Wheeler's announcement, both CTIA (whose members include Verizon, AT&T and T-Mobile) and NTCA–The Rural Broadband Association met with the senior legal adviser to Rosenworcel to oppose parts of Wheeler's plan.
CTIA, for example, has a bone to pick with Wheeler's proposal to extend net neutrality rules to mobile. "Wireless is different and the Commission was correct in 2010 in its decision not to subject mobile broadband to the same requirements," Scott Bergmann, assistant vice president for regulatory affairs at CTIA, wrote in an FCC filing.
CTIA was also in net neutrality meetings with staffers for Republican Commissioner Michael O'Rielly and Wheeler last week. The chairman himself has not yet taken any meetings on the issue since last week's announcement, a spokeswoman said Wednesday.
Under FCC protocol, lobbying must cease a week before the vote. The public won't know what influence these meetings will have had on the rulemaking process until the FCC makes up its mind. But at least one commissioner has already publicly blasted the chairman's net neutrality plan: Republican Commissioner Ajit Pai, whose staffers met with CTIA on Feb. 3. This week, Pai called Wheeler's plan "worse than I imagined."
Some of these tactics used by net neutrality opponents -- congressional letters, advertisements and meetings -- were also deployed during the last round of FCC rulemaking. Former Rep. Chip Pickering (R-Miss.) told HuffPost that net neutrality wasn't always a political football. "The politicalization of net neutrality really intensified in 2009 and was driven by ISP opposition to net neutrality rules."
Marvin Ammori, a lawyer who advises tech companies and supports net neutrality, said that in the fall of 2009, "there was a full-on blitz by the carriers" and after four weeks, former FCC Chairman Julius Genachowski "cried uncle, issuing a significantly watered down rule." (Genachowski declined to comment.)
Ammori said he hopes this time, strong net neutrality rules will prevail.
Before You Go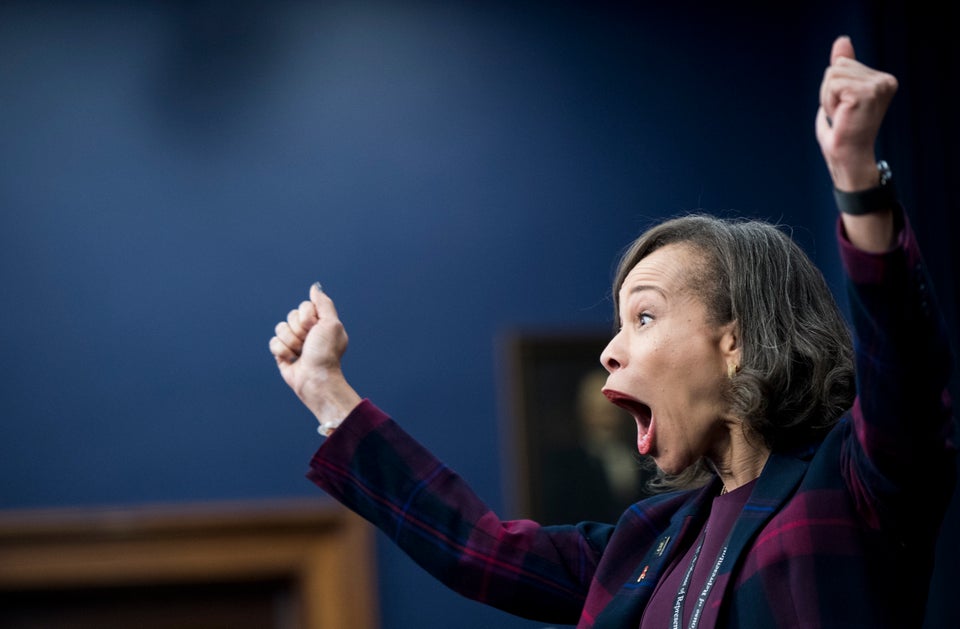 Scenes From 114th Congress And Capitol Hill
Popular in the Community