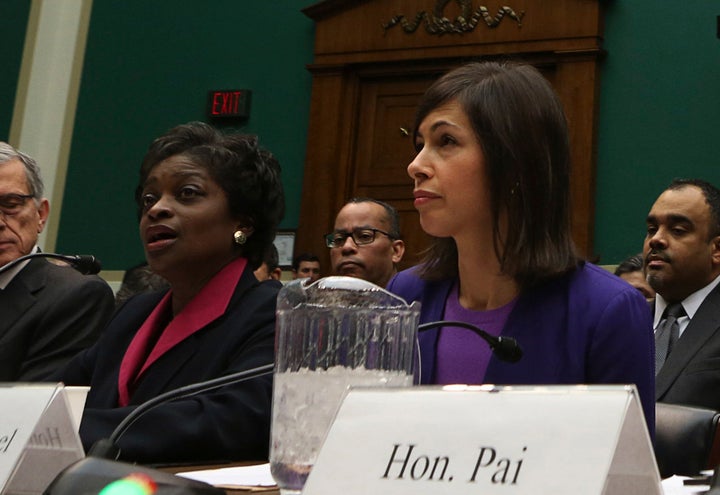 The two Democratic members of the Federal Communications Commission are not sugarcoating how devastating they think the end of net neutrality will be.
Ahead of Thursday's successful vote to repeal the Obama-era rules protecting net neutrality, the FCC's two dissenting commissioners ― Mignon Clyburn and Jessica Rosenworcel ― released their full statements on why they vehemently oppose Chairman Ajit Pai's proposal to end the 2015 policy, which banned internet service providers from offering faster speeds and access to websites that pay them more.
Clyburn and Rosenworcel, the only two women on the commission, go into great detail in their lengthy statements describing what they believe Americans' internet access will be like without net neutrality.
Here is an excerpt from Clyburn's statement, which describes how the end of net neutrality will especially hurt low-income Americans and people of color:
Many have asked, what happens next? How will all of this – Net Neutrality, my internet experience, look after today? My answer is simple. When the current protections are abandoned, and the rules that have been officially in place since 2015 are repealed, we will have a Cheshire cat version of net neutrality. We will be in a world where regulatory substance fades to black, and all that is left is a broadband provider's toothy grin and those oh so comforting words: we have every incentive to do the right thing. What they will soon have, is every incentive to do their own thing.

Now the results of throwing out your Net Neutrality protections, may not be felt right away. Most of us will get up tomorrow morning and over the next week, wade through hundreds of headlines, turn away from those endless prognosticators, and submerge ourselves in a sea of holiday bliss. But what we have wrought will one day be apparent and by then, when you really see what has changed, I fear, it may not only be too late to do anything about it, because there will be no agency empowered to address your concerns. This item insidiously ensures the FCC will never be able to fully grasp the harm it may have unleashed on the internet ecosystem. And that inability might lead decisionmakers to conclude, that the next internet startup that failed to flourish and attempted to seek relief, simply had a bad business plan, when in fact what was missing was a level playing field online.

Particularly damning is what today's repeal will mean for marginalized groups, like communities of color, that rely on platforms like the internet to communicate, because traditional outlets do not consider their issues or concerns, worthy of any coverage. It was through social media that the world first heard about Ferguson, Missouri, because legacy news outlets did not consider it important until the hashtag started trending. It has been through online video services, that targeted entertainment has thrived, where stories are finally being told because those same programming were repeatedly rejected by mainstream distribution and media outlets. And it has been through secure messaging platforms, where activists have communicated and organized for justice without gatekeepers with differing opinions blocking them.
We're told don't worry, competition will save us. But the FCC's own data show that our broadband markets are not competitive. Half of the households in this country have no choice of broadband provider. So if your broadband provider is blocking websites, you have no recourse. You have nowhere to go.

We're told don't worry, the Federal Trade Commission will save us. But the FTC is not the expert agency for communications. It has authority over unfair and deceptive practices. But to evade FTC review, all any broadband provider will need to do is add new provisions to the fine print in its terms of service. In addition, it is both costly and impractical to report difficulties to the FTC. By the time the FTC gets around to addressing them in court proceedings or enforcement actions, it's fair to assume that the start-ups and small entities wrestling with discriminatory treatment could be long gone. Moreover, what little authority the FTC has is now under question in the courts.

We're told don't worry, the state authorities will save us. But at the same time, the FCC all but clears the field with sweeping preemption of anything that resembles state or local consumer protection.

If the substance that got us to this point is bad, the process is even worse.
Popular in the Community