Protesters demonstrated outside Verizon stores and congressional offices from coast to coast on Thursday to rally against the Trump administration's plans to end net neutrality.
Current regulations require internet providers to treat all online content equally. If the FCC votes to end net neutrality, internet service providers will be allowed to create slow and fast internet lanes for different content providers and price structures.
The associated Battle For the Net phone call mobilization campaign has resulted in more than 800,000 calls to Congress, urging lawmakers to step in and block the FCC vote.
Supporters also asked internet users, websites, apps and small businesses to participate in a "Break the Internet" online protest starting 48 hours before the vote. The goal is to make sites appear broken or inaccessible, as many will be for countless internet users if the FCC ends the net neutrality protections.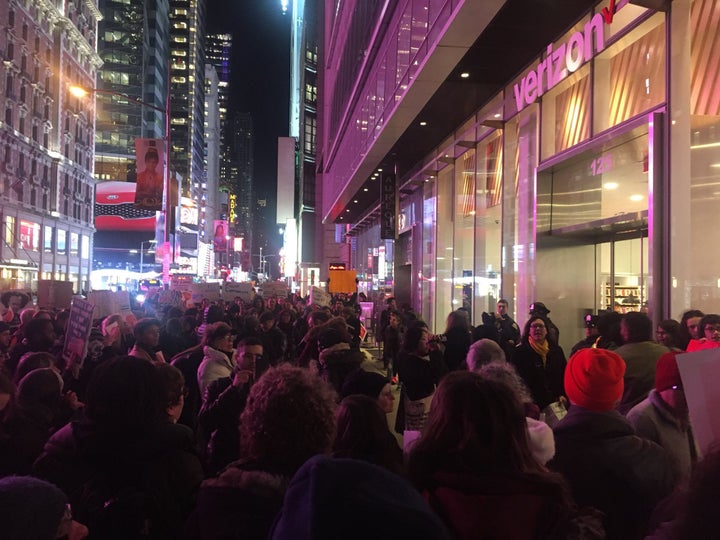 Protesters in Chicago chanted: "FCC, keep the internet free." In Manhattan, demonstrators shouted: "It's time to fret, we cannot let them have the net."
Democratic FCC Commissioner Mignon Clyburn, who opposes the move to end net neutrality protections, tweeted a photo of herself at a protest in Washington, D.C. Demonstrators gathered outside the annual FCC dinner.
The FCC, whose five members include three Republicans and two Democrats, is expected to pass Chairman Ajit Pai's plan to roll back the rules. Several Democratic senators have urged him to delay the vote, pointing out that hundreds of "public comments" backing Paj's plan were fake.
"Today's protests show how passionately Americans care about net neutrality, and how fed up they are with lawmakers siding with giant telecoms over ordinary people," Mark Stanley, spokesman for Demand Progress, said in a statement.
"The fate of the internet won't be decided by a few corrupt bureaucrats and phone company lobbyists in Washington," Free Press Action Fund field director Mary Alice Crim said.
Wireless and broadband companies have lobbied for the net neutrality changes opposed by their individual and business clients. Verizon, which owns Oath, the parent company of HuffPost, was chosen as a target for the protests because Pai used to work as a Verizon lawyer. Verizon said it will not block or slow access to the internet.
"Like those expressing their views today, Verizon fully supports an open internet and believe consumers should be able to use it to access lawful content when, where, and how they want," the company said in a statement on Thursday. "We've publicly committed to that before and we stand by that commitment today."
Last month, Verizon said it was "very encouraged by chairman Pai's announcement ... that the FCC will move forward to restore the successful light-touch regulatory framework for internet services."
The Broadband for America trade group said in a statement that the nation's broadband providers were "100 percent committed to a free and open internet."
Popular in the Community