The Obama administration championed those rules, which have since come under threat by the FCC's new chairman, Republican Ajit Pai, who has begun the arduous process of rolling them back.
Formally known as Protecting and Promoting the Open Internet, the rules allow the federal government to regulate the broadband internet market by preventing internet service providers from jacking up prices or playing favorites with web content creators.
In a short order issued on Monday, the full U.S. Court of Appeals for the D.C. Circuit in Washington declined a request to rehear the dispute filed by the same coalition of telecommunications companies that challenged the 2015 rules in court — among them AT&T, CenturyLink and Verizon, which is the parent company of HuffPost.
In a separate opinion, U.S. Circuit Judge Sri Srinivasan explained that the court wouldn't reconsider the rules, since Pai had already stated he intended to rescind them and make them into something "markedly different."
The full court "could find itself examining, and pronouncing on, the validity of a rule that the agency had already slated for replacement," Srinivasan wrote.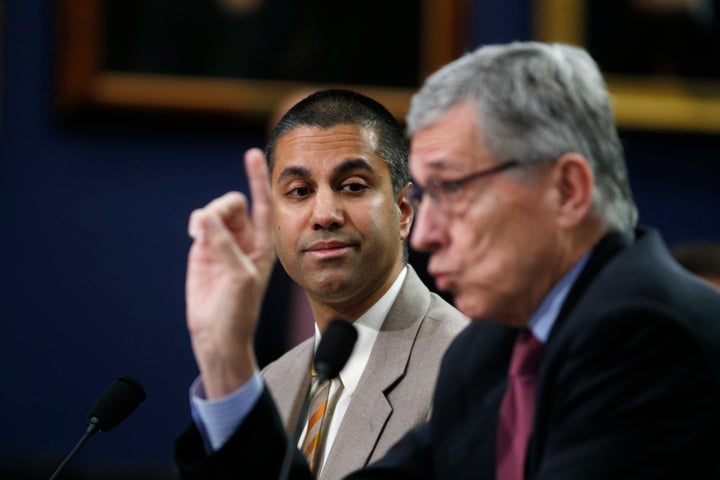 Srinivasan was part of the same appeals panel that upheld the net neutrality rules as a valid regulatory exercise under existing federal law and the First Amendment. As he did last year, he cautioned that the court's role was not to comment on the "hotly debated" issue of net neutrality.
"We have no involvement in that ongoing debate," Srinivasan wrote. "Our task is not to assess the advisability of the rule as a matter of policy. It is instead to assess the permissibility of the rule as a matter of law."
But U.S. Circuit Judge Brett Kavanaugh, who has been floated as a potential Supreme Court nominee in the event of a new vacancy under President Donald Trump, wrote in a dissent that the net neutrality rules are "unlawful" because Congress has never clearly delegated such broad authority to the FCC to regulate internet service providers.
"Under our system of separation of powers, an agency may act only pursuant to statutory authority and may not exceed that authority," wrote Kavanaugh, who would have reheard the case and voted to vacate the rules. "For major rules, moreover, the agency must have clear congressional authorization."
A second conservative judge, U.S. Circuit Judge Janice Rogers Brown, also wrote at length to lament that net neutrality is a grand choice that the FCC made in the face of congressional inaction.
The FCC chairman, who might agree with Kavanaugh and Brown's view of the internet rules, faces a tough road ahead to undo them — in part because of how much support they have received from the public.
REAL LIFE. REAL NEWS. REAL VOICES.
Help us tell more of the stories that matter from voices that too often remain unheard.