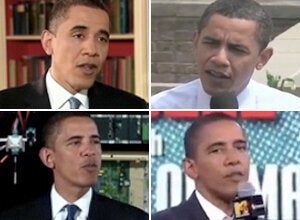 President Obama campaigned on net neutrality, and yet the White House has been surprisingly quiet on the issue since the breakdown of FCC negotiations and in the wake of Google and Verizon's joint policy proposal.
By contrast, as the video below highlights, we heard a great deal about net neutrality from Senator Obama while he was on the campaign trail. Both before and after taking office, Obama repeatedly expressed his unwavering commitment to maintaining an open Internet.
"The most important thing we can probably do is to preserve the diversity that's emerging through the Internet...something called net neutrality," he declared in April 2008. "I will take a backseat to no one in my commitment to network neutrality."
Just recently, however, a White House spokeswoman told Time only that the President "supports an open Internet that drives innovation, investment, free speech and consumer choice" and "[supports] the FCC's process." She declined to comment on the White House's view of the Google/Verizon framework.
"America has been fighting to figure out how to tap this awesome new resource that we have and Google has helped to show us the way," Obama said in a speech in November 2007.
Will Google continue to help "show us the way" with its net neutrality policy proposal? And, if so, would accepting the Verizon/Google framework, as outlined in its current form, go against Obama's many promises on net neutrality?
In the video below, Huffington Post video editor Ben Craw has spliced together clips presenting what Obama has said on net neutrality over the past three years. What do you hope to hear from him next?
Popular in the Community