WASHINGTON ― A Democratic Party think tank is behind a shadowy social media campaign pressuring Democratic lawmakers to oppose congressional resolutions to bring back net neutrality rules.
In the past two weeks, individual Democratic Party lawmakers have received Twitter messages from hundreds of different users urging them to oppose two resolutions that would nullify the Federal Communications Commission's December vote to end net neutrality rules for internet service providers. Democrats, digital companies and open internet advocates have harshly criticized the FCC decision.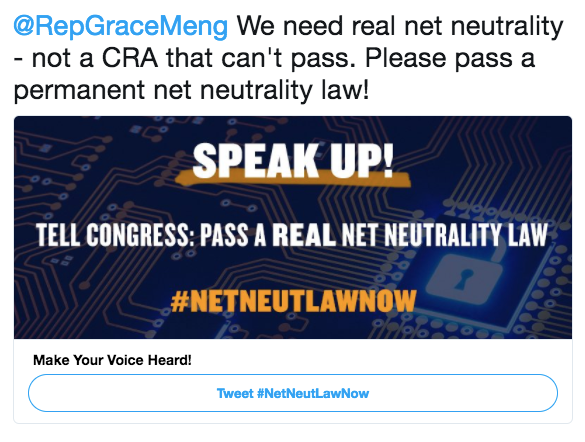 Both resolutions received wide support from Democrats. The one offered by Rep. Mike Doyle (D-Pa.) in the House has 110 co-sponsors, all Democrats. A bill in the Senate from Sen. Ed Markey (D-Mass.) is endorsed by all 49 members of the Democratic caucus, as well as Sen. Susan Collins (R-Maine).
The Twitter messages encouraged lawmakers to drop their support of the resolutions, which were offered under the Congressional Review Act (CRA), and to pass a bipartisan net neutrality bill instead; something that does not exist at this moment.
But rather than an organic expression of policy preferences by disparate Twitter users, the wave of messages started as an online advertising campaign by the Progressive Policy Institute, a centrist think tank affiliated with the Democratic Party that has consistently opposed net neutrality regulations imposed by the FCC.
Lindsay Mark Lewis, executive director of the Progressive Policy Institute, told HuffPost that the advocacy campaign is meant to target "pragmatic Members of Congress" in pursuit of a "real legislative solution" to net neutrality. Lewis called the Doyle and Markey bills "nothing but a gesture without a solution." He added that the think tank has long supported a legislative solution to the net neutrality issue, something that Democrats and Republicans in Congress have never agreed on.
It is not easy for a casual Twitter user to determine that they might be taking part in the Progressive Policy Institute's political advertising campaign. The message commonly shared by Twitter users does not note any connection to the think tank. Also, none of the original advertisements appear in the think tank's official Twitter feed, since Twitter allows advertisers to hide their purchased posts from the general public so that only users targeted by the ads will see them.
Supporters of the Doyle and Markey bills, however, believe the Progressive Policy Institute is operating on behalf of internet service providers like AT&T, Comcast and Verizon. (Verizon is the parent company of the corporation that owns HuffPost.) These companies have funded the opposition to net neutrality rules for years and backed the FCC's recent decision to repeal them.
The Progressive Policy Institute "has a history of bending over backwards to do whatever large phone and cable companies ask it to do," Tim Karr, a senior director at Free Press, a pro-net neutrality nonprofit group, told HuffPost.
Free Press and other net neutrality advocates point to the Progressive Policy Institute's longtime opposition to FCC net neutrality rules and its publication of dubious reports on the cost of net neutrality that internet service providers have used to defend their lobbying against net neutrality.
Net neutrality advocates also find the Progressive Policy Institute's Twitter campaign suspect because it came just as the internet service providers launched a lobbying campaign for what the advocates deem a "fake" net neutrality bill.
AT&T ran full-page ads in The New York Times and The Washington Post on Jan. 24, calling for Congress to pass bipartisan net neutrality legislation. That version of net neutrality, however, would be riddled with loopholes that allow practices like paid prioritization, in which websites can pay service providers to move their content faster than the content of their competition. Legislation introduced by Rep. Marsha Blackburn (R-Tenn.) is very similar to what AT&T wants. Lewis told HuffPost that the Progressive Policy Institute does not support Blackburn's bill.
"These types of astroturf campaigns are extremely dangerous because they hide the fact that they are corporate lobbying and mislead lawmakers into thinking that there is real constituent support for terrible and unpopular policies pushed by big businesses," Evan Greer, campaign director at the pro-net neutrality Fight for the Future, told HuffPost in an email.
Karr says that the only thing you need to look at is the think tank's donors, which, he says, "includes extensive support from the broadband lobby." 
The Progressive Policy Institute, through its parent nonprofit the Third Way Foundation, has received five- and six-figure contributions from the major trade associations affiliated with AT&T, Comcast and Verizon, including U.S. Telecom, National Cable & Telecommunications Association and CTIA - The Wireless Association. Each of these trade groups vigorously opposed the Obama-era FCC's net neutrality rules. (The Third Way Foundation has no relation to the think tank Third Way.)
Lewis said the Progressive Policy Institute supports net neutrality legislation "that confirms the open internet and aggressively deals with paid prioritization, beyond what any ISP likely would want." He added, "We would like to see a real bipartisan effort to affirm the rules for the internet that can be defined for a generation."
The Progressive Policy Institute spent "very little" on the initial advertisements to oppose the bills, Lewis said, and that the campaign was funded out the organization's general support fund, which the industry trade groups have contributed to in the past. He did not respond to questions about whether the group received donations from telecommunications companies or their trade groups this or last year.
This story has been updated to include information about the think tank Third Way.
Calling all HuffPost superfans!
Sign up for membership to become a founding member and help shape HuffPost's next chapter