Prodded by Democrats, the Senate is set late next week to vote on what could be the first step toward restoring net neutrality rules.
A petition filed by Senate Democrats on Wednesday will force the net neutrality vote in the chamber, where it has a good chance of passing, perhaps as narrowly as 50-49.
According to Reuters, all of the chamber's 47 Democrats, the two independents who caucus with the party and Sen. Susan Collins (R-Maine) are expected to support the measure. That would outvote the remaining Republican senators, who are down one vote as Sen. John McCain of Arizona remains on medical absence. Potentially, other moderate Republicans could join Collins and back the effort.
Clearing the Senate hurdle likely is the easy part.
The measure would then go to the House, where Republicans have a larger majority. And if it passes the House, the legislation would still need Trump's signature ― no sure thing, given that he put Pai in the position to lead the push overturning the Obama-era net neutrality rules.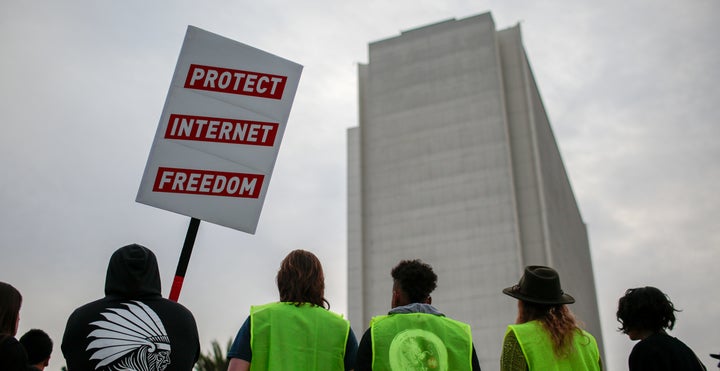 The FCC's repeal rolled back so-called "Title II" regulations that classified the internet as a public utility and which, among other things, required internet service providers (ISPs) to treat all of the data traveling on their networks equally.
Absent those protections, ISPs such as AT&T, Comcast and Verizon (which owns HuffPost's parent company, Oath) could prioritize their own content at the expense of others.
Battle For The Net, a net neutrality advocacy group, is organizing demonstrations in support of the Senate effort on Monday. And many of its members ― including websites like Reddit, Tinder, Tumblr and Wikimedia ― began running "red alert" banners on Wednesday to raise awareness on the issue. 
"Net Neutrality is overwhelmingly supported by people across the political spectrum: Republicans, Democrats, and independents alike," Craig Aaron, head of the pro net-neutrality advocacy group Free Press Action Fund, said in an emailed statement.
"Congress has the chance to rewind a terrible Trump administration policy decision, and one of its least popular, too," he said. "The public will be closely watching who's looking out for them and who's only serving phone and cable lobbyists."
Calling all HuffPost superfans!
Sign up for membership to become a founding member and help shape HuffPost's next chapter