From a block away, you could hear the chanting: "No, no, FCC, we want net neutrality!"; "Pai, Pai, you can't hide. We see your Verizon sign!"; "Hey, hey, ho, ho, Ajit Pai has got to go!"; "Time to fret! We cannot let them have the net!"
Just outside of the Verizon store seated between Times Square and Bryant Park in New York City, a few hundred net neutrality supporters stood in the cold for over two hours shouting for the continuation of a free web.
The gathering was one of many held outside Verizon stores and congressional offices across the nation Thursday in an effort to rally against Federal Communications Commission Chairman Ajit Pai's efforts to undo Obama-era net neutrality rules. (Pai was the telecommunication company's associate general counsel from 2001 to 2003.)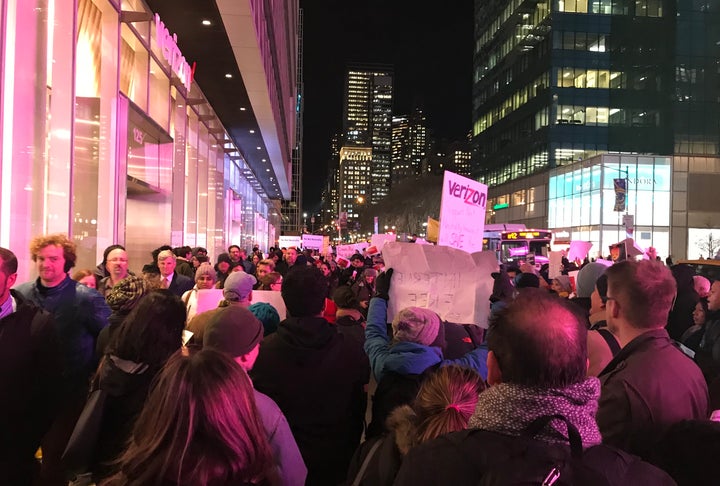 "Team Internet" ― a group that includes Demand Progress, Fight for the Future and the Freepress Action Fund — launched the protests in an effort to stop the FCC from getting to a vote on Dec. 14 to end net neutrality.
Should the FCC vote to end net neutrality, internet service providers like AT&T, Comcast and Verizon (which owns Oath, HuffPost's parent company) will be allowed to create slow and fast internet lanes for different content providers, charge extra fees, engage in censorship and more.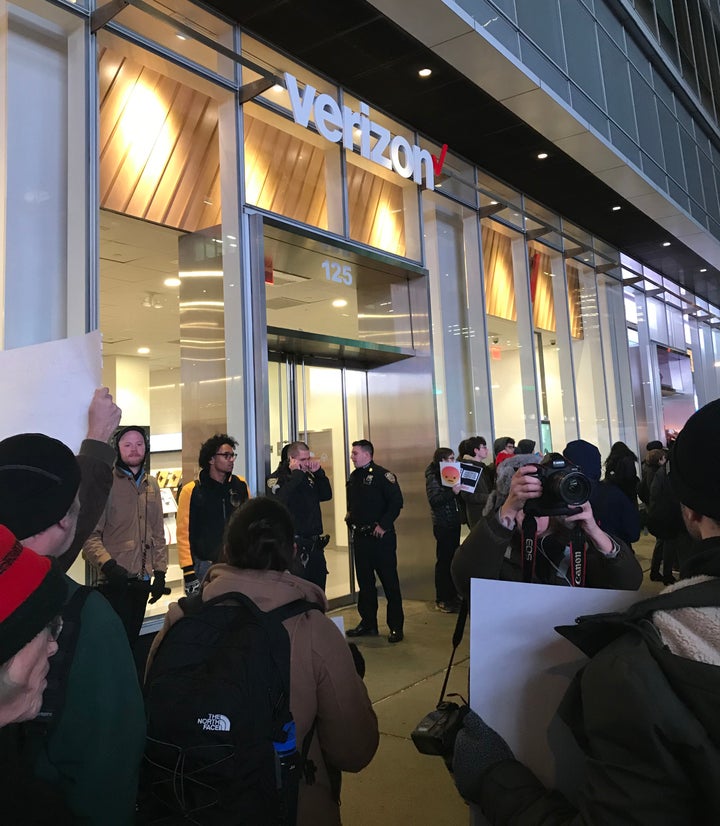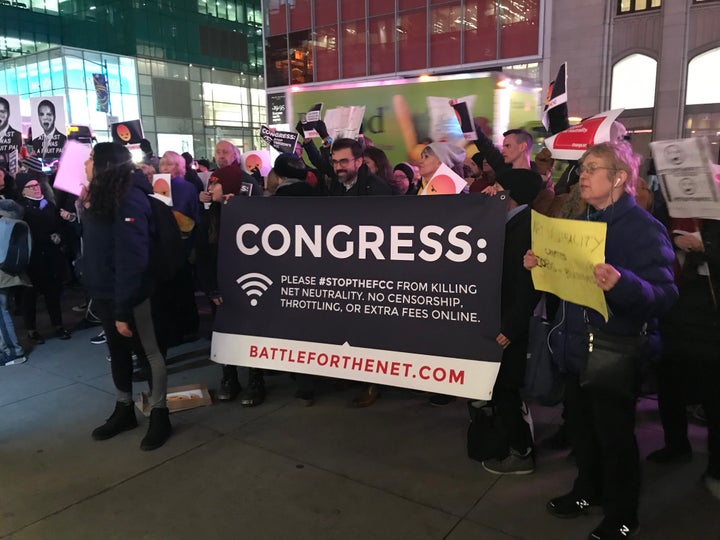 Emma Dill, who helped organize the protest at the Verizon store in New York City, was pleased with the turnout despite the freezing temperatures.
"It was amazing! The crowd was super engaged, there were tons of handmade signs, and the group was incredibly respectful of the Verizon store, employees, and customers," Dill told HuffPost.
"One of my favorite parts was that this event was a collaboration among a handful of organizations and no clear leader, but the group self-organized to lead chants, keep the sidewalk clear, ensure everyone was respectful, and help share the message with passersby," she said. "You never know what a crowd of several hundred will do ― I was thrilled to see it shake out this way."
This rally was scheduled to last an hour, though it exceeded that plan by more than an hour.
Many came out bearing signage of ranging from serious to hilarious. Considering the protest involved the internet, meme culture was alive and well, too.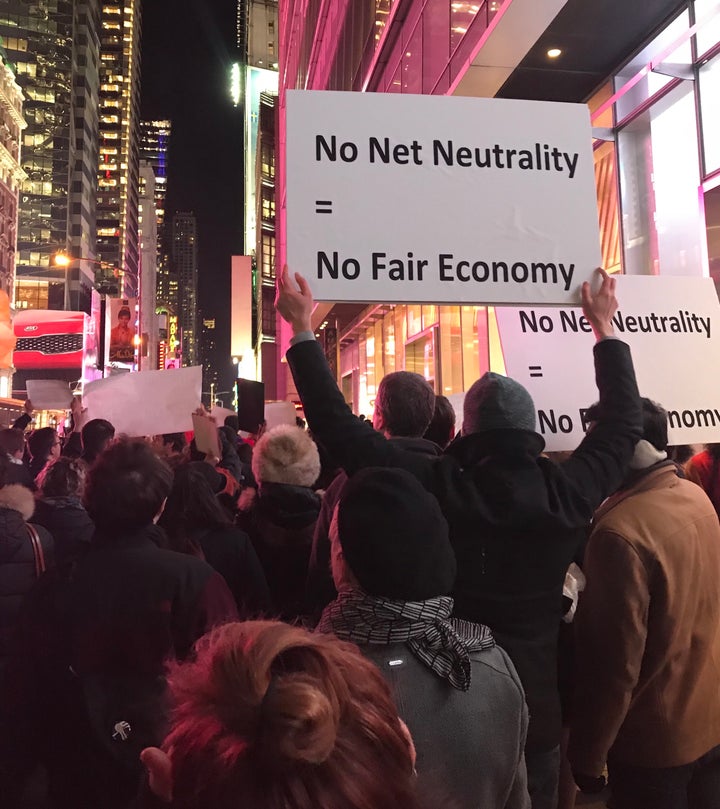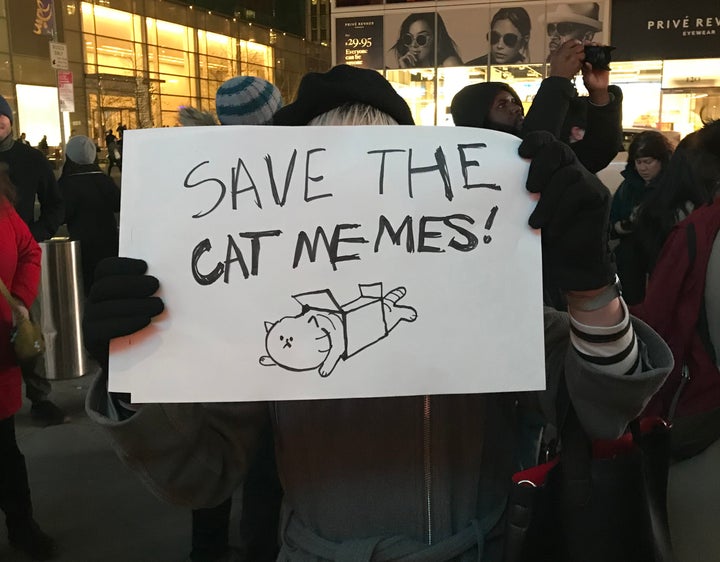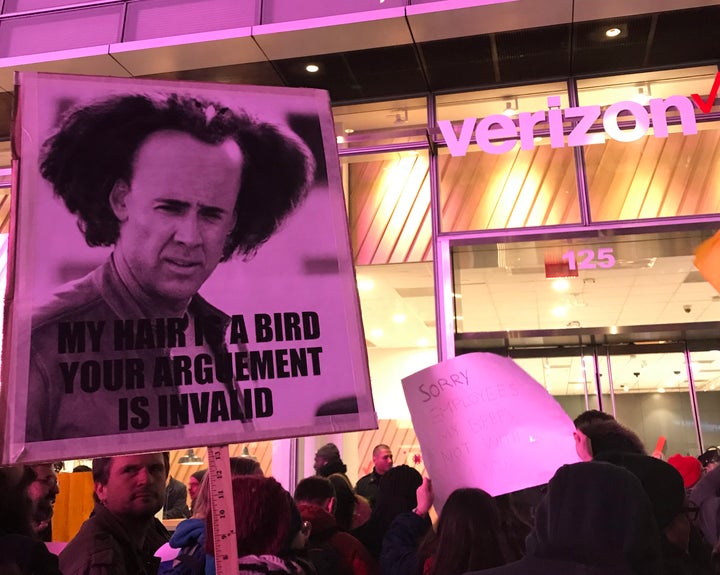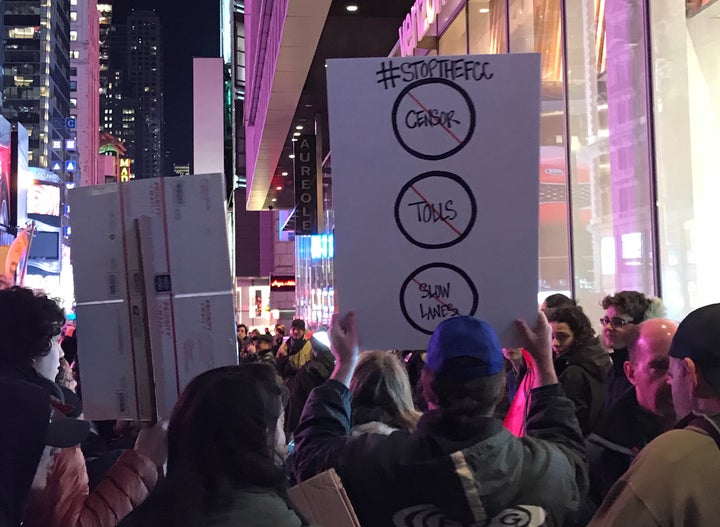 We spoke with several net neutrality supporters at the protest about what brought them out and why the issue was important to them.
Jennifer Elster, a local artist, told us that she "became incredibly concerned about the way that repealing net neutrality was going to affect the future of our internet freedom" and that she "had to respond" by coming to the protest.
"Net neutrality equals democracy," she said.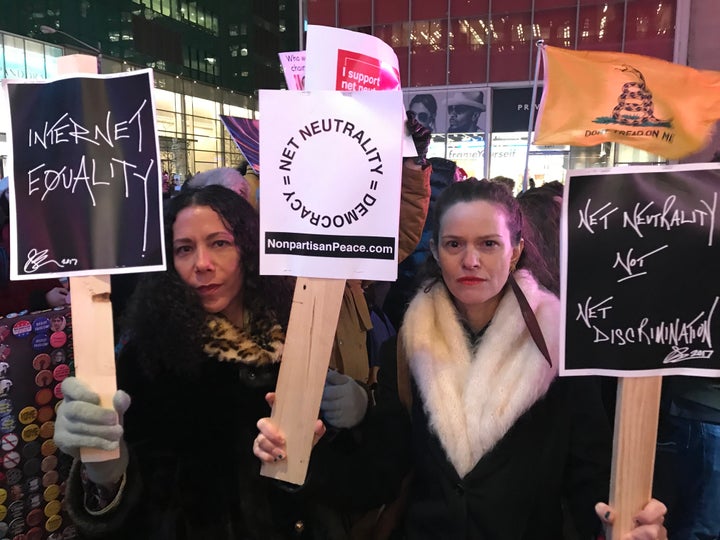 Musician and teacher Mislav Forrester told us that he doesn't see net neutrality as "a partisan issue" and that losing it would be "damaging to me as an artist." 
"I think it's simply about freedom to be able to access what you want and freedom to be able to say what you want on the internet," he said. "If internet service providers can slow down or stop your service whenever you're accessing things, they can basically censor anything they want or control what you can say. I see this as a very scary way of corporate interests controlling what individuals can access."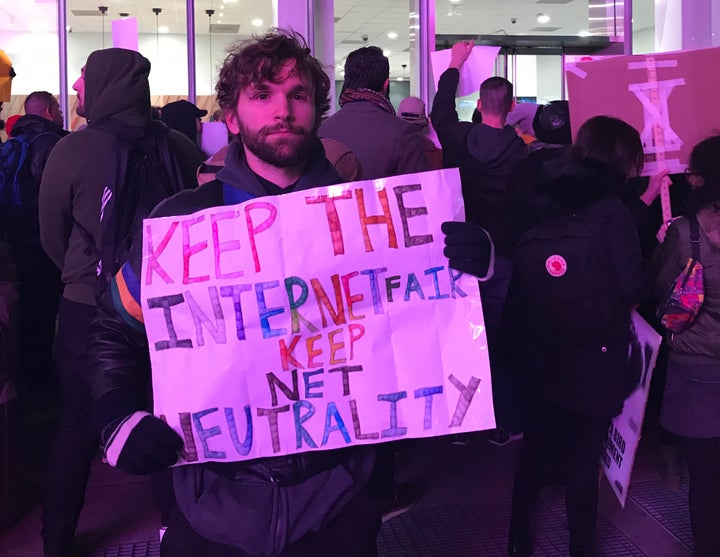 One supporter, 27-year-old Matthew Young, told us that he was at the Verizon store Thursday evening because he's "passionate" about a free internet and wished "more people could understand what [net neutrality] is and what's at risk."
"Because, for example, like health care ― people understand what health care is. People understand why it's important. With net neutrality, it's also a big issue for everyone to fight for," he said.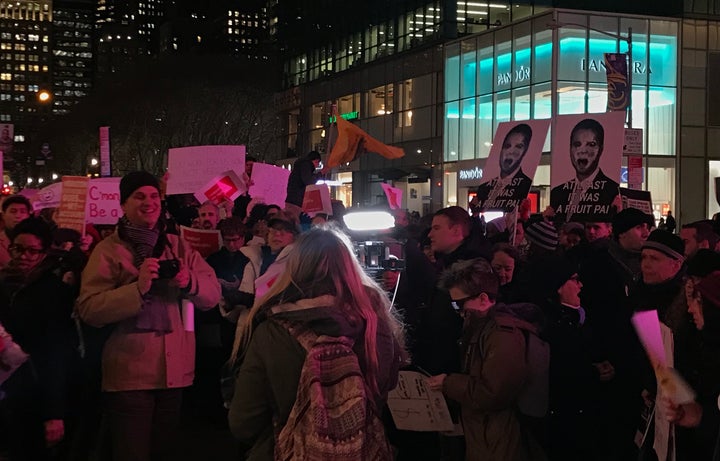 In a statement sent to HuffPost on Thursday evening, a Verizon spokesman said of the protests: "Like those expressing their views today, Verizon fully supports an open internet and believe consumers should be able to use it to access lawful content when, where, and how they want. We've publicly committed to that before and we stand by that commitment today."
There's one week left before the FCC is expected to vote against net neutrality protections, and other protests are still in the works. You can find one near you here.
Calling all HuffPost superfans!
Sign up for membership to become a founding member and help shape HuffPost's next chapter
BEFORE YOU GO
PHOTO GALLERY
Protesters Oppose Trump's Decision To Move The U.S. Embassy To Jerusalem