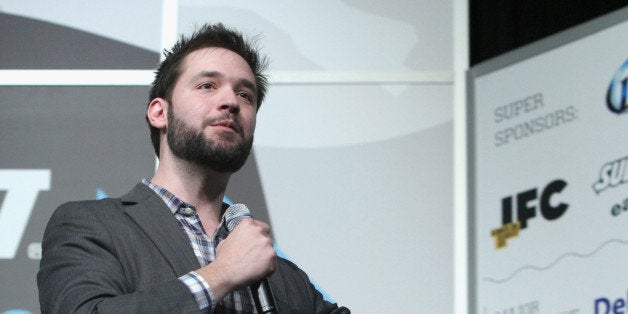 How do tiny startups battle billion-dollar telecom companies with deep-pocketed lobbying power?
They marshal the power of the Internet.
Two years ago, a coalition of Internet firms, free speech advocates and netizens banded together to defeat controversial anti-piracy legislation.
Now, some of those same organizers are rallying again to protest a different cause that they say has similarly high stakes for the Web's future: net neutrality.
Last week, the Federal Communications Commission proposed new rules allowing Internet providers like Comcast or Verizon to charge companies extra to reach customers with faster speeds.
The proposal would effectively put an end to net neutrality, or the idea that all Web traffic should be treated equally.
Tech entrepreneurs worry the rules could prevent them from competing with larger companies because they won't be able to afford access to the Web's "fast lane." As the lobbying battle in Washington heats up, the tech community is mobilizing to ensure its voice is heard.
"What we face is organized money and lobbying power and decades of relationships," said Marvin Ammori, a board member of Engine Advocacy, a group that lobbies on behalf of more than 500 tech startups and investors. "On our side is everyone who uses the Internet."
Engine Advocacy is planning a "day of action" on May 15 to coincide with the FCC's initial vote on the proposed rules. The group was one of many that played a role in massive online protests two years ago against legislation called SOPA and PIPA. Those bills were aimed at combating online piracy, but Internet activists said the measures would have stifled innovation, undermined the architecture of the web, and limited free speech online.
Thousands of websites large and small blacked out parts of their sites to protest the legislation while their users flooded congressional offices with phone calls, prompting the bills' supporters in Congress to back off.
Alexis Ohanian, who spearheaded the SOPA protests two years ago, says the stakes over net neutrality are just as high and demand a similar response from the Internet community. Ohanian said Reddit, the community news site that he co-founded in 2005, may not have been as popular if he had to pay Internet providers to reach users at faster broadband speeds.
Ohanian is now raising money for a billboard protesting the new rules that will be located near the FCC's offices in Washington. The billboard's message will encourage the commissioners "to do the right thing and protect the Internet," he said.
The next step will be "some sort of online action," Ohanian told HuffPost.
"It is going to be tests like this that show whether or not individual citizens can have the same kind of impact as these few well-funded companies," he said. "The hope is discussion around this continues to snowball."
FCC Chairman Tom Wheeler insists that tech startups won't face obstacles under the new rules.
"If we get to a situation where arrival of the 'next Google' or the 'next Amazon' is being delayed or deterred, we will act as necessary using the full panoply of our authority," Wheeler said in a blog post this week.
But many entrepreneurs are quietly concerned. Few have spoken publicly about the proposal because they are still unclear about what the rules will look like, said Christian Averill, a spokesman for the popular file-sharing site BitTorrent.
"More than anything we want to see a clear direction for no 'fast lanes,'" Averill told HuffPost. "We don't need anything open to interpretation."
As major corporations and interest groups lobby to shape the rules in their favor, tech entrepreneurs worry they'll be left out of the conversation, Averill said.
"Startups do not have deep pockets to compete with those lobby groups," he said. "There's tons of money being poured into these lobbying efforts and there's no voice at the table for the smaller guys."
The voice of tech startups in Washington is represented largely by Engine Advocacy, the group formed three years ago that does research and advocacy work on policy issues important to tech startups, such as intellectual property rights, privacy, Internet access and immigration.
In comments filed with the FCC last week, the group said the proposed rules, if adopted, "would crush startups, and therefore undermine American technology entrepreneurship, innovation, and job creation."
With less than 10 employees and relying on donations, Engine Advocacy would appear to be overmatched against telecom giants like Verizon that favor charging for access to faster speeds. The National Cable and Telecommunications Association, a trade group representing broadband providers, spent nearly $20 million on lobbying in 2013, according to the Center for Responsive Politics.
But what Engine Advocacy lacks in traditional political muscle it hopes to overcome with support from the Web, Ammori said.
"The idea that these carriers are impossible to beat is completely false," he said. "One thing we have on our side is people care about the future of America and they know startups create jobs and economic growth. And these are popular companies that people love. That doesn't hurt."
Related
Popular in the Community