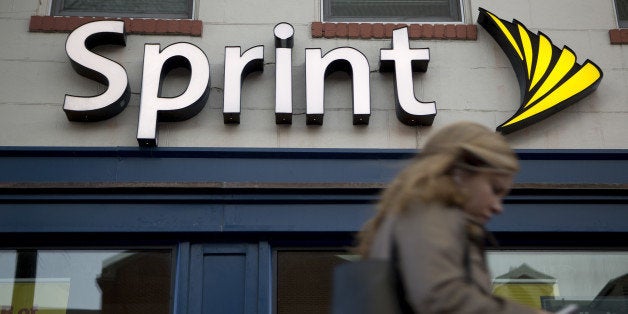 WASHINGTON -- Sprint has come out in support of granting the government strong authority to enforce net neutrality, bucking the trend of cell phone carriers fighting efforts to keep the Internet free and open.
The Federal Communications Commission will vote on a net neutrality plan next month. President Barack Obama has urged the agency to reclassify consumer broadband under Title II of the Telecommunications Act, a move that would empower the FCC to block Internet service providers from charging for faster Internet access.
In a letter sent to the FCC on Thursday, Sprint Chief Technology Officer Stephen Bye wrote that the company "does not believe that a light touch application of Title II ... would harm the continued investment in, and deployment of, mobile broadband services."
"So long as the FCC continues to allow wireless carriers to manage our networks and differentiate our products, Sprint will continue to invest in data networks regardless of whether they are regulated by Title II, Section 706, or some other light touch regulatory regime," the letter concluded.
This is a dramatic backtrack from what cell phone carriers have previously argued, namely, that a Title II net neutrality plan would devastate the economy and discourage investment in Internet services.
In 2013, Sprint's CEO at the time, Dan Hesse, told The Verge that net neutrality was "a hard concept for me to get my head around. It's like telling the airlines you can't sell first class seats."
Sprint's position isn't likely to jibe with Republicans who are reportedly planning to introduce legislation that offers significant concessions to net neutrality advocates, but would still bar Title II reclassification.
But Sprint's letter is welcome news to net neutrality supporters.
"This is big news," said Julie Samuels, executive director of Engine, which advocates for start-ups. "Every day it becomes more and more clear that the American public, and many of the companies driving the American economy, are ready to get behind a Title II regime."
Marvin Ammori, a lawyer for the tech industry who supports net neutrality, told HuffPost that "an open Internet is good for all carriers and their shareholders," and called Sprint's position a "very enlightened, visionary move."
Calling all HuffPost superfans!
Sign up for membership to become a founding member and help shape HuffPost's next chapter
BEFORE YOU GO
PHOTO GALLERY
Most Iconic Photos Of Obama's First Term