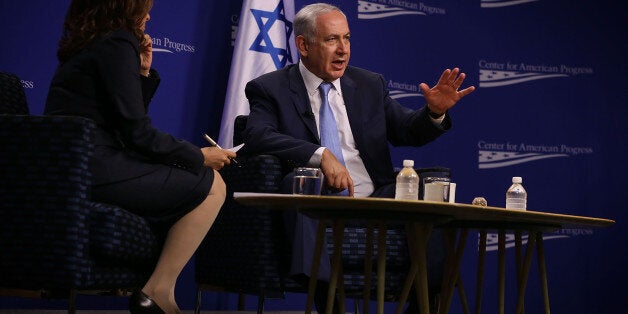 In his trip to the United States this week, Prime Minister Benjamin Netanyahu advanced a very dangerous narrative of why, in his view, Israel and the Palestinians cannot possibly make peace under current conditions.
During his visit, Netanyahu made a special effort to reach out to American progressives by going to the Center for American Progress for an hour-long discussion. He invoked Israel's democracy, judiciary, women's rights, gay rights, water recycling and technological prowess. But his analysis of the state of relations with the Palestinians was profoundly pessimistic.
Netanyahu described the core of current conflicts in the Middle East as "a battle between modernity and early primitive medievalism." This war, he said, could last 20 years or more - and he did not see a solution between Israel and the Palestinians in the meantime.
Netanyahu's words are profoundly dangerous because he is trying to turn a dispute over land into a religious war and a clash of cultures. A conflict over land can be settled by dividing the land -- but a clash of cultures can only end in absolute victory for one side and total defeat for the other. Thus, Netanyahu offers a prognosis for endless conflict.
Although he said, as he had many times before, he was ready to sit down with Palestinian President Mahmoud Abbas and he reaffirmed his belief in a two-state solution, Netanyahu said Israel must maintain full security control for the foreseeable future over any territory it withdraws from "in a civilian sense." The Prime Minister added an insistence that all of Jerusalem, including the Temple Mount, remain under sole Israeli control.
He acknowledged that there was no way any Palestinian leadership could accept such conditions. And indeed, what kind of state would it be where a foreign army maintained total control over the territory? How would it be different from the current situation, if the IDF could enter Palestinian towns and villages and conduct security operations with impunity - as indeed they do today?
There are many ways of preserving Israeli security short of maintaining military control over the West Bank - a demand that will always be a non-starter. For example, during Secretary Kerry's peace initiative of 2012 and 2013, retired US Gen. John Allen led a team of military experts that came up with a detailed plan to protect Israel through sophisticated surveillance technology, international monitors and a limited Israeli presence for the first several years. The Israeli government refused to seriously examine Gen. Allen's detailed blueprint.
Netanyahu claimed, incredibly, that the Israeli settlements in the West Bank took up only around one tenth of one percent of the land. But the B'Tselem human rights organization conclusively showed as far back as 2002 that while the built-up areas of the settlements constitute only 1.7% of the land in the West Bank, the municipal boundaries are over three times as large: 6.8%. Regional councils constitute an additional 35.1%. "Thus, a total of 41.9% of the area in the West Bank is controlled by the settlements."
Netanyahu's formula is basically one for the permanent continuation of the occupation which will, within a few years, bring Israel to a fateful choice. It will have to choose between remaining a Jewish homeland with a Jewish majority and sacrificing its democracy by depriving millions of Palestinians of fundamental rights including the right to vote. Or it could maintain its democratic character - but it would then cease to exist as a Jewish homeland.
We should all recognize the real threats to Israel that would be posed by a withdrawal from the West Bank. We recognize also the legitimate fear of the Israeli public, especially in the light of the terrible attacks on Israeli civilians being carried out by lone perpetrators in recent weeks. These attacks give a taste of what life would be like under a "one state solution." Netanyahu is also correct to point out that Israel's unilateral 2005 withdrawal from Gaza led ultimately to a Hamas takeover and that thousands of rockets have been fired at Israel since then.
Netanyahu has offered soft words wrapped around a refusal to move forward. The United States and the rest of the international community should respond with tough truths and hard work to pursue a realistic and just peace.
Calling all HuffPost superfans!
Sign up for membership to become a founding member and help shape HuffPost's next chapter