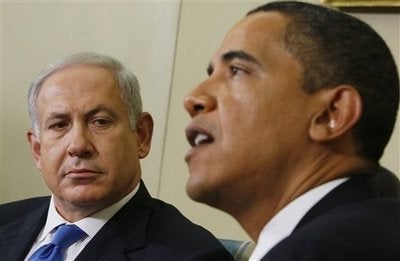 JERUSALEM — Media focus on the idea of a two-state solution to the Israel-Palestinian conflict, favored by President Barack Obama, is "childish and stupid," said an aide to Israeli Prime Minister Benjamin Netanyahu Wednesday.
The aide's statement reflected efforts by Netanyahu to deflect attention away from the issue during his just-completed trip to Washington. The Prime Minister clashed with both Obama and members of Congress in his attempts to avoid discussing the peace process in favor of Iran.
President Barack Obama made it clear that the U.S. backs creation of a Palestinian state, but Netanyahu has not endorsed the concept.
During his trip to Washington, Netanyahu constantly tried to shift emphasis from Israeli-Palestinian peacemaking toward the threat posed by Iran's nuclear program. He and Obama publicly disagreed about the relative weight of the two issues. Netanyahu argued that reining in Iran would spur peace efforts, while Obama felt that progress toward peace between Israel and the Palestinians would undermine extremist elements, including Iran.
In a brief statement at Israel's airport on his return, Netanyahu again began with Iran, mentioning the Palestinian issue as third on his list.
"A senior Israeli official who was present at the meetings defined them as 'a fight' and 'mutual arm-wrestling,' with Netanyahu trying to put an emphasis on the Iranian issue, and the members of Congress insisting on returning to the issue of the settlements. The senior official emphasized that there was full coordination between President Obama and the members of the Democratic majority in Congress. Netanyahu discovered yesterday how much Congress had changed, the senior official said. In 1996, Netanyahu recruited the Republican majority that existed in Congress against Clinton, the Democratic president. Today, this is impossible."
M.J. Rosenberg of the Israel Policy Forum wrote that it was "the first time in memory" that "an Israeli prime minister went up to the Hill only to be bombarded with criticism."
Referring to his talks with Obama, Netanyahu said, "There was an agreement that we need to immediately begin the peace process, I said I am willing to open peace talks with the Palestinians, by the way with the Syrians as well, of course without preconditions, but I made it clear that in any peace agreement there must be a solution to Israel's special security needs."
He also said that Arab nations should be brought into the peacemaking process, "meaning not only does Israel need to contribute and the Palestinians contribute, but Arab states need to make concrete contributions already at the beginning of the process."
Netanyahu did not mention talks with Syria during his appearances in Washington. Israel's previous government held several rounds of proximity talks with Syrian officials, mediated by Turkey, but no results were disclosed.
In his airport statement, Netanyahu said he and Obama agreed that Iran must not obtain nuclear weapons, and attempts to solve the problem through negotiations could not be unlimited in time. "There was also an understanding that Israel preserves the right to defend itself," Netanyahu said.
Israel has not taken the military option off the table and analysts say it might have the ability to strike some of Iran's nuclear facilities.
Israel considers Iran a strategic threat because of its nuclear program, long-range missiles and references by its president to the destruction of the Jewish state.
Popular in the Community