WASHINGTON -- Capping his most controversial trip here, Israeli Prime Minister Benjamin Netanyahu appeared before Congress on Tuesday morning to convince lawmakers that the current trajectory of nuclear negotiations with Iran would not prevent the nation from getting a nuclear bomb, which could ultimately destroy Israel.
He told a packed House chamber that the negotiations between Iran and six world powers known as the P5+1 -- the U.S., Russia, China, the United Kingdom, France and Germany -- would inevitably yield an unacceptable deal, though he didn't offer much in the way of a realistic solution.
"That deal will not prevent Iran from developing nuclear weapons. It would all but guarantee that Iran gets those weapons, lots of them," he said.
As lawmakers escorted him onto the House floor, Netanyahu was greeted by cheers, whistles, and a standing ovation that lasted almost four minutes.
Netanyahu stated the moral obligation he felt to speak out about an issue that threatened the state of Israel and the Jewish people. He traced the threat back to biblical times, comparing a "powerful Persian viceroy named Haman," who plotted to destroy the Jewish people over 2,000 years ago, to Iran's Supreme Leader Ayatollah Ali Khamenei. The Jewish Queen Esther ultimately thwarted Haman's plot, according to the Bible, and saved the Jewish people. Netanyahu implied that a modern-day Esther is needed to thwart Iran's nuclear ambitions.
And what better modern-day Esther than the U.S. Congress?
Describing Congress as "the most important legislative body in the world," the prime minister thanked the lawmakers for their enduring support of Israel, adding, "We appreciate all that President Obama has done for Israel," too. His recognition of Obama, who was not in attendance, was met with weak applause and a standing ovation by roughly half of those on the floor.
Netanyahu's decision to ultimately present his remarks was in bold defiance of the Obama administration, which had said the speech was a breach of diplomatic protocol since it was orchestrated by Speaker of the House John Boehner (R-Ohio) and Israeli Ambassador to the U.S. Ron Dermer, without White House approval.
On Tuesday, Netanyahu said he took issue with what he called "a very bad deal" for three reasons. He said he opposes leaving Iran's nuclear structures intact, relying on international inspectors to monitor Iran's compliance, and the fact that an agreement would ultimately allow Iran to obtain the status of any other member of the Nuclear Non-Proliferation Treaty.
"The foremost sponsor of global terrorism could be weeks away from having enough enriched uranium for an entire arsenal of nuclear weapons and this with full international legitimacy," he declared.
He described an apocalyptic scenario that would follow the deal being crafted by the P5+1. "[Iran's] voracious appetite for aggression grows with each passing year," Netanyahu said. "Will Iran be less aggressive when sanctions are removed and its economy is stronger? How many more countries will Iran devour once sanctions are lifted?"
This, he said, would lead to the Middle East becoming a "nuclear tinderbox," with the entire region racing toward nuclear weapons. He failed to mention that this would require most countries in the region to forfeit the protection of the U.S. nuclear umbrella.
"This deal won't be a farewell to arms, it will be a farewell to arms control," he said.
While the negotiations between Iran and the P5+1 have focused on the scientific, technical elements of Iran's nuclear program, Netanyahu said he required a deal based on political reform. Namely, he called for Iran to halt aggression against neighbors in the Middle East, renounce support for terrorism and stop threatening to annihilate Israel, which he described as the only democracy in the Middle East.
"If Iran wants to be treated like a normal country, let it act like a normal country," he said, prompting another emphatic standing ovation from the audience.
Repeating the refrain that Iran needs a nuclear deal more than the U.S. does, he encouraged lawmakers to "make them want it more" by increasing sanctions.
Obama has repeatedly insisted that increased sanctions would derail the nuclear negotiations and prompt Iran to unfreeze the elements of its nuclear program that have been halted for over a year under the current interim agreement. Supporters of a Senate bill that would slam Iran with more sanctions have been lobbying for support from Democratic lawmakers in order to secure a veto-proof vote.
Though the prime minister has suggested military action against Iran in the past, he emphasized that the alternative to the current deal under negotiation is not war. "The alternative is a much better deal," he said. "A deal that allows Israel to live, literally."
Netanyahu received criticism both in the U.S. and in Israel, where even conservative Likud political party members feared that his speech would weaken the alliance between Israel and its top source of financial and diplomatic support.
Prior to his visit to the House floor, Netanyahu made a less controversial stop at the annual conference hosted by the American Israel Public Affairs Committee, where he tried to dispel the notion of a U.S.-Israeli crisis of relations.
"Our alliance is sound, our friendship is strong," Netanyahu said Monday at AIPAC, describing the public spat between the two nations as the type of disagreement that is to be expected among family members.

With Israeli elections two weeks from now, Netanyahu's political opponents described the speech as a campaign tactic, echoing his rhetoric that his main opponent, Isaac Herzog, is too weak to prevent Iran from getting a nuclear weapon. The speech was shown on a five-minute delay in Israel, in an effort to prevent propaganda from being broadcast in the lead-up to the elections.
Despite the boycott of nearly 60 members of Congress, the House floor was nearly full. Sen. Dianne Feinstein (D-Calif.), who had voiced reservation about the speech, ultimately decided to attend. Also spotted was the prime minister's wife, Sara Netanyahu, who was seated next to Nobel Prize winner and Holocaust survivor Elie Wiesel.
In a reference to Wiesel, Netanyahu said, "I can only urge the leaders of the world not to repeat the mistakes of the past."
In a not-so-subtle effort to discourage attendance, the White House invited House Democratic aides to a trade meeting Tuesday, scheduled at a time that would coincide with Netanyahu's speech.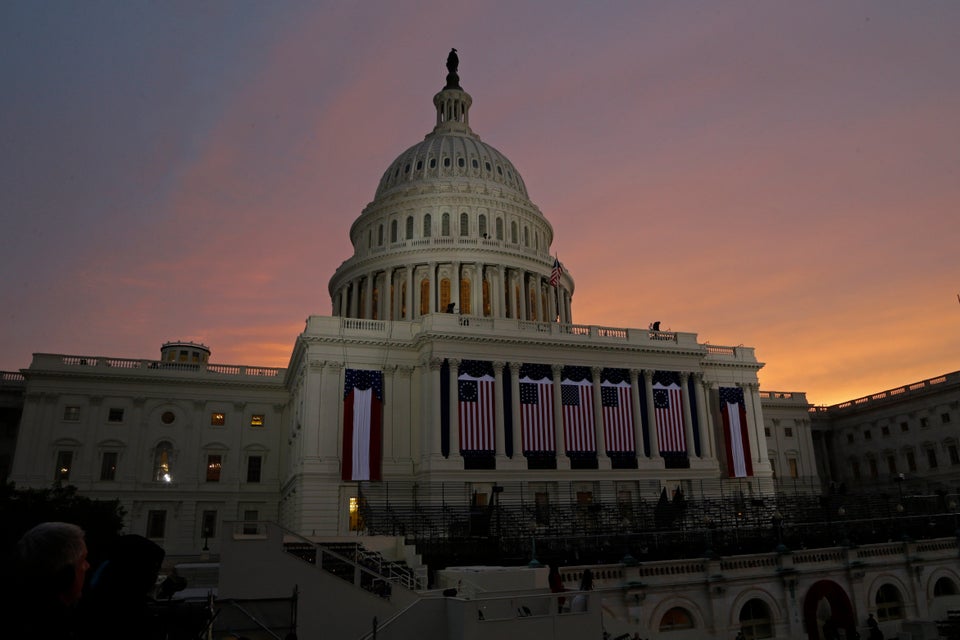 U.S. Capitol Photos
Popular in the Community