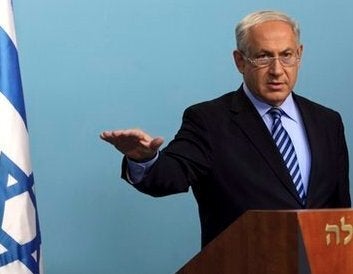 JERUSALEM (AP) -- Israeli Prime Minister Benjamin Netanyahu rejected international criticism of a deadly raid against a flotilla carrying aid to Gaza earlier this week, saying the blockade of the Palestinian territory is needed to prevent missile attacks against Tel Aviv and Jerusalem.
The comments came hours after all remaining pro-Palestinians activists from the aid ships were sent to Ben-Gurion airport near Tel Aviv to be deported.
About a dozen female activists scuffled with security officers at the airport but were quickly subdued by authorities, Israeli officials said. Officials said Wednesday no charges will be filed and the women, along with hundreds of other activists, will be deported as planned.
Israel has come under harsh international condemnation after its commandos stormed a six-ship aid flotilla Monday in international waters, setting off clashes that killed nine activists and wounded dozens. The nearly 700 activists -- including 400 Turks -- were trying to break the 3-year-old Israeli and Egyptian naval blockade of the Gaza Strip by bringing in 10,000 tons of aid.
Turkey's parliament called on its government Wednesday to review all ties with Israel as the country prepared to welcome home Turkish activists who had been detained after Israel's bloody raid on a Gaza-bound aid flotilla.
Israel rejects claims that Gaza -- which has been under an Israeli and Egyptian blockade since the Islamic militant group seized power in 2007 -- is experiencing a humanitarian crisis. Israel says it allows more than enough food, medicines and supplies into the territory.
Netanyahu insisted the blockade was needed to prevent militants from being able to carrying out attacks against Tel Aviv and Jerusalem.
"Israel is facing an attack of international hypocrisy," Netanyahu said in a statement broadcast from his office.
He said the flotilla was seeking to flout the blockade, not to bring aid to Gaza.
"If the blockade had been broken, it would have been followed buy dozens, hundreds of boats," he added. "Each boat could carry dozens of missiles."
WATCH NETANYAHU: "That was not a love boat. That was a boat of hatred."
Irish Prime Minister Brian Cowen has appealed to Israel to let a private Irish ship deliver its aid cargo to Gaza but admitted Wednesday that Israel would probably block the ship because part of the cargo was concrete.
The 1,200-ton ship Rachel Corrie carries wheelchairs, medical supplies and concrete. It was named after an American college student crushed to death by an Israeli army bulldozer while protesting house demolitions in Gaza. The ship was supposed to join the aid flotilla but was delayed by mechanical problems. It is currently waiting off the Libyan coast.
Those aboard include Mairead Corrigan, a 1976 Nobel Peace Prize winner from Northern Ireland, and Denis Halliday, who previously ran U.N. humanitarian aid programs in Iraq.
Israel dropped plans to prosecute dozens of pro-Palestinian activists detained after Monday's raid, opting instead to deport them all immediately in an apparent effort to limit the diplomatic damage from the raid.
"Keeping them here would do more damage to the country's vital interests than good," Attorney General Yehuda Weinstein wrote in the order.
By Wednesday evening, the Israeli Interior Ministry said 165 activists had already been deported and another 505 were at Ben Gurion airport waiting to be cleared for flights abroad. Three more activists wounded in the clashes, two of them Turks, were in serious condition and will remain in Israeli hospitals until they can be moved.
In Turkey, Yavuz Dede, the vice-president of the Foundation for Human Rights and Freedoms and Humanitarian Relief, or IHH, alleged that Israel had failed to account for all the passengers and crew on the six ships, and was deliberately delaying the activists' departure to cover up the missing persons.
"We see this delay in the planes' (taking off) as an attempt to disguise the loss of people," Dede told a press conference at IHH headquarters in Istanbul.
The Israeli Interior Ministry, however, said all those on board the aid convoy had been accounted for.
Turkish and Greek protesters were to fly home on special planes sent by their respective governments, while others from the nearly 20 nationalities on the ships were traveling on commercial flights. More than 120 activists from a dozen Muslim nations without diplomatic relations with Israel were deported to Jordan before sunrise.
A rally for the activists was held in Istanbul's main square.
The commando raid has seriously strained ties between Israel and Turkey. Turkey withdrew its ambassador, scrapped war games with Israel and demanded a U.N. Security Council session on the clash as a result. Hundreds of Turks protested Israel's commando raid for a third day Wednesday, and Israeli diplomats' families in Ankara began packing to leave following orders from the Israeli government.
The Turkish parliament in Ankara held a heated debate on whether to impose military and economic sanctions on Israel. Lawmakers of Prime Minister Recep Tayyip Erdogan's ruling Justice and Development Party objected to the measures, apparently anxious to avoid aggravating the situation, but eventually agreed on a declaration that was approved by a show of hands.
The lawmakers said Israel must formally apologize for the raid, pay compensation to the victims and bring those responsible to justice.
Also Wednesday, Egypt temporarily opened the Rafah border crossing, Gaza's main gateway to the outside world. About 300 Palestinians passed into Egypt, while a smaller number returned to Gaza along with limited humanitarian aid including blankets, tents and 13 power generators donated by Russia and Oman.
Nicaraguan President Daniel Ortega, meanwhile, announced his country was breaking diplomatic relations with Israel. British Prime Minister David Cameron urged Israel to lift the Gaza blockade, calling the raid "completely unacceptable."
Pope Benedict XVI urged both sides to resolve the problem with dialogue, not violence, telling pilgrims in St. Peter's Square that he was worried the raid would have "dramatic consequences and generate more violence."
Related
Popular in the Community