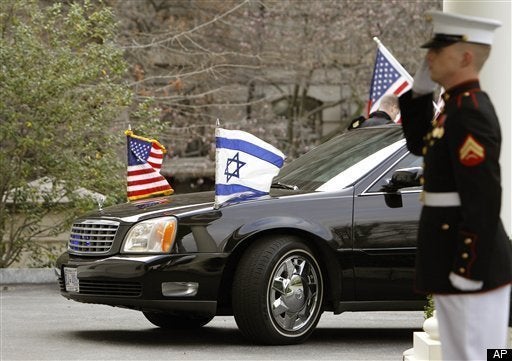 Exactly what happened this week when President Barack Obama met with Israeli Prime Minister Benjamin Netanyahu has been largely left to speculation, with White House spokesmen and their Israeli counterparts giving only the most cursory run down to the press.
Before the meeting even started, the Israelis appeared paranoid about U.S. intentions. The Australian reports that Netanyahu decided to not hold meetings in his Mayflower Hotel suite during his time in Washington, apparently due to fear it was bugged. Instead, meetings were held in a secure room in Israel's embassy.
During the White House meeting, the reportedly tense meeting broke off half way through, with the Israeli team left to their own devices for an hour - an unusual move that has invited speculation as to its meaning.
According to The Australian, Netanyahu asked that the president leave the room so he could consult with advisers back home about Obama's reportedly tough demands. Another theory, reported by Politico, says that Obama broke from the meeting to put his children to bed.
A third idea, as reported in British newspapers The Daily Telegraph and the London Times, floats the idea that Obama left the Israeli group in the Roosevelt Room while he dined without them. The Times also reports that after the second part of the meeting, the group later left the White House without using its phone - a sign of further fears of being bugged.
The idea of a frustrated Obama leaving the Israelis alone in a room during key talks has been widely read as a serious diplomatic snub. The Israeli press has rounded on the issue, with one paper newspaper called the meeting "a hazing in stages," and another saying that Netanyahu had received "the treatment reserved for the President of Equatorial Guinea."
Writing in Haaretz, Aluf Benn said that Netanyahu left the US "disgraced, isolated, and altogether weaker than when he came."
Whatever really happened, the publicity is only like to up the pressure on Netanyahu.
Related
Popular in the Community