WASHINGTON -- Iran is like the Islamic State, only bigger and more powerful, according to Israeli Prime Minister Benjamin Netanyahu.
"No one would dream of allowing the Islamic State of ISIS to have nuclear weapons," Netanyahu said Tuesday, using another name for the militant organization. "Why would anyone consider giving the Islamic State of Iran, which is a lot more powerful than ISIS and acts with much greater power than ISIS, to have additional power of nuclear weapons?"
Shortly after Netanyahu's remarks, a Twitter account associated with the prime minister shared a cartoon video imagining how dangerous the Islamic State would be if it were building atomic bombs. "Well, maybe it's not that hard to imagine," the video's narrator says. "The Islamic State of Iran. Like ISIS, just much bigger."
Netanyahu's comments come as Iran, the U.S. and five other nations are in the final stages of hammering out a nuclear agreement under which Iran would significantly curtail its nuclear program in exchange for sanctions relief. Negotiators extended their self-imposed deadline of Tuesday another week, until July 7. If they fail to reach an agreement by July 9, the time that the U.S. Congress has allotted itself to review the deal will double from 30 days to 60 days, further delaying implementation of the deal.
Netanyahu argues that any sanctions relief provided to Iran as part of a nuclear agreement will lead to Iran's further support of Syrian President Bashar Assad and terrorist groups like Hezbollah and Hamas. The Israeli prime minister has repeatedly invoked the Islamic State comparison in his efforts to persuade President Barack Obama to walk away from the nuclear talks, ramp up sanctions and demand further concessions from Iran.
"To defeat ISIS and leave Iran as a threshold nuclear power is to win the battle and lose the war," Netanyahu warned in his address last September to the United Nations General Assembly.
This past March, one month before a critical benchmark in the nuclear talks, Netanyahu traveled to Washington to speak to Congress in a similar vein. "Iran and [the Islamic State] are competing for the crown of militant Islam. One calls itself the Islamic Republic. The other calls itself the Islamic State," he told lawmakers during his highly controversial speech. "Both want to impose a militant Islamic empire first on the region and then on the entire world. They just disagree among themselves who will be the ruler of that empire."
Netanyahu has left open the option of using military force against Iranian nuclear sites, despite warnings from former Israeli intelligence officials that a military strike would only set back Iran's program by several years. The Iranians insist that their nuclear program is for peaceful purposes.

Support HuffPost
The Stakes Have Never Been Higher
Before You Go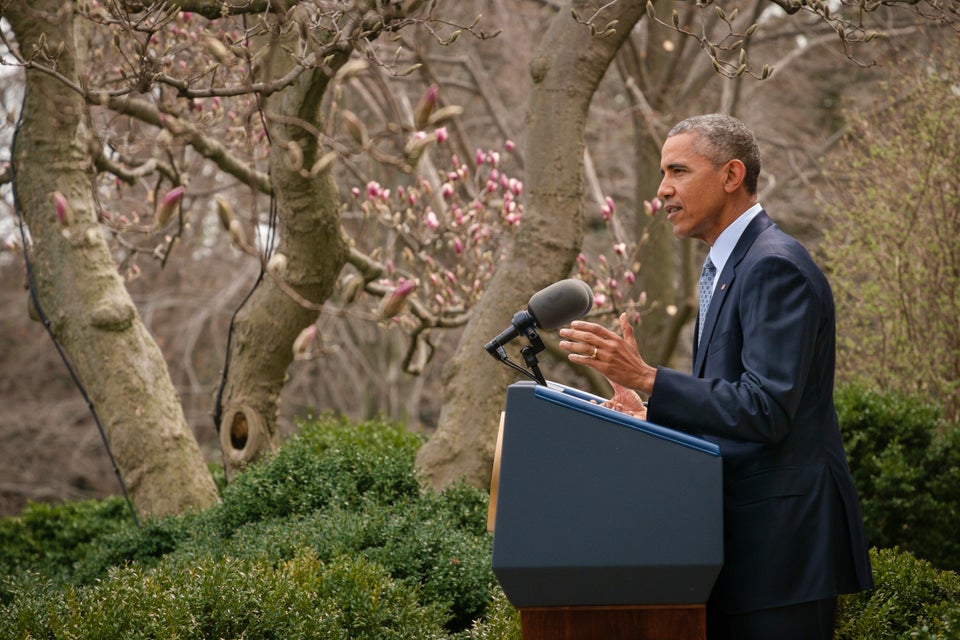 Responses To Iran Deal
Popular in the Community