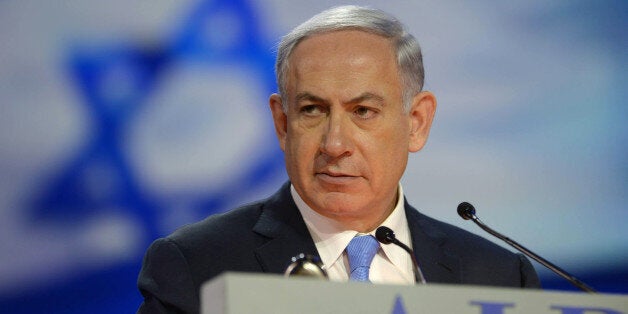 While a partisan debate swirled in the U.S. over Israeli Prime Minister Benjamin Netanyahu's speech to Congress on Tuesday, the audience back home has been similarly divided. With national elections only two weeks away, the speech has proven a lightning rod for Israeli media and politicians.
Those watching in Israel, where the speech aired at 6 p.m. local time, saw Netanyahu's polemical remarks with a five-minute delay -- imposed to ensure the prime minister would not breach any rules about illegal campaigning.
While many of Netanyahu's opponents were quick to stress that they share his views on the nuclear deal with Iran currently on the table, critics denounced the prime minister's speech as a political stunt meant to bolster his election chances.
"Is the speech, as Netanyahu insists, truly and solely about an Iranian atomic bomb?" asked Bradley Burston in an op-ed called "A Special Place In Hell" for the left-wing newspaper Haaretz. "The speech is intended to be a game changer. But the game in question increasingly appears to be that of helping Netanyahu to re-election in 2015."
"Bibi is there speaking while we're here winning," former justice minister Tzipi Livni tweeted, according to a translation by Jeremy Pressman.
Isaac Herzog, the leader of the Zionist Union Party and Netanyahu's main challenger in the upcoming election, told a crowd of supporters on Tuesday that while he understands Netanyahu's fears about a nuclear Iran, he was "here, not in Washington," according to The Times of Israel.
Herzog also criticized Netanyahu's tactics, arguing that while "there is no doubt that Prime Minister Benjamin Netanyahu knows how to deliver a speech, it will not stop the Iranian nuclear agreement," Ynet News reports.
Echoing comments by U.S. President Barack Obama, some in Israel argued that Netanyahu's speech repeated a number of familiar accusations against Iran and denunciations of the nuclear agreement, but offered few practical solutions, Reuters reports. Michael Oren, Israel's former ambassador to the U.S., said on a televised panel Tuesday that Netanyahu "did not offer any new ideas."
In the weeks leading up to the speech, several Israeli politicians had warned that Netanyahu's presence in Washington could damage the alliance between Israel and the United States.
Eitan Cabel, a member of the Knesset for the Zionist Union party, reiterated those concerns on Tuesday, calling the speech an act of "political pyromania." Cabel argued that Netanyahu "has introduced an undeniable rift between Washington and Jerusalem, and this has only strengthened Tehran's hand."
Still, amid the criticism, there was also much praise of the speech from newspapers and politicians alike.
David Horowitz, founding editor of The Times of Israel, hailed the prime minister's address in an editorial for the newspaper, arguing that Netanyahu gave "the speech of his life" and saying that he spoke of the potential Iranian nuclear deal with "compelling detail and passion."
Danny Danon, Israel's former deputy defense minister, also voiced his support for Netanyahu and reinforced his criticism of the nuclear deal, saying, "I am very proud of our prime minister... who said exactly what we feel: It is a bad deal."
Related
Popular in the Community