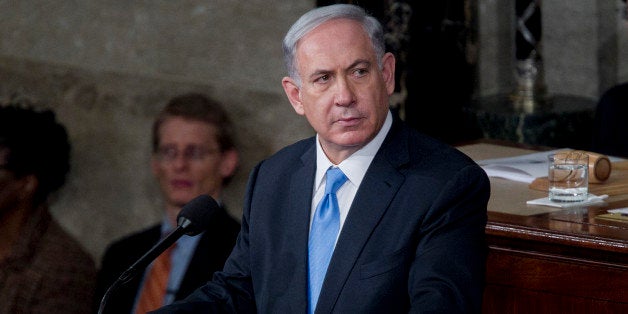 Thanks to the communications revolution of recent decades, I have ongoing virtual exchanges with an imaginary Israeli strategic analyst. She works at the Kirya (the "Campus"), the defense ministry in Tel Aviv. Her grasp of the Mideast is keen; she distinguishes quickly between sensible political possibilities and postures.
I will call her DD. Yes, it rhymes with "Bibi," Prime Minister Benjamin Netanyahu's nickname. He also calls himself "Mr. Security." DD stands for "Defense Dove." Although I've invented her, I am sure that her real life counterparts exist. They have been sidelined but will reemerge if Israel's upcoming elections are won by a new alliance led by Labor, the country's dovish, founding party now headed by Isaac Herzog.
I contacted DD because I am an American friend of Israel who is very worried. Israel's policies -- foreign and domestic -- have been hostage to Bibi's right-wing agendas. And his ambition. "The person who has caused Israel the most strategic damage when it comes to the Iranian issue is the prime minister," says Meir Dagan, ex-head of the Mossad, Israel's intelligence agency.
Bibi has alienated more people around the world, including old friends, than any leader in Israeli history. His address to Congress is just one example. Another was choosing Ron Dermer, ex-Republican operative, as ambassador to Washington.
How many Democrats does Bibi want to estrange? Calls have appeared in Israel's press for Dermer's removal.
If Herzog becomes prime minister, the landscape will shift. New options can open up for the Jewish state. But they must be viewed soberly. Violent changes swept the broader Middle East in recent years and they must be factored into any peace efforts. Unfortunately, Bibi pretends that the Palestinian issue can fester forever; Palestinian leaders fantasize of securing their goals apart without negotiations and compromises.
Each side has cheerleaders from afar. There is something deeply wrong with Western "friends" of Palestine who encourage intransigence but have nothing to lose by it. Imagine blind people sitting comfortably on a sofa and cheering on other people on a cliff's edge at nightfall. The American Jewish right-wing is no more perceptive about Israel.
It is important to distinguish smart from dumb doves. Smart ones know there is no magic peace wand. Consider what a dovish Israeli government would have to face:
Hamas restocking missiles and rebuilding tunnels in Gaza;
Hezbollah being... well, Hezbollah. It is busy helping Asad's mass murder regime in Syria.
A Sinai desert out of control. Islamists -- including ISIS types -- are murdering Egyptians regularly there and look forward to doing likewise to Israelis;
An uncertain Egypt. (Would you underwrite President Abdul al-Sissi's life insurance policy?);
A violent, chaotic Libya where Islamists are rampaging, recently murdering Egyptian Christian migrant workers.
A seething West Bank. Mahmoud Abbas, Palestinian president, is old, ill and without an obvious moderate successor to carry out agreements. Now he pursues a dubious strategy: trying to haul Israel to the International Criminal Court on the eve of Israel's vote. Has he joined Bibi's election campaign? Will he haul Hamas to the ICC? In the meantime, Israelis still suffer terrorism coming from the West Bank.
A fanatical Israeli right-wing (ultra-nationalists, religious militants, combinations of the two). It has grown increasingly nasty and out of control over decades. Plus it has strong representation in parliament. Many of its key leaders like Economics Minister Naftali Bennett, Likudnik Danny Danon, and Foreign Minister Avigdor Lieberman were Bibi's protégés.
Uncertain stability in Jordan;
Iran: Tehran is playing dodgy nuclear games. It plays other duplicitous games in Iraq, Syria and Lebanon, seeking regional sway;
Violent disarray in Iraq: ISIS is planted there and in Syria;
The expanding necropolis of Syria: Damascus butchers, ISIS slaughters. The red-lines there are blood. Hundreds of thousands of innocents have died as the outside world did... what? This registers in Israel. Kurds might be excused for qualms.
Turkey's bad turn: Ankara's foreign policy has become predictably anti-Israel and in many other ways unreliable under power-hungry, repressive President Recep Erdogan.
Yemen: Shiite fanatics now control Sana, the capital.
Could Israelis, including smart doves, be persuaded to make major strategic concessions in such circumstances? For decades the Arab world refused to recognize the Jewish state; no peace came. For decades Palestinian and Israeli leaders recognized each other; no peace came. Perhaps they should ignore recognition for a while?
With these depressing thoughts in mind, I contacted DD to get her take on what Israelis call the "matzav" (the situation). See my next post.
_____________
Mitchell Cohen is editor emeritus of Dissent Magazine and professor of political science at Baruch College and the Graduate School of the City University of New York. His book Zion and State (Columbia University Press) examines the intellectual origins of the conflict between the left and the right in Israel. It has just been republished in Paris by Editions la Decouverte.
Popular in the Community