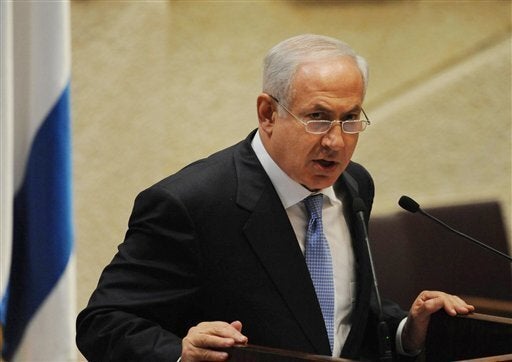 In an exclusive interview with The Atlantic's Jeffrey Goldberg Tuesday, just before he was sworn in as Israel's new prime minister, Benjamin Netanyahu issued a bold statement: if Obama does not stop Iran's nuclear program, Israel most certainly will. The assertion seems to confirm Netanyahu's own hawkishness, as well as the fears of US Middle East policymakers who support a more delicate approach to the region. From the interview account:
In an interview conducted shortly before he was sworn in today as prime minister of Israel, Benjamin Netanyahu laid down a challenge for Barack Obama. The American president, he said, must stop Iran from acquiring nuclear weapons--and quickly--or an imperiled Israel may be forced to attack Iran's nuclear facilities itself.

"The Obama presidency has two great missions: fixing the economy, and preventing Iran from gaining nuclear weapons," Netanyahu told me. He said the Iranian nuclear challenge represents a "hinge of history" and added that "Western civilization" will have failed if Iran is allowed to develop nuclear weapons.

In unusually blunt language, Netanyahu said of the Iranian leadership, "You don't want a messianic apocalyptic cult controlling atomic bombs. When the wide-eyed believer gets hold of the reins of power and the weapons of mass death, then the entire world should start worrying, and that is what is happening in Iran."
However, further in Goldberg's account of the interview comes more promising signs that Netanyahu, despite blunt statements, still reserves room for non-military, diplomatic measures to stymie Iranian nuclear development:
Netanyahu said he would support President Obama's decision to engage Iran, so long as negotiations brought about a quick end to Iran's nuclear ambitions. "How you achieve this goal is less important than achieving it," he said, but he added that he was skeptical that Iran would respond positively to Obama's appeals. In an hour-long conversation, held in the Knesset, Netanyahu tempered his aggressive rhetoric with an acknowledgement that nonmilitary pressure could yet work. "I think the Iranian economy is very weak, which makes Iran susceptible to sanctions that can be ratcheted up by a variety of means." When I suggested that this statement contradicted his assertion that Iran, by its fanatic nature, is immune to pressure, Netanyahu smiled thinly and said, "Iran is a composite leadership, but in that composite leadership there are elements of wide-eyed fanaticism that do not exist right now in any other would-be nuclear power in the world. That's what makes them so dangerous."
Related
Popular in the Community