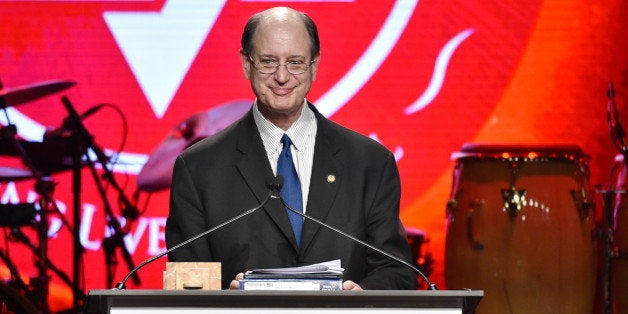 WASHINGTON -- Addressing an audience Sunday at the American Israel Public Affairs Committee, Rep. Brad Sherman (D-Calif.) showed signs of the increasing partisan tension on Iran policy. Sherman, the second-ranking Democrat on the House Foreign Affairs Committee, with a reputation as an Iran hawk, maneuvered the delicate balancing act of supporting Democratic President Barack Obama and appeasing the concerns of his pro-Israel audience.
An overwhelming majority of AIPAC attendees described Iran as Israel's primary security concern, even stumping the threat posed by the Islamic State. Though support for military action against Iran was mixed, there was resounding agreement that negotiations between Iran and the six negotiating powers, known as the P5+1, were bound to result in a "bad deal" that would inevitably allow Iran to obtain a nuclear weapon.
Sherman told AIPAC attendees that the current sanctions regime against Iran should have been enacted over a decade ago. "Now," he said, "We have a choice of terrible options." When Iran and the P5+1 moved to extend an interim nuclear deal for six months last November, Sherman described "a disturbing pattern" of "provid[ing] the Iranian regime too much breathing room," and called for more sanctions immediately.
But on Sunday, Sherman told AIPAC conference attendees that there were serious logistical challenges to passing further sanctions against Iran. "It has become much more difficult for me to go to my Democratic colleagues and ask them to support more sanctions -- it would be asking them to override a presidential veto."
Sherman said when he tells his colleagues about the threat posed by Iran, they say, "Back home constituents view this as a personality contest between Prime Minister Benjamin Netanyahu and President Barack Obama. Guess what, Sherman? I'm a Democratic member of Congress. Who do you think I'm going to side with?"
The personality contest refers to the debacle sparked by the Israeli Prime Minister accepting an invitation from Speaker of the House John Boehner to speak to Congress about Iran's nuclear program without first notifying the White House. Boehner's invitation was seen as an strategy to gin up support for increased Iran sanctions by presenting the threat posed by Iran's nuclear program through the eyes of America's closest ally. The effort appears to have backfired, as an increasing number of lawmakers have decided to boycott the speech as a show of support for the president.
The partisan tension created by Netanyahu's visit on Capitol Hill does not appear to have affected the AIPAC community. With an estimated 16,000 people in attendance, this year's policy conference is the largest in history. Democrats and Republicans alike said the reason for the increased turnout was an unprecedented concern about Iran's nuclear program.
In addition to growing domestic hesitance to punish Iran, Sherman acknowledged that international support for the sanctions regime is limited. "All of sanctions consist of dragging our trade partners along with us through a combination of convincing them and threatening to punish them." If the final nuclear deal includes sanctions relief, partner nations are unlikely to agree to future sanctions against Iran.
The other option, Sherman said, is to enact secondary sanctions. "We can go to Germany and say, 'If anyone in Germany can sell a single paper clip to Iran, we will shut down every Mercedes dealership in the U.S,'" he explained.
Several concerned AIPAC attendees encircled Sherman after his remarks. They thanked the congressman for his enduring support of Israel but said they felt at a loss of options on Iran. "What will we do?" asked one man. "With everything I see, they will get the bomb for sure. Military action is the only option left," he said.
"You get one member of Congress to go on the floor and call for immediate bombing of Iran," Sherman challenged.
When asked, he told The Huffington Post he does not have a position on bombing Iran, and then quickly accepted several students' request to pose for a photo.
Michael Hofkin, an investment manager from Minnesota, waited on the side of the stage to reopen discussion with the congressman. "I'm not a Republican or a Democrat," he told HuffPost. "I just don't want Iran getting a goddamned bomb! That's all I care about."
"If you read The Financial Times, The Wall Street Journal, The New York Times, it is clear that we are negotiating some sort of horrendous deal," he continued.
What would a "good deal" look like? More inspections and safeguards? Should the Iranians be allowed to enrich uranium at any level?
"I don't know enough about that to be able to answer you," Hofkin admitted. "But the way the world works is that the best way to get a bully not to attack is to get them to understand that if he does, if he goes too far, you're going to take his head off."
Calling all HuffPost superfans!
Sign up for membership to become a founding member and help shape HuffPost's next chapter
BEFORE YOU GO
PHOTO GALLERY
Iran's Nuclear Sites