When "Afflicted" viewers first meet Bekah Fly, she and her boyfriend Jesse are living in a secluded van in the middle of the California desert. Her severe mold sensitivity makes it difficult for her to reside in traditional homes or apartments, she explains. She only leaves the desert for doctor's appointments and otherwise avoids indoor spaces to keep her symptoms, such as asthma, at bay.
In the premiere episode, Fly tells the cameras that the prospect of indefinitely living with her mold sensitivity, on top of chronic Lyme disease, sometimes makes her wish to end her life. In the fourth episode of "Afflicted," cameras pan to Fly's brother Nick Dinnerstein, who discusses her history of depression and anxiety. Fly's parents also make a brief appearance in the series, recalling her experience in a psychiatric ward as a teenager.
Together, the edited scenes forefront Fly's mental health, pairing her family's soundbites with those of medical experts who speculate that she and her fellow "Afflicted" subjects' illnesses are the result of psychiatric problems.
When producers first contacted Fly about participating in the Netflix docuseries, she was worried about how the show intended to depict people with chronic illness. So she took a direct approach, she said: "I just asked them straight out, 'Is this going to be a slant of where you have a bunch of doctors calling patients crazy?'"
According to her, executive producers Dan Partland and Peter Logreco assured Fly that they were committed to telling each patient's story with compassion in their seven-episode series. She believed them, and, in 2017, decided to take part in "Afflicted." By participating in the show, the 30-year-old New York City native said she was told she'd have the opportunity to work with doctors that she couldn't otherwise afford.
Today, she regrets that decision.
In her opinion, producers of "Afflicted," which premiered in August, not only misrepresented the extent of her health conditions on screen, but they pushed a singular narrative that's long haunted individuals with a variety of persistent, multi-symptomatic, tough-to-diagnose illnesses: Her sickness is all in her head.
Approximately 133 million Americans are affected by chronic illnesses, many of which (like diabetes, anemia and asthma) involve a more straightforward, expedient path to diagnosis. Individuals with chronic illnesses like fibromyalgia and myalgic encephalomyelitis, on the other hand, might live without a definitive diagnosis for extended periods of time and never experience a cure.
Other sufferers still ― like those who live with symptoms they associate with chronic Lyme disease, which is not recognized by the National Institutes of Health, or mold sensitivity, for which research is ongoing ― can spend a lifetime without a label for the pain they experience, let alone a prescribed treatment.
"Saying these illnesses are all in people's minds is very dangerous because they aren't yet being addressed by the mainstream medical community," Fly explained, noting that many chronic illness patients struggle to get insurance and disability coverage. "This is a community that's already marginalized, and ['Afflicted'] further marginalized us to the world because Netflix has so many viewers."
Dr. Matthew Mintz, a board-certified internist with over 20 years of experience working with chronic illness patients (and who had no involvement with "Afflicted") told HuffPost that mysterious afflictions without a clear diagnosis are more common than people realize.
"The general public [thinks] that every disease has a diagnosis and a cure and it's just a matter of doing enough tests to find that. And that's really not the case," Mitz said. "That does happen, and sometimes you get lucky like that. But in many of these situations ― and they're a lot more common than we think ― doctors have patients with a constellation of symptoms that somehow just don't make sense. We try all the testing that we know how to do and we try to look at it from different angles, and sometimes we just don't have a diagnosis. Often, in my experience, it's some weird genetic disorder and we just haven't found what the genetic defect is, so we can't give it a diagnosis yet."
None of this history made it to Netflix's docuseries.
"This is a community that's already marginalized, and ['Afflicted'] further marginalized us to the world because Netflix has so many viewers."
Fly isn't the only "Afflicted" participant who felt the show misrepresented them. Jamison Hill, a 30-year-old man whose health condition has prevented him from leaving his Twain Harte, California, house since 2015, recounted a similar story to HuffPost. According to Hill, Netflix producers reached out to him in the spring of 2017 to explain their goal for the docuseries ― for viewers to see firsthand that myalgic encephalomyelitis is a severe physical illness.
"They made sure I believed that 'Afflicted' would facilitate awareness for the illness, that it would help the cause," Hill said. "But the series hasn't done that at all, and in many ways, it has hurt the cause."
Hill primarily takes issue with the show's omission of research and studies that shed light on what is known about myalgic encephalomyelitis, characterized by extreme fatigue, muscle and joint pain, headaches and memory problems.
"Viewers wouldn't think an illness is created in the mind if the [docuseries] talked about scientific studies that have proved its physicality," he said. "I believe the producers left out the most valid, scientific parts of my illness so the viewers would question its physical nature."
He also believes producers used "questionable editing" to spark speculation, particularly when they showed footage of a YouTube video he made several years ago. The full video, he said, is several minutes long, but the only portion that's shown in "Afflicted" is a clip of Hill saying, "I've been sleeping a lot."
"I can only guess how insignificant, if not illegitimate, that makes my illness sound to someone who doesn't know better, which, judging from the responses to the show, is a lot of people," Hill said.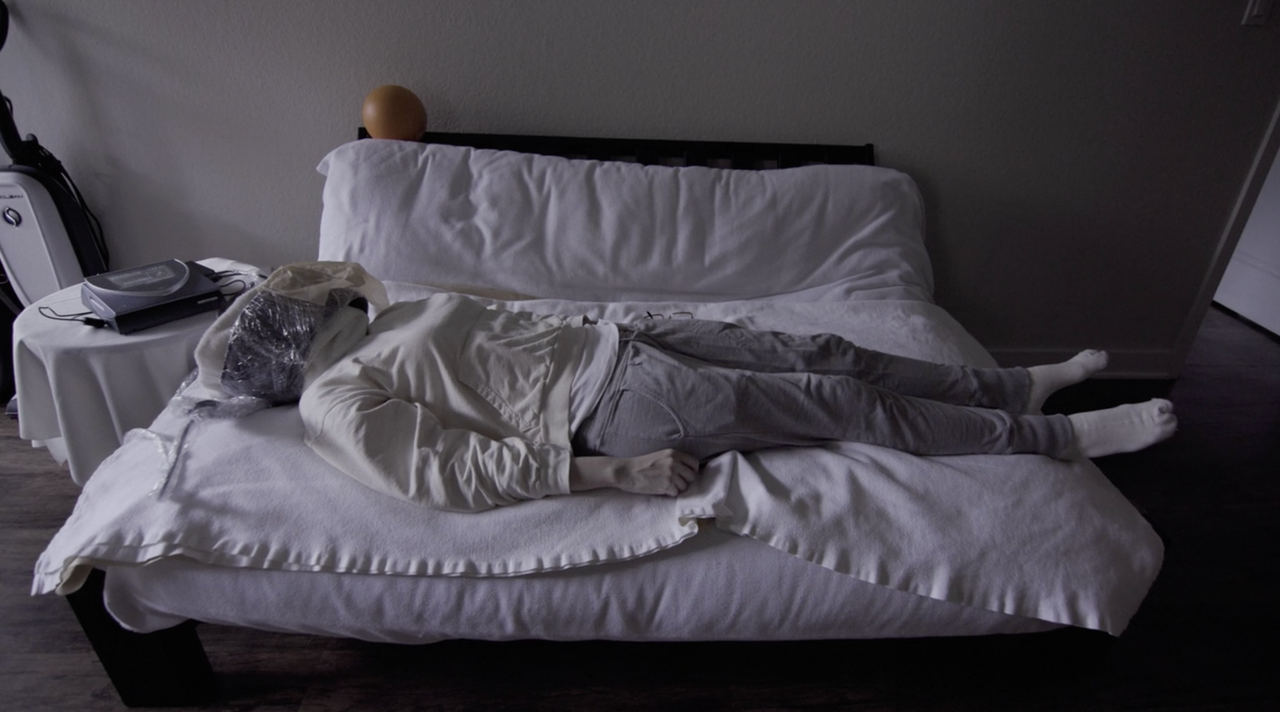 In recent weeks, Hill, Fly and other "Afflicted" participants have come forward to publicly criticize the series for what they describe as a stigmatizing lens that paints them ― and, by extension, other members of the chronic illness community ― as hypochondriacs whose afflictions are rooted in mental causes.
In an essay published on Medium, they outlined several of their complaints, condemning the show for relying on "experts" who lack the appropriate professional credentials to evaluate their conditions, and requiring participants to undergo psychiatric evaluations.
In a blog post on his personal website, Hill accused the producers of encouraging nurses to recreate painful procedures for the camera, orchestrating interviews to coax out usable soundbites, and editing footage to fit a narrative that cast doubt on the veracity of his and other participants' accounts of chronic illness.
In a statement to HuffPost, a representative for Partland addressed the accusations made on Medium.
"We are saddened and upset by some of the reaction to the series," the statement reads. "Our intention was to give the world a compassionate window into the difficulties of patients and families suffering from elusive and misunderstood illnesses, to humanize their struggle, and to show that struggle in all its complexity. The participants in 'Afflicted' showed incredible courage in sharing their stories and we respect the thoughtfulness with which they have entered the online discussion, even when they have been critical of us. The conditions they, and others, are suffering from are real and deserve more attention."
Executive producer Logreco did not respond to a request for comment.
"[In my case], my medical treatments and the science behind my illness were the most irresponsible omissions."
Fly, Hill and the other chronically ill individuals featured in the docuseries stand by their claims. (Two of the series participants who appear on the show, Carmen and Star, did not attach their names to the Medium post and have not publicly commented on how they were depicted in "Afflicted.")
"[In my case], my medical treatments and the science behind my illness were the most irresponsible omissions," Hill said.
Hill pointed to studies from Stanford University and University of California, San Diego, that show myalgic encephalomyelitis/chronic fatigue syndrome is an inflammatory disease that impairs the body's metabolic functioning. He was taking antiviral medications and hydrocortisone during filming, he explained, in addition to getting daily infusions, but none of these treatments were shown.
"None of that made it in the film and I'm almost certain it's because it would have ruined its skeptical narrative," Hill said. "The viewers wouldn't think an illness is created in the mind if the film talked about scientific studies that have proved its physicality. I believe the producers left out the most valid, scientific parts of my illness so the viewers would question its physical nature."
Hill continued to cast doubt on the medical specialists whose commentary is interspersed throughout the patient narratives in "Afflicted." For example, Dr. Richard Friedman, a psychiatrist who has not treated any of the "Afflicted" subjects himself, speculates throughout the series that the participants' symptoms are psychosomatic, either caused or exacerbated by mental health problems.
"You can be deluded that you're sick, meaning you can believe you're sick when in fact you're not sick. You can have a false belief about anything," he tells the camera in Episode 4, titled "The Mind."
"I had never even heard of Dr. Richard Friedman until I saw him on the show," Hill said.
Friedman responded to Hill's concerns in a statement to HuffPost. "I don't believe that people with chronic fatigue syndrome are not suffering or that it's not real," Friedman wrote. "I just think we don't know the cause(s) of the syndrome and that it is possible that there are multiple causes that include not just yet-to-be discovered physical etiologies, but complex mind-body interactions that bring about this syndrome."
"There is a tremendous amount that we do not know in medicine," Friedman added. "People come to doctors all the time with symptoms that don't lead to a diagnosable illness. That doesn't mean the patient is imagining an illness; it could be that we simply don't know yet the physical cause of the affliction," the statement reads. "Another possibility, of course, is that our brain tells us that something is physically awry when there is actually little or no physical abnormality present because, for example, our brain might be hypersensitive to signals from our body."
"There is a tremendous amount that we do not know in medicine."
The show's subjects weren't the only people alarmed by the final product. Dr. Amesh Adalja, a board-certified infectious disease physician and senior scholar at the Johns Hopkins University Center for Health Security who was interviewed for "Afflicted," said that during filming, he responded to "very complex, probing questions" that focused on the hard science of the participants' illnesses and symptoms. Adalja's 90-minute interview was then whittled down to less than 30 seconds of on-screen discussion, he explained.
After the show was released, Adalja said he emailed the producers at DocShop, the company that collaborated with Netflix to create "Afflicted," to find out what happened to the footage that wasn't included, but he hasn't received a response. DocShop did not respond to a request for comment.
Partland said that he did not have knowledge of Adalja's concerns.
Looking back, Adalja said Netflix's goal was likely to create a compelling piece of television, rather than a comprehensive or accurate depiction of chronic illness. But he emphasized that it didn't have to be one extreme or the other. "Afflicted" could have presented the controversies surrounding the various illnesses ― such as the dangers of turning to alternative practitioners for treatments that are expensive, potentially dangerous, and have no basis in science ― in a manner that would have moved the discussion forward in a productive manner.
"But I don't think that was necessarily their mission," Adalja said. "Something that's more thoughtful doesn't find the same types of audience numbers [as] something that was sensational and odd the way this was."
By participating in the documentary, participants assumed a risk. Filmmakers were not obligated to present a neutral narrative, and as Adalja pointed out, the massive appeal of a platform like Netflix likely only elevated that risk.
Mintz said that by creating entertainment, rather than what he would consider a more objective documentary format, a show can easily fall into the trap of painting these types of patients in a negative light.
"In my experience, there are very few patients who actually want to be sick and don't want to get better," Mintz said. "A lot of doctors don't like to admit what they don't know. They don't like to admit to a patient 'Look, I have no idea what you have.' We like to know the answer. These types of patients, where it's hard to find the answer, can be frustrating for a lot of doctors. So they'll stop treating the patient or they'll refer them to someone else because they're frustrated. And that absolutely plays into when doctors say, 'It's all in your head. If I can't find it, then it must be in your head.'"
Ahead of the August premiere of "Afflicted," Ilana Jacqueline, a patient advocate and author of the best-selling book Surviving and Thriving with an Invisible Chronic Illness, observed a lot of buzz and excitement in the chronic illness community. Patients were eager to see themselves represented in mainstream media — and to have others see them not just as curiosities traveling from doctor to doctor in search of a diagnosis or cure.
"I think from this documentary they were hoping that people would have a clearer understanding, empathy and compassion for what they go through, and instead what they got was just kind of this understated ridicule," she said.
As Ariane Resnick, a recovered chronically ill person and a chef who competed on the TV show "Chopped," put it, "Afflicted" became "every chronic illness patient's worst nightmare."
"We already go through these illnesses worried so much about being believed because so many chronic illnesses are fairly invisible," said Resnick, who became friends with Fly through the Lyme disease community.
Until, that is, they appear in a docuseries on Netflix. Although Netflix is hardly the only platform for documentaries and docuseries, its reach is singularly powerful. In 2017, Netflix told Business Insider that 73 percent of its subscribers watched at least one documentary the year prior, amounting to over 68 million people who watched a Netflix documentary in 2016, according to The New York Times. When it comes to serialized content, Netflix's streaming strategy lends itself to marathon binge sessions, encouraging subscribers to devour entire series in one sitting. To incentivize this kind of behavior, Netflix storytellers typically rely on well-edited episodes that end with mouth-watering cliffhangers.
"Afflicted" adopted this format by repeatedly casting doubt on whether or not its subjects were even truly ill, its participants claim. The show's underlying question, according to Hill, Fry and their peers, ultimately became an exploitative one: "Are these illnesses real, or are they in the subjects' heads?"
It's a loaded question that the massive entertainment platform might not have been equipped to answer, amounting to a surge of backlash the company might not yet know how to approach.
Related
Popular in the Community