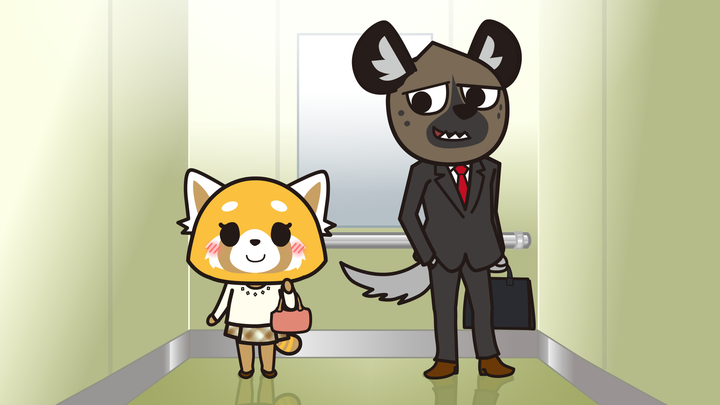 The Netflix highlight: "Aggretsuko," Season 2.
Premise: A red panda in her mid-20s deals with the ups and downs of corporate life in a bustling city of similarly anthropomorphic animals. While the first season focused on the degradations and injustices of working in a capitalist machine, this second season explores other frustrating aspects of 20s life such as parental expectations and the nature of love. Also, importantly, this red panda deals with her anger at the world by singing death metal karaoke.
Sum-up: Unlike a show like "The Office" that similarly satirizes the unfulfilling nature of corporate life but ultimately opted to focus on goofs rather than attacking those responsible, "Aggretsuko" has a bite ― fitting because as I just found out on Google, red pandas have "razor sharp teeth." This makes the show more like the recent Comedy Central office satire "Corporate," as it doesn't shy away from its deep disdain for the masters of the universe. With short, 15-minute episodes and a cute red panda as the protagonist, the anger has a palpability that somehow makes this a fun, easy watch despite all the finger-pointing.
Heads-up: In having a more general focus on the malaise of the mid-20s, the second season inches toward a typical sitcom feel and loses a bit of what made the show special in the first place. If you haven't watched the first season, I'd definitely start there, even if the episodes barely follow an overarching plot.
Look-up: My colleague Jillian Capewell wrote a piece that praised the show upon its debut last year and called it a "workplace comedy where rage is front and center." As Capewell summed up the red panda protagonist, Retsuko: "The sharp contrast between Retsuko's adorable outward appearance and her unbridled rage-singing is played for laughs in each of the series' 10 episodes, yet doesn't become tiresome. Perhaps because it's rare to see a female character, animated or not, succumb fully to her anger, especially in a way that's seen as a net positive. Retsuko's metal habit provides a private, nondestructive space to contend with the pitfalls of an early-career slog."
Read on for more recommendations and news from the week.
And if you want to stay up to date with what to watch on a weekly basis, subscribe to the Streamline newsletter.
Here's the trailer:
"Disney's Ralph Breaks the Internet"
"Jo Koy: Comin' In Hot" (Netflix Original)
"Rolling Thunder Revue: A Bob Dylan Story by Martin Scorsese" (Netflix Film)
"The 3rd Eye 2" (Netflix Film)
"Jinn" (Netflix Original)
"Kakegurui xx" (Netflix Anime)
"Trinkets" (Netflix Original)
"Aggretsuko" (Season 2, Netflix Anime)
"The Alcàsser Murders" (Netflix Original)
"Awake: The Million Dollar Game" (Netflix Original)
"Charité at War" (Netflix Original)
"Cinderella Pop" (Netflix Film)
"Girlfriends' Guide to Divorce" (Season 5)
"Leila" (Netflix Original)
"Life Overtakes Me" (Netflix Original)
"Marlon" (Season 2)
"Murder Mystery" (Netflix Film)
"Unité 42" (Netflix Original)
"Grey's Anatomy" (Season 15)