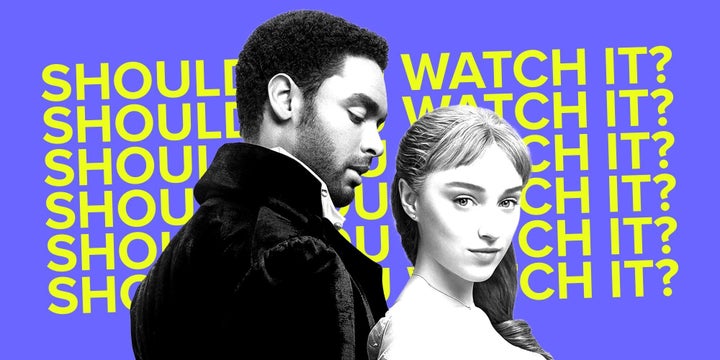 Dearest reader, the time has come to consider "Bridgerton," a Shondaland/Netflix original series adapted from Julia Quinn's beloved Regency romance series.
The novels feature the heart-throbbing, bodice-ripping high society adventures of the eight children of the Bridgerton family and their match-minded mama, Violet. We begin with Daphne (Phoebe Dynevor), the eldest daughter (they are named in alphabetical order, making her the fourth child), as she enters the marriage market and seeks a titled husband. But unlike most maidens on the circuit, she has a romantic for a mother ― Violet loved her husband, the late Viscount Bridgerton, passionately ― and Daphne has always been encouraged to marry for love. And, OK, yes, also money and status. Why not all three? And this, dear reader, is where Season 1 of "Bridgerton" opens.
Shonda Rhimes' first Netflix Original has all of the markings of a modern dramatic hit: High-stakes intrigue, cheeky one-liners, plenty of titillation (sans the pesky male gaze) and compelling central characters. It just happens to be set in Regency-era England.
HuffPost reporters Claire Fallon, Erin E. Evans and Emma Gray binged the full eight-episode series ahead of its Christmas premiere, and broke down all of the scandalous gossip ― and cute butts ― at the center of "Bridgerton."
The Bottom Line
"Bridgerton" has all of the signature Shondaland drama coupled with Regency-era romance. It's a delightful, visually stunning, bingeable series perfect for holiday viewing and beyond.
First Impressions
Claire Fallon: As the resident Regency romance buff here at HuffPost Culture, naturally I have a long-standing affection for the Bridgerton family and was eager for this series to finally arrive. I'm ready for the film and TV industries to give me what I find in the romance section of my local indie bookstore: all the wit, sensuality and historical escapism without the gore such bawdy period pieces usually come packaged with on-screen. Erin, Emma, what were you both hoping for or expecting from this series, and what were your first impressions?
Emma Gray: Well, Claire, as someone who has not read the novels that "Bridgerton" is based on, I arrived to this series bright-eyed and bushy-tailed. I am a huge sucker for period pieces, but most of my Regency-era pop culture intake has consisted of Jane Austen novel adaptations. And as much I love a good retelling of "Emma" or "Sense and Sensibility," it was a thrill to see Netflix and Shonda Rhimes take on a less ... er ... chaste period drama. 2020 has been rough as hell, to put it lightly, and "Bridgerton" delivers a visually sumptuous, extremely sexy, well-acted bodice-ripper straight to our small screens. What I'm trying to say is that I absolutely loved it. And I loved seeing romantic fiction get treated with the seriousness that it deserves in an adaptation. (Also... Julie Andrews!!)
Erin E. Evans: Well, I'm a huge Shonda Rhimes fan, so I was super excited to hear she had booked a deal with Netflix a few years back. I have watched "Grey's Anatomy" since the second season aired on ABC, dabbled with "How To Get Away With Murder," and held on through the wild ride of "Scandal" until the very end. "Bridgerton" showrunner Chris Van Dusen wrote for "Grey's" and "Scandal," so I knew we'd all be in for a treat with this series before I really even knew what it was about. Now, when I heard "period drama" and "19th century," I was definitely thrown for a loop and wasn't immediately excited. I wanted it to be sexy and gossip-y and fun like the early days of "Grey's," and it was all of those things.
CF: Erin, no one gossips harder than a society scandal sheet in a romance novel! Gossip is the true heroine of "Bridgerton" ― it's narrated by Lady Whistledown, the pseudonymous figure behind the most indispensably vicious gossip rag of the ton (that's a term for British high society of the era, for the uninitiated). Whistledown seems to see every flirtation, every snub and every romantic machination in the balls and drawing rooms of these eligible young men and women, and her gimlet-eyed observations force the central problem of the season.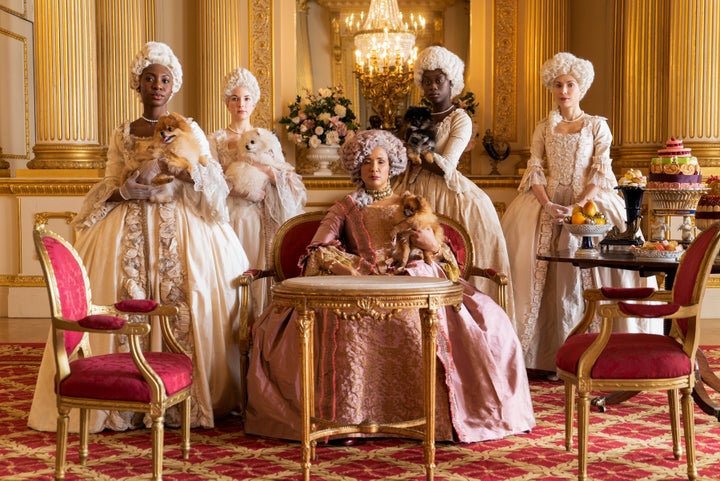 When the young ladies are presented to Queen Charlotte (Golda Rosheuvel), she takes special notice of ethereal Daphne, who is deemed the first draft pick of 1813 (as it were). But her overprotective brother, Anthony (Jonathan Bailey), scares off every suitor; soon, she has no prospects at all, and Whistledown begins to write that her stock is slipping. To prime the pump, she ends up striking a deal with the Duke of Hastings (Regé-Jean Page), a handsome and mysterious nobleman, to pretend that they are courting. She will reestablish her desirability, while he will scare off matchmaking mothers. (In classic romance novel fashion, he has no intention of ever marrying or having children because he wishes to spite his cruel father. "The line will die with me!")
Did this conceit work for you two? Did Hastings and Daphne sweep you off your feet?
EE: OK, first let me say I wanted to karate-chop Daphne's brother throughout the first three episodes. Like, come on, dude. I definitely was drawn in by this premise of deal to fake the relationship between Hastings and Daphne. I love a good will-they-won't-they storyline anyway. Now, Hastings' issues with his father being this underlying force as to why he didn't want to marry or have children got real old, real fast for me. Like, you can hate your father ('cause he was indeed terrible), but I needed a therapist to come up in there and get him together around how he was letting that negative energy manifest in his present life. Obviously that was just the main storyline to get into. And there were a lot of side characters that honestly were just as enjoyable to see unfold. What'd you think about Daphne and Hastings, and some of the B storylines, Emma?
EG: Let's just say I spent a fair amount of time googling Regé-Jean Page after watching "Bridgerton." The man ... can get it. The chemistry between Daphne and Hastings was palpable, and though parts of their relationship did drag for me a little bit toward the end of the season, I fully bought into them as the romantic anchors of our story. I am also always a sucker for rom-com tropes done well, of which Fake-Relationship-Turned-Real-Relationship is a classic. ("Drive Me Crazy"! "To All The Boys I've Loved Before"! "Can't Buy Me Love"!)
But I was equally compelled by the secondary storylines, many of which followed the Featherington family, led by Lady Portia Featherington (Polly Walker) and Lord Featheringon (Ben Miller), and their daughters Prudence (Bessie Carter), Philippa (Harriet Cains) and, most notably, Penelope (Nichola Coughlan), and cousin Marina Thompson (Ruby Barker). I was aware that the show seemed to be laying the groundwork for certain storylines that might be fleshed out later, but overall, the different threads worked together fairly seamlessly. "Bridgerton" is a sweeping romance, but it is also a delicious tale of friendships between women. Lady Danbury (Adjoa Andoh) and Lady Bridgerton have a very sweet connection, borne of years of wading through fashionable society, some without a male partner. And then there is Eloise and Penelope, whose relationship singlehandedly allows "Bridgerton" to pass the Bechdel Test.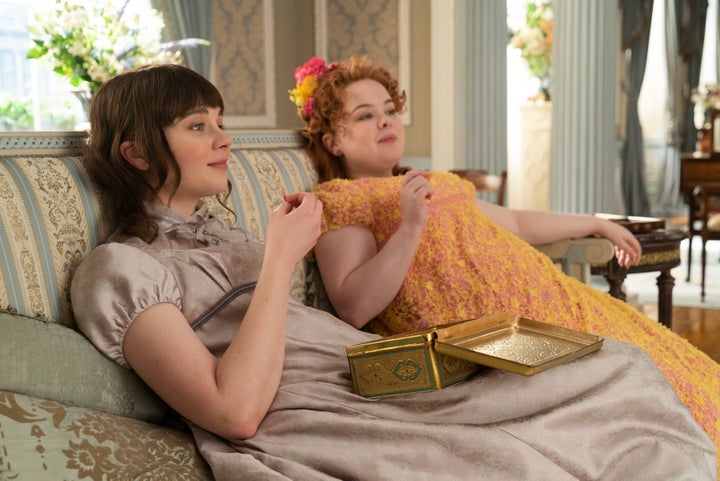 A Modern Period Piece?
EG: "Bridgerton" is a period piece with a thoroughly modern feeling. That felt especially present in the costume and musical choices. What did you both think about the visual and audio cues?
CF: The romance genre is a rich source of female-centric period pieces, and Bridgerton is no exception ― you truly see how the threads of the British upper crust are held together by women like Lady Danbury, the sharp-tongued but kindly society doyenne. The moment that the Bridgertons walk into a ball to the strains of a string arrangement of Ariana Grande's "Thank U, Next," I knew we were not in Austen land anymore. The composer, Kris Bowers ("Mrs. America," "When They See Us") has a penchant for mingling musical eras, and his dreamy, swirling score is infused with freshness and immediacy thanks to those contemporary pop references. It's music to flick a fan to, drop a curtsy to, and catch your breath to. Visually, there's something quite similar going on; costume designer Ellen Mirojnick adds modern touches and vibrant creamsicle colors to the expected Regency gowns.
EE: Loved the visuals. I just loved Lady Danbury's whole look and style. And I mean, the queen's hairstylist deserves an Emmy for all those wigs!
CF: We truly have to talk about the queen ― in every sense. This character didn't really exist in the original novels, but in the series, Queen Charlotte is a central character. With architectural wigs ... and a meddling hand!
Race In The World Of 'Bridgerton'
EG: I want nothing more than to hang out and gossip with Queen Charlotte. To be one of her ladies in waiting! The gowns! The gossip! In COVID-land, where there is very little of both, I gained a new understanding of the Queen's desire to stir up intrigue. Speaking of Queen Charlotte, I really want us to get into the way that this show approaches race. "Bridgerton" is not a totally "color-blind" approach to casting, the way that say, Brandy's "Cinderella" (1997) was. In that movie, the Queen was also a Black woman (played by Whoopi Goldberg), but her race ― and race in general ― was never addressed. In "Bridgerton," the casting is diverse, but not in a fantastical way. Instead, we are presented with an alternate, less racist, but not race-less vision of history, which Lady Danbury (also a Black woman) lightly narrates to viewers by way of a conversation with Duke Hastings. Essentially: A white King fell in love with a Black woman, Queen Charlotte, and thus conditions improved for Black and brown people. (This narrative is, obviously, overly simplistic at best.)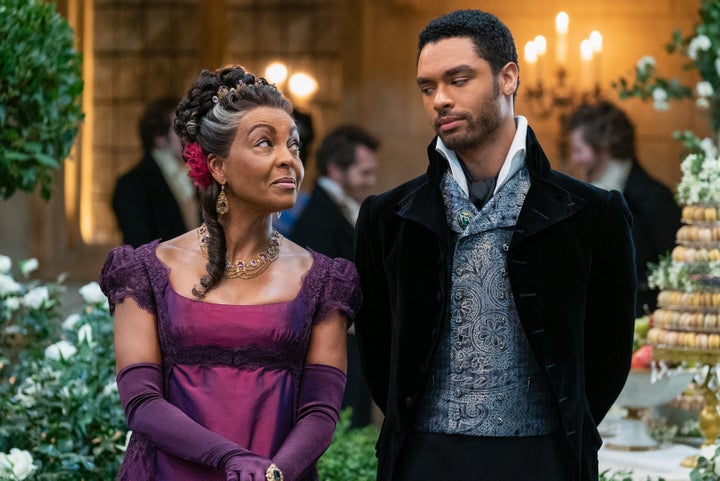 This distinction, between diverse casting and color-blind casting, has been made explicit by actors like Page. "It's not color-blind casting because I don't think it's helpful to put brown skin in the show without putting brown people in the show," Page told The Guardian. "This show is a glamorous, ambitious Cinderella fantasy of love and romance — I don't know why you wouldn't invite everyone to come and play in it, especially since we're serving a global audience on Netflix. It takes so little imagination to include people, as opposed to how much thought and effort it takes to keep people out of these stories." How did you both feel about the ways race was addressed in this series?
CF: I had complicated feelings about this! To be clear, I loved the casting choices, and in certain ways, this backstory added depth to the romance tropes. The original Duke of Hastings, we learn, was elevated to a peership after Queen Charlotte became queen, and his fear that the title is precariously held due to their race makes his cruelty toward his son, who he fears is not smart enough to hold on to it, slightly more explicable. It also added, as Page notes, an acknowledgement of the realities of race, and that was a very real part of London in 1813 ― which was much more diverse than often represented in media today, though perhaps not quite as diverse at the level of the aristocracy as "Bridgerton" is. I didn't exactly love that it was turned into a moral, however. Romantic love, the love between the king and queen most of all, is presented as having a profound power to create social change. This is a sweet idea that has little support in the real and often upsetting history of interracial love and marriage.
EE: I thought the show did a good job weaving in some actual history here and then reimagining this world where Black people are a part of high society. Apparently, Queen Charlotte, the wife of King George III, was of African descent, historians say. So to see how this series weaved some of that in naturally felt spot on. I kept looking at the queen and her hair — I mean literally she had a crown and then her actual hair was her crowning glory, too. I loved that. It could be easy to sit here and pick apart some of the race stuff, but ... quite simply, IMO, I wasn't trying to watch this series and think toooo deeply and critical about all that. I was here for the sex and the gossip, and to turn my brain off to the reality of racial inequities, if only for a moment.
Let's Talk About Sex
EG: And as a deliciously sweet escape, "Bridgerton" really nails it! Can we talk about how fucking sexy this show is? We get a full-on sex scene within the first 5 minutes of the pilot. And... I was very here for it.
CF: I think we have to. Friends, you may watch Charles Dickens and Charlotte Brontë adaptations with the kids, but save this one for adults-only time. I'm blushing right now, in the interest of full disclosure.
EE: I love looking at a man's butt and the series delivers!!!!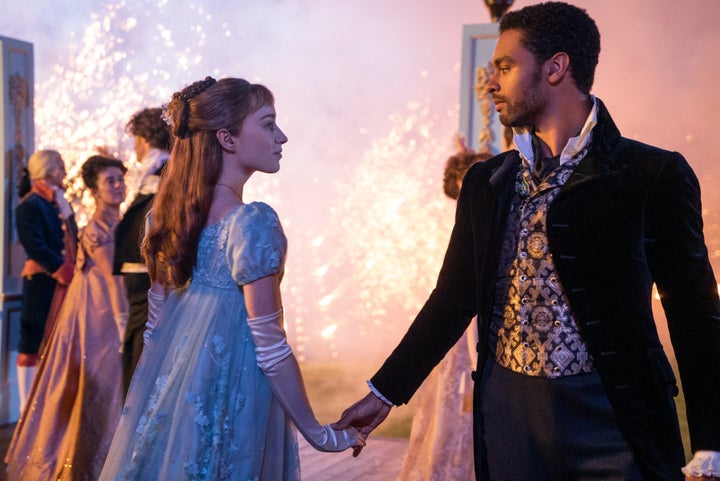 CF: A lot of the Netflix-fueled rom-com resurgence has been geared toward chaste teen stories, so there's something deeply satisfying about a big fluffy marshmallow of a romance that also required sex choreography. More of this, please, I anticipate needing as much joy as possible in 2021.
There are a number of Bridgertons ― and Featheringtons! ― who we can expect to feature heavily in future seasons. Whose story are you most looking forward to?
EG: I'm ready for Eloise, Daphne's younger sister who is far more enraptured by the mystery of Lady Whistledown's identity than the prospect of ever being forced to marry, to step into the spotlight. And, of course, I need more on Penelope, whose not-so-secret crush on Colin Bridgerton provides a sweet thread of unrequited love to the series.
Also ... more butts. More Cute Butts 2021.
CF: Oh, I think we need not worry about that.
EE: I desperately need to know what's going to happen to Marina Thompson, the Featheringtons' cousin who was living at their estate. Her storyline was so interesting throughout the series and it was ... well, a wild ride for her. To avoid spoiling it for folks, I'll leave it at that.
EG: The only spoiler people need is that "Bridgerton" is a wildly entertaining, super sexy romp from start to finish.
So, Should You Watch It?
CF: "Bridgerton" is the maribou-trimmed silk robe you deserve to slip into this winter: luxuriously pleasing to every sense. So, yes.
EE: Definitely yes. Especially all my "Grey's" fans. There are a couple short monologues that will remind you of the beauty of Shondaland.
EG: Are you into sex? Or love? Or joy? If any of the aforementioned, then start bingeing immediately.
"Bridgerton" premieres Dec. 25 on Netflix.